Now more than ever, people are looking to break away from a traditional work schedule. For people hoping to supplement regular income with a side hustle, paid online survey opportunities are a logical solution. However, not all survey sites and online money-making opportunities are alike, and those who aren't careful may fall victim to scams.
LifePoints Panel program is a legitimate opportunity for users to earn a little extra money in exchange for sharing their honest opinions. While it's not a full-time job opportunity, participation can be a worthwhile way to earn rewards.
Read on for our full LifePoints review here.
What Is LifePoints?
The LifePoints Panel allows users to collect LifePoints by sharing their opinions on things that matter to them. The membership base is a growing community of over five million consumers who hope to change the world around them by offering their input.
Through market research survey opportunities, product testing, mini polls, and self-reported user data, the LifePoints program helps users tell companies what they like, dislike, want, and desire out of the products and services they use. LifePoints members help shape the services and products that companies offer to consumers through their participation, and receive money for their time, opinions, and data.

The LifePoints matchmaking algorithm pairs panelists with surveys, products, and opportunities based on their unique user-profiles and demographics. This process ensures that users get to give their opinions on products and services that will improve their lives in the future and guarantees the most valuable research data for LifePoints' clients.
Is LifePoints Legit?
Yes, LifePoints is a legitimate online survey platform. With reliable and verified payouts, you can trust LifePoints with your time. But don't just take our word for it.
The company started out as Global Test Market, before merging with MySurvey. Now backed by Lightspeed Research, LifePoints is one of the largest survey sites in the world.
In fact, the LifePoints user community spans more than 70 countries, made up of people from all walks of life. Nearly anyone can earn extra money and make a difference in the world by completing simple tasks through the program. The LifePoints panel program is the latest in a line of consumer research companies going back to the 1940s.
How do I Sign Up For LifePoints?
New users interested in trying out LifePoints can sign up here. There's nothing complicated about the sign-up process. The simple registration form asks for information such as the user's full name, email address, and password.
Next, a few personal demographics questions begin to fill out the user's profile – gender, date of birth, and address – to match them with relevant surveys. After the initial registration process is completed, LifePoints sends a validation email to the provided email address to confirm.
Completing this process will earn new users ten points toward their first reward. Once complete, LifePoints Panel users will have access to the dashboard to uncover opportunities to make money.
Some users have reported having some difficulty with the registration process. While customer support can be slow to reach, they are helpful. A bit of patience and persistence will benefit new users here.
Earning Money with LifePoints
LifePoints offers users money in exchange for their honest, unbiased opinions and daily behaviors. Users share their views with LifePoints through completing surveys, behavior diaries, and answering questions about products they might use in their everyday life. These various research tasks are offered to users with relevant profiles as they come available.
LifePoints has several opportunities for users to earn money by sharing what matters most to them. New users start by completing a detailed user demographic profile that will help LifePoints match them with relevant opportunities to their lives. General user profile details include basic demographics information such as gender, age, etc., and interests and lifestyle details.
Once registered, they'll begin receiving offers to complete surveys, product testing, mini polls, and behavior recording. The more complete a user's profile is, the more relevant the opportunities they'll receive. Surveys and experiences cover topics like travel, sport, health, and other aspects of daily life.
The LifePoints matchmaking process ensures that users are invited to participate in more activities they're likely to enjoy. This process improves user engagement, which gives clients the most valuable insights available for the products and services they offer.

Completing Online Surveys
When it comes to earning extra money with LifePoints, completing online surveys is the main game.
LifePoints sends out periodic online survey invitations relevant to the users' interests via email. Some opportunities may also be advertized on social media.
LifePoints targets surveys to relevant users based on demographics and profile responses. Users who contribute to LifePoints surveys help influence the development of a product or service that they might use. Survey topics are varied, but they include:
Food, beverages, and alcohol
Personal finance
Televisions, cell phones, and electronics
Clothing, jewelry, and shopping
Cruises, lifestyle, and travel
Products, logos, and websites
While individual user profiles help LifePoints to send the most relevant survey opportunities to users, LifePoints protects its users' privacy very closely. Completed survey responses are pooled and anonymized so that individual user privacy is maintained at all times. While clients can analyze the detailed data gathered through LifePoints user surveys, no individually identifiable information is ever revealed, sold, or traded to LifePoints' clients or anyone else.
Product Testing
LifePoints panelists whose profiles qualify may occasionally receive products in the mail for free. Users who participate in product testing surveys will need to respond to questions about their experience with the product sent to them.
Product testing opportunities are much less common than survey invitations, so LifePoints participants shouldn't expect to receive freebies in the mail very often. However, targeted product tests are always a fun and exciting experience to take advantage of when available.
Behavior Recording
Panelists whose profiles indicate that they participate in certain behaviors or habits may receive invitations to share more information about their daily lives. LifePoints will send these users a diary in which they can record their behaviors for a specified period of time. Once completed, the users will send the data back to LifePoints for analysis.
These opportunities take a bit more time for users to complete, but they're also generally more interesting than some of the online surveys available. Most behavior diaries don't require LifePoints Panel members to do anything they wouldn't already be doing. When available, these are great activities for users to complete. They also offer more points than typical LifePoints surveys.
Referral program
Finally, like many survey panels, LifePoints offers a refer-a-friend program. Here, users can get rewarded for sending referral codes to friends. Points are earned when a referred friend registers and completes surveys.

Redeeming LifePoints Rewards
Each survey, product test, and behavior diary a LifePoints Panel user completes allows them to collect LifePoints rewards in the form of points. As these points accumulate, users have a number of redemption options. Users can choose to redeem their points in the form of electronic gift cards (eGift cards) such as an Amazon Gift Card, for real money via PayPal, or charitable donations.
There are pros and cons to each redemption option, and the points-to-dollars ratio varies from one form to the next. However, LifePoints rewards are relatively straightforward to redeem and offer more options than some other survey sites.
Getting Paid
The cash value of each point depends on the method you choose to redeem them. If a user chooses to cash out their LifePoints in the form of an eGift card or charitable donation, each point converts to just shy of a cent. Users can redeem a $5 gift card or make a $5 donation to a charity of their choice for every 550 points they save.
Any user uninterested in the eGift card or donation options can redeem their points for cash via the PayPal deposit, but they won't get as much money per point this way. A $10 PayPal voucher will take 1,200 points – 100 points more than the equivalent eGift card or donation amount. Plus, PayPal generally charges a percentage when users withdraw funds.
LifePoints users who want to maximize the return on their invested time can choose the eGift card option. Those who would rather have cash can accept a slightly reduced payout via PayPal. Charitable donations cost the same number of points as the equivalent eGift card redemption option.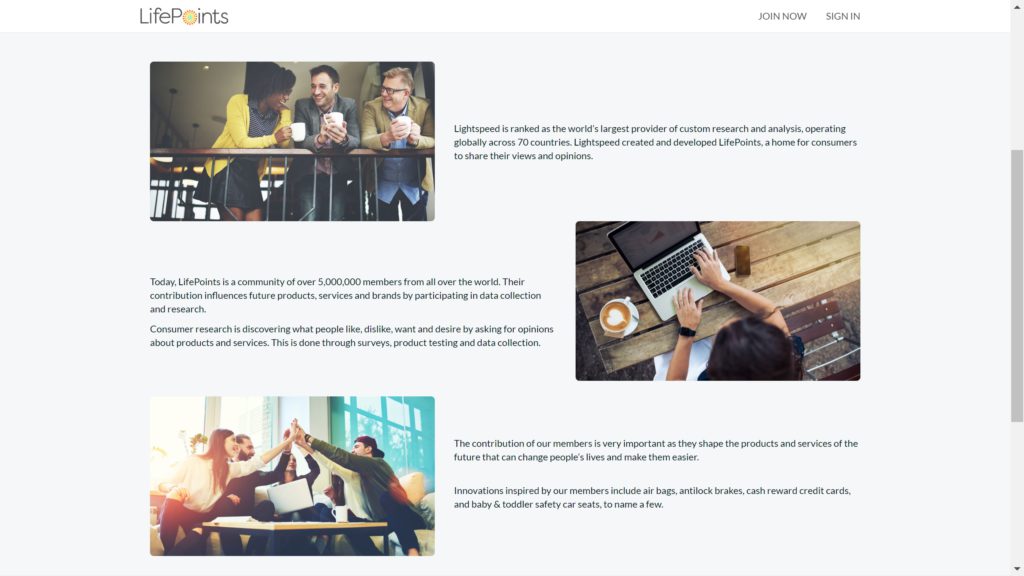 LifePoints Reviews
With over five million users worldwide, anyone interested in more information about LifePoints can find plenty of reviews online. Here's a selection of LifePoints reviews. Read on to find out what users are saying about the LifePoints Panel program.
LifePoints Blogger Reviews
Bloggers across the board say LifePoints is a legitimate way to make a little bit of extra money online. According to real LifePoints users, there are generally plenty of online surveys available to choose from, and most are relatively quick to complete. Participation in the LifePoints Panel doesn't require a huge time commitment to make real money.
The behavior diaries are more interesting than the paid survey opportunities, according to some users. These activities ask users to track how long they waited in line, whether they interacted with anyone at a store, and other things they would encounter on a typical day. Users who participate in these opportunities earned money doing things they would have done anyway.
LifePoints Reddit Reviews
In the subreddits r/beermoney and r/beermoneyUK, Reddit users ("Redditors") promote and review their experiences with various online money-making methods. Anyone interested in learning more from actual LifePoints Panelists can search for a LifePoints review in these and many other subreddits.
Redditors in r/beermoney say that the online survey opportunities they receive are legitimate and interesting. However, most agreed that the volume of surveys LifePoints invited them to participate in varied from month to month. In general, these Redditors say they earned roughly $10 a month from participating in the LifePoints panel.
Some Redditors say there is a delay between completing tasks and earning points, and another delay when waiting for distribution via gift card or PayPal. LifePoints users expecting fast cash for completed tasks may find themselves disappointed, but the rewards do come.
On the other hand, the consensus seems to be that the surveys are pretty relevant. One Redditor says that of 19 surveys they were offered, they could complete (and received points for) 13. They earned roughly $10 for 90 minutes of their time and were able to complete tasks for other programs in that time as well.
LifePoints Panel: Advantages and Disadvantages
As with any program, users should take time to review the terms and conditions of their participation. There are a few unique quirks about LifePoints users should be aware of before they sign up. Some of these benefit the user, but others can be a bit frustrating.
The Good
LifePoints Panel is a legitimate market research opportunity that pays users real money for their time and opinions. Lightspeed, the parent company of LifePoints, has been conducting consumer research for nearly 80 years. Users can trust that they're working with a legitimate research company.
LifePoints Panel makes its money from the corporations it provides research to. There's no cost to LifePoints users, no fees, and no hidden charges.
All the personal data LifePoints collects is handled carefully. Whether users access the website dashboard or the mobile app for Android or via iTunes, their private data is secure. No identifiable information gets transmitted, sold, or traded to the clients or anyone else.
The Not-So-Good
Customer service is not great. Some LifePoints users have reported that they had trouble signing up, and the customer service team was less than helpful. It's essentially an FAQ page, and it doesn't answer a lot of questions. The only other option for customer service is to submit an email ticket and wait. This is clearly frustrating for some users, so we hope that Lightspeed will improve its customer service team in the future.
LifePoints earned do expire. Users who don't check in often or only complete surveys here and there may find that their points expire faster than they can accumulate enough for a reward. This is something for LifePoints Panel users to be aware of and prepare for early on to avoid losing their hard-earned points.
Is LifePoints legit?
That is a 100% yes. In fact, the LifePoints Panel is a legitimate opportunity for users to earn money by taking surveys and sharing their experiences. Users who participate get real money for their time, opinions, and information. There's no catch, no fine print, and nothing to fear here.
However, those looking to replace a full-time job will want to look elsewhere. There are not enough survey opportunities to make life-changing money through LifePoints, so users will want to have an additional income stream (or more) to rely on.
Who can join LifePoints Panel?
Anyone who is 14 years old or older can join LifePoints Panel. There are surveys and opportunities for just about anyone, as long as they meet the minimum age requirement and have an email address.
Once a user completes their profile, they will begin receiving survey opportunities relevant to their interests. Survey criteria and qualifying questions may screen some users out of survey opportunities. But there are LifePoints surveys for anyone over 14 from just about anywhere.
Who is LifePoints good for?
LifePoints is great for anyone hoping to make a little bit of extra pocket change. The LifePoints Panel program does not advertise itself as a job opportunity because it isn't. Most LifePoints users around the web report earning roughly $10 a month with the program. Participating in the LifePoints Panel won't pay the rent on its own.
However, while users will certainly not make life-changing money taking surveys, it's money they wouldn't otherwise have. For example, a user who waits in line for a cup of coffee every morning could earn points toward a gift card, using the time they would otherwise be idle. Most survey opportunities are relatively brief, and every point adds up to rewards.
At the end of the day, LifePoints is not a full-time job opportunity, so people looking to make more substantial money will want to look for extra options, too. But those hoping to make a bit of additional pocket change during their bus or train commute, or waiting in line at the grocery store, will love being part of the LifePoints panel.

How is LifePoints different from other paid survey sites?
Many paid survey programs make their money by selling users' personal data to their clients in addition to their research. LifePoints will never reveal, sell, or trade its users' personal information. All LifePoints offers its clients is their research – not their users. Participants can trust that their data is secured from the corporations requesting the study.
Most survey sites have a specific points-to-dollars conversion ratio. The LifePoints Panel redemption model is slightly different, as the exact dollar amount depends on the way users choose to redeem the points. In any event, the ratio is between 1,100 and 1,200 points per $10 redeemed.
In general, survey sites tend to offer only one way to earn money – surveys. LifePoints has the added option of completing behavior diaries and even doing product tests, which most survey sites don't offer. Participation in LifePoints Panel tends to be fresh and interesting all the time.
Does LifePoints have an app?
Yes! In addition to the LifePoints Panel website, users also have access to mobile apps for their Android or iOS devices. Android users can download their app from the Play Store, and iOS users can find theirs in the App Store.
Some users reported that the app experience is not quite as fluid as the web-based dashboard. Rumor has it that the app has had some growing pains in its development process but has improved recently. Regardless, it does make it easier to earn points on the go, which is a huge plus.
How does LifePoints Store Personal Data?
The LifePoints Panel program is, of course, all about user research that the LifePoints team collects and sends to its clients for analysis. The risks of invisible user data falling into the wrong hands are all over the news these days. Here's what users should know about how LifePoints Panel uses their information.
Whether users access LifePoints on the web or through the mobile app, does LifePoints keep their data safe?
There are no surprises with the LifePoints mobile app or website. All the user data LifePoints obtains is through completed survey invitations, behavior diaries, and product tests. Neither the LifePoints Panel app nor the website collects any data without the user's voluntary contribution.
What does LifePoints do with the survey data to protect individual users' identifiable information?
The LifePoints Panel algorithm uses user profiles to connect relevant survey opportunities with the users who are likely to offer the most valuable input on the product or service in question. However, once the user completes the survey or task, LifePoints anonymizes and pools the data. This ensures that no personally identifiable information is ever revealed to the client.
While clients will receive a database that they can use to sort, filter, and analyze the data from the survey or task, there is no trail to connect this data back to individual users. Likewise, the client is never revealed to the LifePoints users. This protects user and client privacy while still offering valuable insights and research to the client.
Sites Like LifePoints
Looking to up your paid online survey game? Discover other online survey sites and panels that could be worth signing up for:
Survey Junkie
Survey Junkie is an online survey site that lets you install their browser extension or download their mobile app to take surveys on the go. Like LifePoints, Survey Junkie is a global survey site. The payment on offer varies.
MyPoints
Online loyalty program MyPoints offers cash back rewards and gift cards by completing surveys, tasks, and other assignments for a range of companies. MyPoints doesn't have the limited restrictions on redeeming points like LifePoints do (e.g., redeeming only for PayPal Cash Back). In fact, you can cash out MyPoints for airline miles.
PrizeRebel
PrizeRebel is a survey rewards site that gives points for signing up for product trials and videos, as well as running surveys. With a $5 payout threshold, it offers a lower minimum cash-out rate than many other online survey sites.
Swagbucks
Swagbucks.com is a popular way to earn rewards for completing tasks online or on your phone. You can complete surveys, watch videos and listen to music and get SB reward points you can change into cash, gift cards, or other prizes.
Conclusion: Why LifePoints is Worth Your Time
Anyone trying to break away from a traditional work schedule can benefit from a few extra dollars here and there. There are plenty of online survey sites out there to choose from, but not all are created equal. Some services pay more or less than others for the amount of time invested, and people who are not careful may run into attractive-looking scams.
Lightspeed, the parent company of LifePoints, has been conducting consumer research for nearly 80 years. Users can trust that they're working with a legitimate research company.
The LifePoints Panel program is a legitimate opportunity for real people to earn real money by sharing their opinions and completing activities that they would have done anyway. LifePoints is backed by an established, legitimate market research organization, and there are no secrets or surprises for users.
While LifePoints is not a get-rich-quick opportunity, it does put a few extra dollars in its users' pockets on a relatively consistent basis. For those looking for a little extra spending money to supplement their other income streams, LifePoints is an excellent use of their free time.
---
Lifepoints Panel Frequently Asked Questions (FAQ)
Is LifePoints panel legit?
That is a 100% yes. In fact, the LifePoints Panel is a legitimate opportunity for users to earn money by taking surveys and sharing their experiences.
How much can you earn from LifePoints?
In general, Reddit members say they earn roughly $10 a month from participating in the LifePoints panel program.
How do you get paid from LifePoints?
Redemptions can be in the form of cash into Paypal, gift cards from major retailers such as Amazon, or donations. In addition, the payment threshold is quite low.
How many LifePoints do you need to redeem?
The number of LifePoints varies. Typically 550 points are required to redeem $5 in value while 1200 points will be required for a $10 redemption.