When it comes to making cash from a side hustle, thinking outside the box is unquestionably the best way to get ahead.
With that in mind, did you know that it's possible to sell feet pics online to make extra cash? Yes, you heard that right. You'd be surprised about what people are willing to pay for.
In this post, we'll demonstrate how it's 100% possible to sell pictures of your feet online for money!
Why sell pictures of your feet?
Selling feet pics is a legit and growing industry, enabling many people to earn money online with minimal effort.
Unlike other make-money ideas, there's very little outlay involved to start offering feet pics for sale – so it's a great option for passive income. You won't need a professional studio, super expensive camera, or be an established foot model. All you need is a decent camera (a high-tech smartphone will do just fine), an eye for detail, and access to a well-maintained set of feet.
But don't just take our word for it. People from all around the world are making money selling feet pictures on reputable websites and platforms.
Read on to discover how to sell pictures of your feet online for maximum profit, while keeping yourself safe and protected.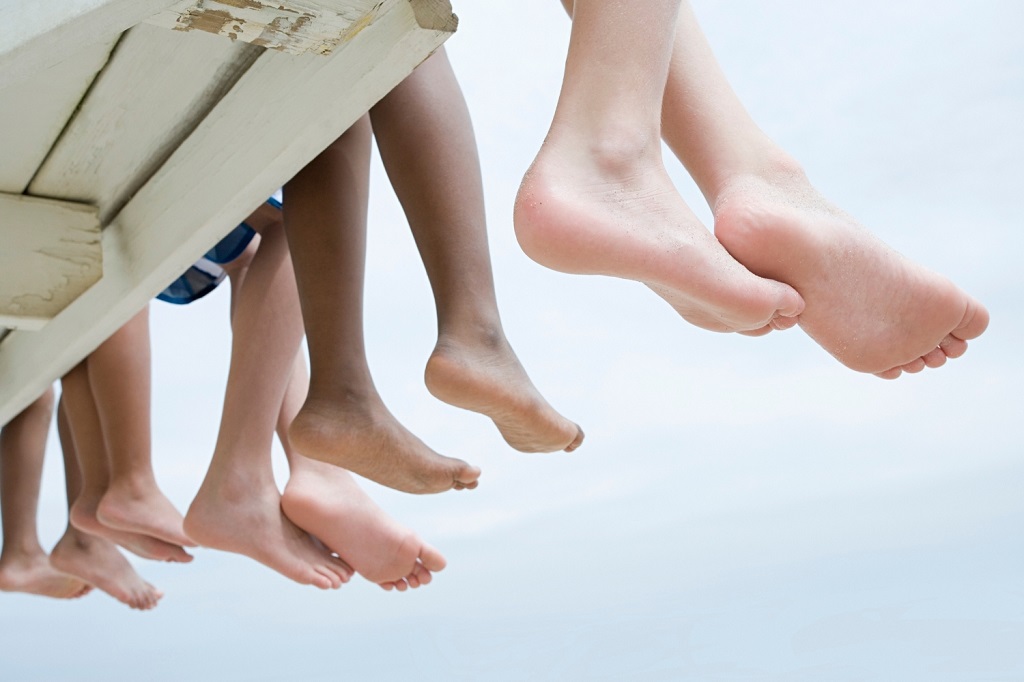 Who will buy feet pics and what for?
Before we dive into how selling feet pics works, let's first look at the buyers – people who drive demand for feet pic sales, and what specific purpose they use them for?
The simple answer is that there are many different types of people who are willing to pay top dollar for feet pictures. Whether it's for commercial or personal purposes, each buyer may have something different in mind.
Business-wise, there are many reasons why feet pics are in demand. While you might think that most businesses would hire their own foot model, many have a limited budget to do so. This leads to regular purchases of stock images from image websites or buying photos from individuals who sell from other digital platforms.
Here are some of the most common business reasons people buy feet pictures today:
Digital publishers: Web publishers are always looking for imagery that stands out. Whether it's for a beauty blog, yoga site, or health insurance landing page, feet pics can be suitable for use on all kinds of websites and blogs, and even social media platforms.
Print publishers: Print publishers like newspapers, catalogues and magazines are always on the hunt for fresh new imagery. Feet pictures can work across many types of editorials and commercial content, making them an in-demand image purchase category by many editors.
Beauty and cosmetic companies: Beauty and cosmetic companies are often on the lookout for feet pics. This is usually the case when they are looking to showcase a product for feet. For example, a foot cream, nail polish, nail art, foot trinkets, or a foot care tool.
Shoe brands: When it comes to commercial and business purchases, feet pictures are in high demand by shoe brands. While many will commission their own photoshoots, stock images sell, too. Just bear in mind that these pics will usually need to include a specific product image.
Television and movie producers: Will often purchase feet pictures to help them select suitable actors for tv and film, or even to get an idea of how to set up a specific scene.
Modeling agencies: Model agencies purchase feet pictures as this helps them to identify and commission the best foot models for campaigns.
Of course, many people buy feet pics for highly personal reasons, too. In this case, these customers are usually limited to the following groups:
Feet lovers: Speaking plainly, these are people who love feet, and this usually involves a foot fetish. A foot fetish is defined as a sexual interest in feet. The nature of a foot fetish can differ from individual to individual. For some people, just looking at feet provides gratification. It is this group that drives a high level of demand for feet pic purchases and image subscriptions via sites like InstaFeet.
People who buy feet pics for decor: Some people also like to purchase foot pics, simply to display them in the home environment. For this group of people, creative, well-staged, highly aesthetic images will typically sell best.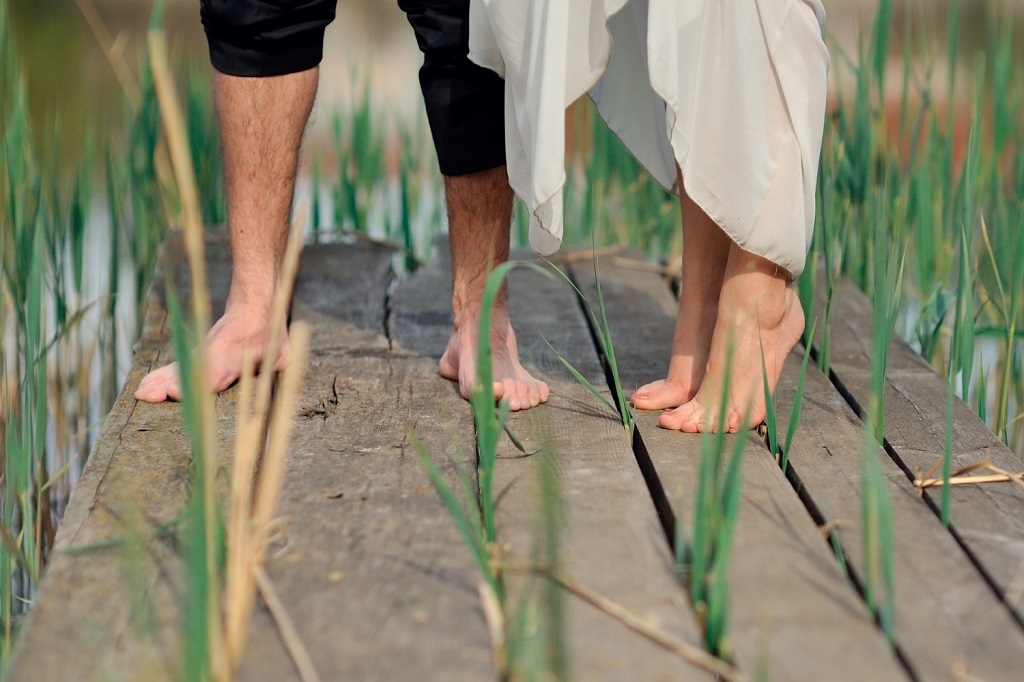 How much should you to charge to sell feet pics?
Offering feet pics for sale can be a lucrative way to make money online. You could make anywhere near $5 to $400 per picture. That said, money earning potential varies greatly because there are so many ways to sell pictures of feet. This results in a different price tag you'll attach to each image.
Selling individual feet pictures via your own website can be one of the best ways to make money online. Alternatively, selected stock photo websites offer royalty fees when someone buys one of your pictures. Other options include subscription websites where users pay a monthly or item-based fee.
Like with anything, the best way to earn an income from feet pics is to start small. Once you explore your options and start to understand your target market, you're likely to find trustworthy clients who are willing to pay you directly.
But when it comes to the best way to make money online, you're likely to find maximum profit by becoming a top content creator for a subscription site like Insta Feet.
Where can I sell feet pics?
No matter where you live in the world, there's a market for feet pics. In fact, there are plenty of websites and apps for both android and iOS dedicated to this market. And, if you own full copyright to the pictures, you can usually sell them online without any restrictions.
Read on for a comprehensive list of websites, apps, and social media platforms that allow you to sell feet pics.
Buy and sell feet pics websites
You might be surprised to learn that many website platforms exist solely for the purposes of connecting buyers and sellers of feet imagery online. These sites offer lucrative ways to make money online.
Unlike typical social media platforms, feet pic websites are private. Your mages will only be visible to subscribers, so they can't be seen by the public. As such, these websites can be a safe platform for feet pic sellers who are seeking privacy.
Of course, the credibility of feet pic websites varies, and there are scams around. So, it pays to do your research before signing up. After all, your safety and privacy should always come first. When choosing to engage with any of these websites to sell feet pics, it's important to protect your identity carefully. Only disclose minimal personal information and disengage, report and/or block any users that make you feel unsafe or uncomfortable.
Here is our pick of legitimate websites where you can opt to sell your pictures of feet online for money.
InstaFeet
As a legit, web-based subscription platform, InstaFeet connects foot admirers (essentially those with a foot fetish) from all around the world with content creators, facilitating access to exclusively curated content.
If you are a female aged 18 or above, you can apply to create a profile and sell images via InstaFeet as a foot model. Men are not permitted to register as sellers of feet pictures on InstaFeet. The sign-up process is fairly involved, and your application will be reviewed before approval. You will need to provide personal details and submit a picture of your face and well-manicured feet together in a single image. To qualify as a content creator, InstaFeet asks that you apply with hair-free, well-maintained, pretty feet and could deliver excellent quality, high-resolution images on a regular basis.

As a subscription-based web service that is not a scam, InstaFeet offers multiple purchase options. Buyers may subscribe in two ways – either via your profile or by the pictures you upload.
How much can you make with InstaFeet?
InstaFeet requires foot models to provide valid ID in order to get paid. The money you can make is tied to the quality of your imagery, and the frequency with which you post your feet pics. Subscribers are willing to pay as much as $20 per month to access your content, and you could make up to $100 or more per image. Of course, the more subscriptions you can generate as a content creator, the more extra cash you'll earn. Some people can even turn InstaFeet into a full-time job. It's worth noting that InstaFeet will charge a 10% sale commission, with the remainder of the fee given to the seller.
Dollar Feet
Dollar Feet is a well-established foot image website, and it has been operational for more than six years. It is a relatively safe website to sell photos of your feet online and get money in exchange. Dollar Feet pays content creators via PayPal and gift cards within 24 hours of selling the picture.
It works like this: You submit photos of your feet to the website, and you'll receive a payment if it gets accepted. The amount you can get paid depends on the quality and demand. If Dollar Feet finds your pictures are of good enough quality, you could become a regular seller.
Feet Finder
The Feet Finder buy and sell feet pics website allows users to buy and sell content from a large pool of verified content creators. As one of the most popular digital platforms, Feet Finder boasts hundreds of exclusive feet pic and video uploads every day.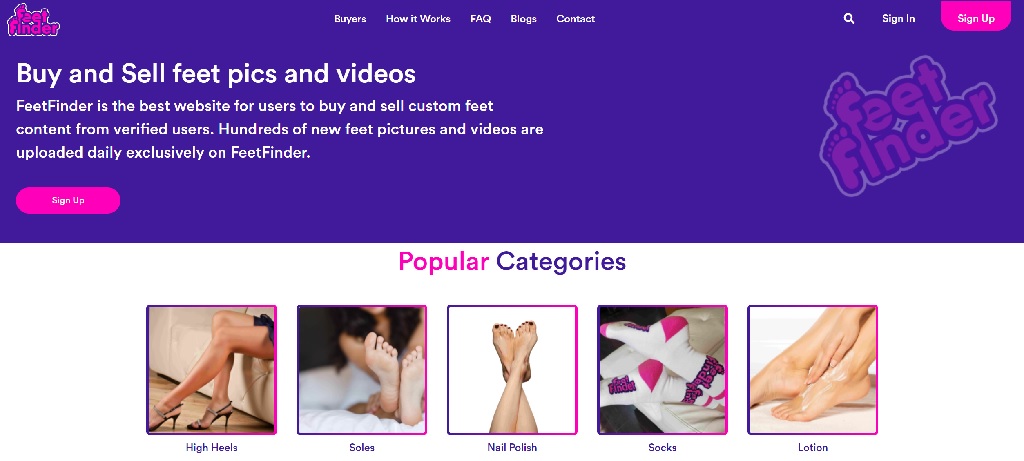 Verified users charge anywhere from $10 or more for access to feet pics. The most successful users upload content regularly, with the aim of gaining popularity and increasing the chances of finding cashed-up buyers.
Wiki Feet
Wiki Feet is a popular photo-sharing platform. You could make up to $100 offering feet pics for sale. These types of websites come first in the search results or 'Feet images'. They dominate google image search results, Pinterest search results, and most people looking for feet pictures online end up on these websites to buy the feet pictures they are looking for. If you are a legal adult and living in the US, UK, Canada, or Australia, you could easily make money selling pictures of feet via the Wiki Feet website.
How to make money selling feet pics on social media
Offering photos of your feet for sale via social media platforms can be a smart way to make money online. Here are our top picks:
Sell Feet Pics on Facebook
Facebook boasts many stock photo forums and foot fetish groups, so it can be a great way to find buyers looking for feet pictures. Consider joining Facebook groups and directly reaching out to these people to sell feet pictures. Alternatively, showcase your work on your Facebook profile so buyers can directly message you. While you can't use hashtags, Facebook is still one of the most relevant social media sites, making it easy to find potential buyers or showcase your feet pics for people to buy.
Sell Feet Pics on Instagram
Instagram is known for amazing high-quality images, and it suits those with a high level of creativity. You could build a profile dedicated to feet pictures that you own the rights for. If you gain enough following and reach a lot of people, buyers could flock to purchase pictures of feet directly from you. It's possible to gain a huge amount of reach, simply by researching hashtags and applying the most relevant and popular ones to your account. In this way, you can turn your images into an online marketplace.
Be sure to keep your private information safe when dealing with buyers online. If you are not comfortable processing direct transactions through Instagram, you could direct them to your website, or stock image profile you have on the website where you sell these pictures.
Sell Feet Pics on Twitter
Twitter is a great way to reach thousands of people – simply by using the right hashtag. Twitter is being used by advertisers, bloggers, cosmetic companies, and other commercial buyers. There is a fair chance a well-researched hashtag could reach the right person looking for feet pictures.
Sell feet pics on Tiktok
Tiktok is one of the most on-trend social media platforms right now. The reach you can achieve via Tiktok is unlike anything you'll find via traditional social media platforms (Facebook and Instagram). Right now, it's possible to reach a significant number of people through short form Tiktok video format. Of course, that could all change with an algorithm update, but right now, Tiktok is where it's at.
Sell feet pics on Snapchat
Snapchat was a social media platform originally designed to be used for private, one-on-one photo sharing. However, it can also be used for a variety of functions, including sending short movies, live video conferencing, texting, creating caricature-like Bitmoji characters, and broadcasting "stories" to all your followers.
You could consider selling pictures of feet on Snapchat if you have a secure means of getting paid. Or you could direct potential buyers to your Snapchat profile where you have made the feet images available.
Selling feet pics to stock photo websites
One of the best and safest ways to sell feet pics is to sell them on stock photos websites. These websites are where many potential buyers look first when they need to buy feet pictures in a legitimate way. Stock image websites won't pay much, but they could provide you with a steady stream of royalties for higher-quality images.
Which stock photo websites can I sell to?
The top stock photo websites you can sell feet pics to include:
Shutterstock
Shutterstock is one of the biggest and most reputable websites for stock images. It was founded in 2003. Shutterstock works on a subscription basis, with most potential buyers paying a minimum $29 monthly fee. You get paid a small royalty when someone downloads your pictures.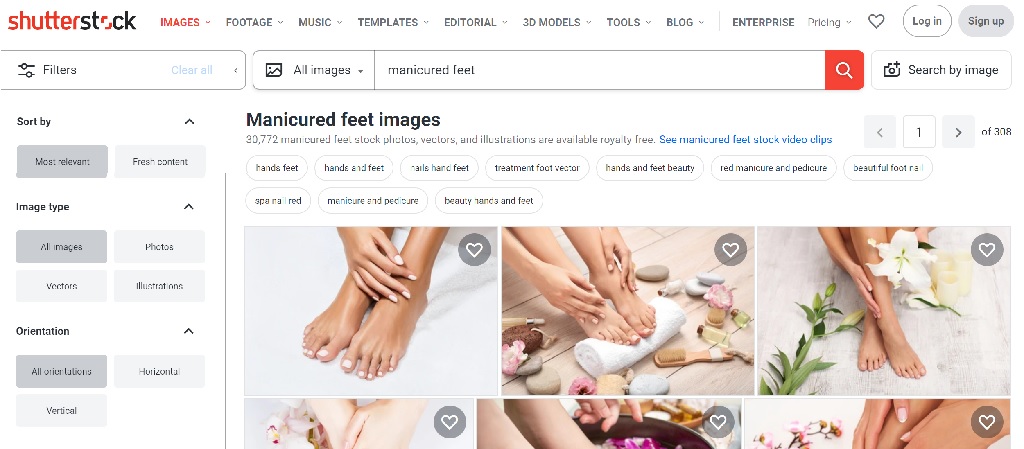 You will retain the copyright for any images you submit, whilst having the option to sell individual pictures with standard and enhanced licenses. You get paid through direct bank deposits or PayPal. Shutterstock is one of the best sites to earn royalties by selling feet pictures online.
Shotz
Shotz is another stock image website where you can make money selling pictures of feet using monthly subscriptions. Buyers who are looking for quality images will go to Shotzr or get directed to Shotzr from Google search. If you are confident of the quality of your images, Shotzr can be a great way to make money. If your pictures get downloaded enough, you will get picked up for their sponsored program and get paid extra by the platform.
iStock photo
iStock photo is a leading global stock image website where you can sell pictures of feet. When you apply to iStock, your application will be reviewed, and their editors will decide whether to include you in their sponsored program. You'll be required to sign a license agreement.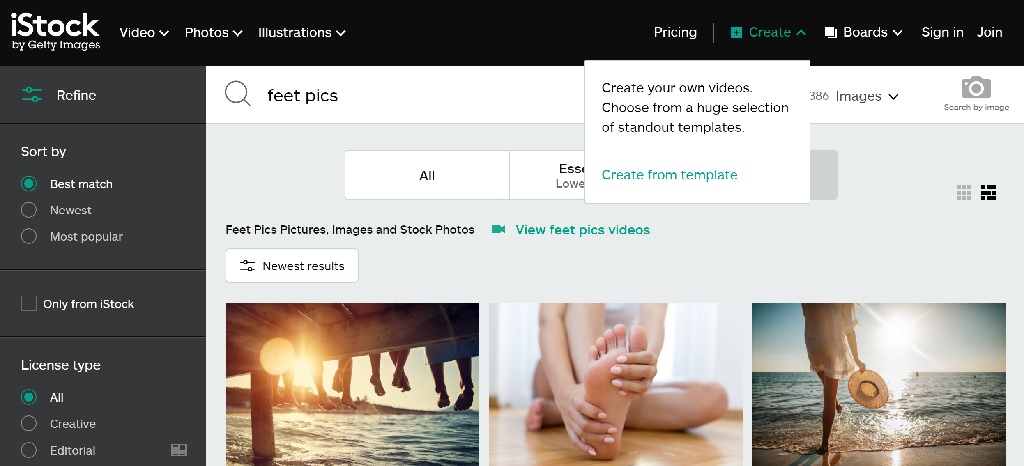 There are two types of licenses available from iStock. The first is for the Essentials collection, and it enables you to sell the same photographs as on other stock photography websites via a monthly subscription. The other is for the Signature Collection. Here, you are prevented from selling any of your photographs to other stock photography sites. It is up to you which one you sign up for. You could easily make $100's of dollars if your pictures get selected. Some people often hire feet models to pose for pictures to ensure the best quality.
Other stock photo websites
Of course, there are many other stock photo websites available that work on a monthly fee or ad-hoc basis. Some alternative stock image websites include Unsplash, Gratisography, Pixabay, Stockvault, Pexels, Picjumbo, Picwizard, and more.
How much do stock photo websites typically pay?
Stock image websites can pay you from approximately $5 per image, up to $500 for complete copyright handover. The money you can charge will depend on the quality and popularity of your image.
Most stock image websites run on a monthly subscription basis. Depending on how many times your image or images gets downloaded, you get paid accordingly. Selected stock image websites also let you sell your images to individuals while taking a percentage of the money you make. The best way to make money on a stock image website is to upload high-quality images as frequently as possible.
Which stock photo websites are best?
The best stock photo websites are those that have verified users, offer competitive monthly subscriptions, sign license agreements and pay professionally. You can rely on these websites to pay on time, pay fairly and not leak your data. If you get the hang of it and get highlighted for feet pictures, you could make a lot of money.
In fact, there are photographers who have made selling stock photographs their main business. Some of the best stock photo websites are the ones we mentioned above. Generally, iStockphoto, Shotzr, Shutterstock are the most reliable ones in the market for sellers. If you frequently submit excellent quality pictures on a regular basis, you might be able to make $100 to $1000 dollars if you are selling multiple pictures a month.
Sell feet pics via an online crowdfunding platform
Influencers, artists, and small businesses are making money off crowdfunding websites. There is no reason why you shouldn't use these platforms to make money selling feet pictures. All you must do is open a profile on the crowdfunding website and offer pictures of feet for monthly subscribers. These platforms make it easy to get paid safely and without disclosing your personal information. Some platforms where you can make money selling feet pictures are:
Patreon
Patreon is a crowdfunding website where people put out exclusive content for their subscribers. Patreon has its own subscriber plans, with the option to tip individuals for an extra reward. You can build subscribers through social media platforms like Instagram and then use Patreon as a way of payment.
Podia
Podia lets you make money online by selling feet pics through their platform. Their digital download platform allows you to sell digital copies of your pictures easily.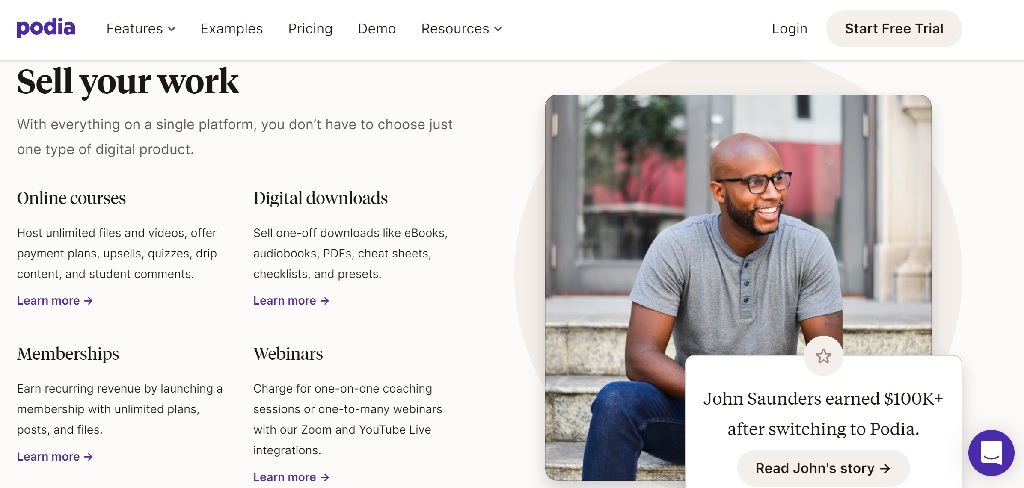 Buy me a Coffee
Buy Me A coffee is a Patreon alternative that allows content creators to make money online by offering exclusive content to subscribers.
Subscribe Star
Subscribe Star is a content monetization program. You could make money selling feet pictures by engaging potential buyers through this platform.
Sell Feet Pics on Foap
Foap is a standard photograph selling app on the internet. You could create pictures of feet and upload them on Foap through Android, iOS, or even your laptop. Photographers use an Android or iOS smartphone app to upload their photos. Potential buyers of pictures of feet will make purchases through the app. Some people have specific image needs. They also set up 'missions' which are custom pictures required by buyers. By applying for these missions and getting selected, you could find an additional way to make money online.
Sell Feet Pics on Only Fans
Only Fans is a widely used crowdfunding platform by individual content creators. It is much like YouTube with fewer restrictions on the content. Users must pay to subscribe, offer a one-time tip, or pay per view on the Only Fans platform. People can sell pictures of feet on their Only Fans and make money through crowdfunding.
Other ways to sell feet pics
If you want other ways to sell feet pics for a passive income, then here are some alternative options:
Sell Feet Pics on Etsy
Etsy is an eCommerce platform that lets you sell physical as well as digital pictures. The Etsy shop is a particularly good platform to use when marketing to potential buyers who are looking for images to decorate their home or space. If someone wants artistic feet pictures in a picture frame, Etsy is probably the place to do it. It's simple to get started with an Etsy shop account, and it has a streamlined selling process. If you want to sell multiple copies of your feet pics, you could sell digital copies of the picture in various formats from your Etsy account.
Sell feet pics on eBay
Much like Etsy, you could sell physical feet pictures as well as digital copies of your images on eBay. eBay is one of the most used eCommerce websites making it easy to sell stuff and get paid via PayPal. Both the buyer and seller are protected with great customer care and safety when you sell pictures of feet on eBay.
Sell Feet Pics on Craigslist
Craigslist is a classified website where you can easily post a free ad for your feet photograph. To sell via Craigslist, simply create an account and submit an image of your feet for sale. Be sure to follow our advice around privacy and safety to protect yourself.
Sell feet pics on Zazzle
To offer feet pictures for sale via Zazzle, you will need to open an account on Zazzle and upload pictures. You could add keywords and descriptions for your picture to make it easier for potential buyers to easily find the picture on Zazzle.
Creating a website to sell feet pics
If you don't want to go through a third party, building your own website to sell pictures of feet can be an excellent way to develop a steady, passive income. While it might sound daunting, setting up your own website is quite easy. Many platforms offer a website setup tutorial. Alternatively, you could hire a professional web designer on cheap rates to build a basic website to get you started.
Create a blog, beauty or foot care website
When thinking about a website for selling feet pics, consider blogging or writing about beauty or foot care. Consider your monetary aim: Is it to start ranking in Google for relevant terms, or do you want to tap into an affiliate marketing program by selling feet related items?
How to set up your website
Here's a quick step-by-step guide to setting up your website to sell feet pics.
Get a domain
The first step is to think of a domain name. A domain name is what represents your blog or website. It must be easy and represent what you are writing about – namely, selling feet pics. There are many places that sell domain names at cheap prices. Some common ones are NameCheap, GoDaddy, Bluehost, DreamHost, and many others. After you have bought the domain, you will need to buy a hosting and update the nameserver in your DNS settings. You can call on support from your hosting company to do this.
Create a website
The second step is to create a website. Some hosting sites offer premade free websites that you could use. WordPress is one of the very popular CMS that is free and easy to work with. With a WooCommerce plugin, you can also build a website with eCommerce capability for free. But you might like to invest in a professional theme or hire a professional to get a better-looking site.
Get the social media accounts
Once you have confirmed your domain, make sure you register social media accounts for it on platforms such as Instagram, Facebook, and even Tiktok.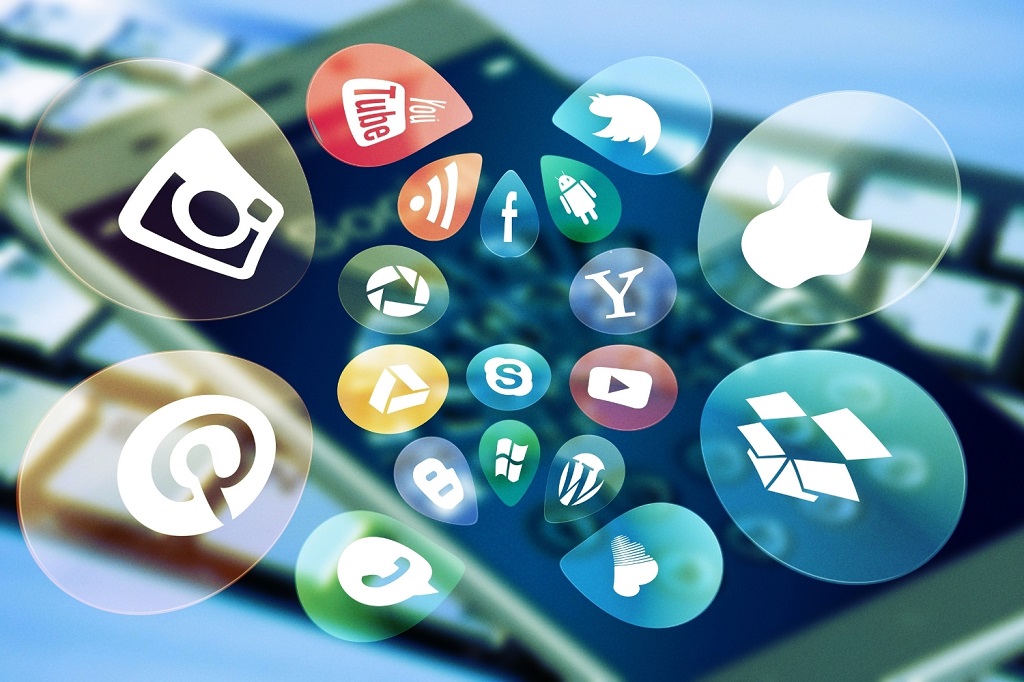 Upload and Format Your Content
The next step is uploading your pictures and writing copy that keeps your visitors engaged and ultimately, to get them to buy from your website.
Preview and Publish
Preview the website to see what it will look like. Once you are satisfied with the results, hit publish.
You could also set up an e-commerce website to exclusively sell pictures of feet using Shopify easily and with minimum investment. If you want to safely deal with buyers through your website, you need to set up a merchant account, set up your site and you're ready to roll.
How to create feet pics for sale
Stock photo creation has become an excellent side hustle for many individuals and selling feet pics is essentially no different. Here's a step-by-step guide to help you understand exactly what goes into the process when you create feet pics.
Find a foot model
You can either take pictures of your own feet or use someone else for foot modeling. This could anyone from a family member, friend, or someone you hire for the job. Some photographers also hire people to take pictures of their feet for stock photos. Whoever you choose, it's essential that they have provided consent for you to use pictures of their feet for commercial purposes and that they understand what is required of them.
Invest in equipment
In order to create high-quality stock images, there are a few equipment requirements that you simply can't do without. You'll need to invest in decent lighting, a high-quality camera, and any props you may need. But if you're worried about needing to spend too much money, don't get frightened! Often, a high-tech smartphone with access to good presets and filters is enough to get the job done.
Choose your feet
At this point, you'll need to determine what foot model to use in your images, whether it's yourself or someone else. This decision will likely be informed by what kind of foot pictures you want to take. Do you want to show pretty feet? It could be to showcase shoes, nail polish, cracked heels, soft heels, or something else. There could be types of feet suited to other stock image ideas.
Set the scene
Feet pics can be taken in several ways, using many different photography techniques, backgrounds, and props. Before you decide how to set up your scene, think about the audience you are trying to market to. Is it corporate? Perhaps a beauty website, nail, or a meditation studio? You could take pictures of feet in various backgrounds, in resting or walking positions, with or without nail paint.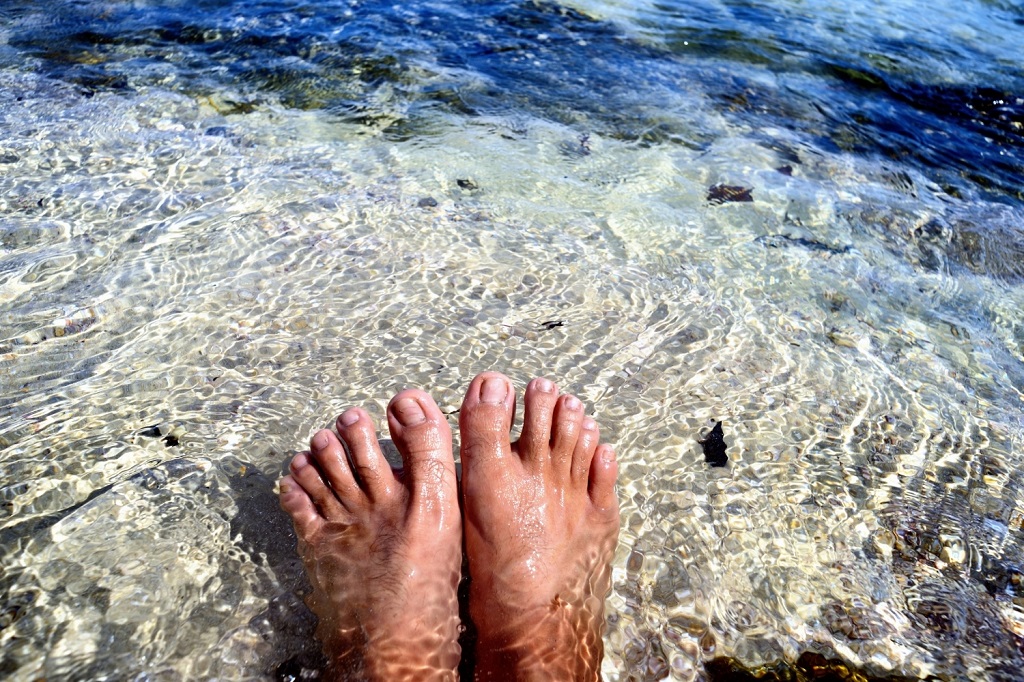 Take your feet pictures
Once everything is set up, it's time to organize your photoshoot. Make sure you set aside plenty of time. Ensure you have your equipment set up before you start and provide clear and concise instructions to your foot model (if not yourself). There is no reason not to take your pictures from home.
Most importantly, ensure you take multiple foot pictures and choose the best ones.
Edit your feet pics for sale
It's one thing to take a good photo, but a fair amount of the work comes in editing your image at the back end. If you're looking to sell professional-grade foot images, this is one process you shouldn't rush.
Consider firstly how you're going to edit your image. Does your camera offer software? Will you invest in Adobe Lightroom? Perhaps you could also consider a free or paid image editing app for your phone.
Once you've settled on software, apply pre-sets or filters that will help enhance your image and help it stand out. While it's possible to create your own filters, you could also invest in pre-sets that others have created. Seek out a style and 'look' that's in tune with what you're aiming to market to your buyer.
Finally, depending on copyright considerations, you may wish to add a watermark to your images to protect them when you showcase them for sale.
Upload images to your chosen platform
Whether it's Etsy or eBay, Instafeet, Craigslist, Amazon, or social media, you're now ready to upload your images to your platform of choice. From there, hopefully, it won't be long before you find a potential buyer!
Image copyright and usage considerations
When you create an image, did you know that there are many copyright considerations to consider before you commit to on-sell that image commercially? Copyright requirements may vary from country to country. You'll need to also consider image usage rights and whether you want to use a watermark. This is particularly the case if you use someone else as a foot model.
Whether your plan is to on-sell your image to a print magazine, website, through Etsy, or to a stock photo library, it is your decision as to what level of copyright freedom is attached to the sale.
Providing complete copyright freedom means you are passing on all usage rights to the buyer. As a result, they will now own the foot picture and you won't be able to sell it to anyone else or use it yourself to generate additional money.
Alternatively, you could opt to provide partial copyright. This allows a buyer to use the image, but you can still sell it to someone else for usage. Another form of copyright may involve giving permission to use the image but not for making money. This is called editorial usage, and it's quite a common feature on stock photo sites.
Before selling an image to any buyer, it's probably worthwhile researching their copyright policies, and determining whether you want to give them full or partial rights. At this point, you also need to decide whether to use a watermark.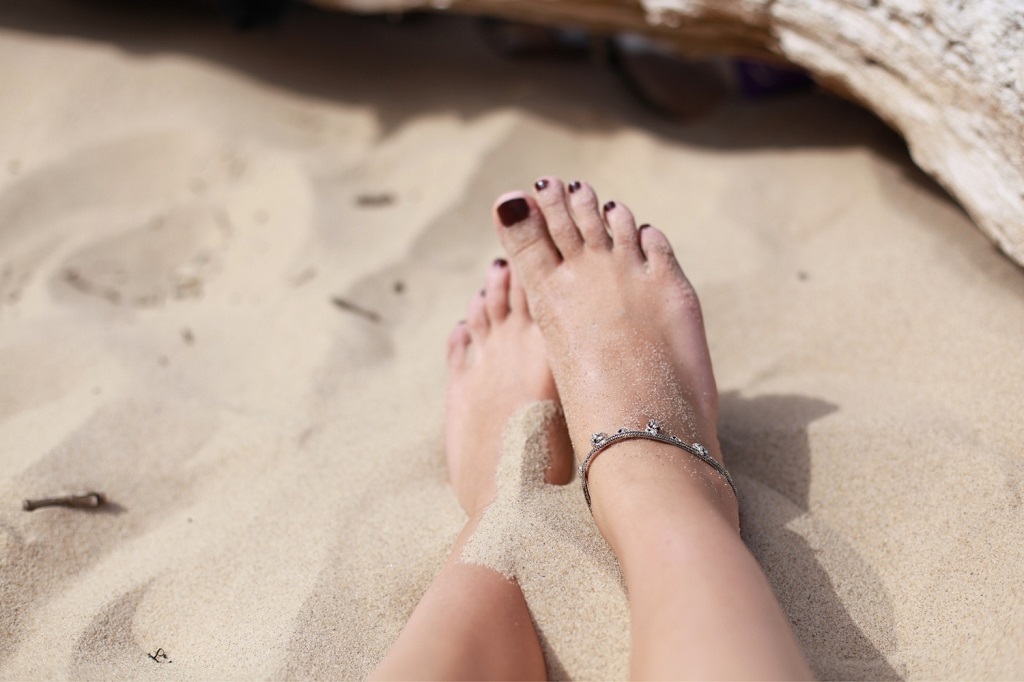 Feet pics for sale: How to be successful
Let's face it – you are probably not going to turn into the next Kim Kardashian by selling feet pictures. That said, you could certainly make a decent amount of passive income – simply by following a few smart strategies. There are few things you should bear in mind if you decide to start selling pictures of feet online:
Take high-quality photos
Whether you're targeting commercial buyers or a foot fetish, there's one rule you should never ignore: The photos you take should always be of the highest quality. Aim for a minimum size of 2000 x 2400 pixels. The file shouldn't be less than 4 megapixels. Higher quality images make it possible to be used in adverts, prints, and other usages. Often, commercial buyers will request a raw file as well as a standard image file (such as .png or .jpg), so ensure you are able to extract a. raw image output file.
Have access to a decent camera
Taking a good-quality picture requires you to invest in a decent camera. If there's one thing you plan to invest money in, make it this.
You don't need a super expensive camera to take pictures of feet, although having one doesn't hurt. Almost all DSLR cameras can take pictures at 4 MP and higher resolution images. Some high-tech smartphones are also capable of taking high quality images.
Create different and interesting feet poses
Creativity is key, as you won't make money uploading the same feet pose every time. Feet in different poses, in different backgrounds, different shoes, nails paints, with different props and positions could help you reach a broader pool of buyers looking for various pictures of feet online.
Think about the background
Background plays a big role in what you are trying to sell. Think about doing something different with each foot picture. You could take photos on carpet, on tile floor, on the table, on the bed, on the road, at the beach and so many other places.
Use props
You could use props such as socks, shoes, nail paint, foot spa, exercise equipment, feet scrubs, and various other feet products.
Sell on many different platforms
You could increase your sale and the probability of finding a potential buyer when you sell your pictures on various websites, apps, subscription platforms, and via multiple social media accounts.
Be creative
There is no alternative to creativity. You could do so much with your feet pictures. Search on the internet for what kind of feet pictures are available and think outside the box about how you can make your images stand out from the pack.
Request payment first
If you are selling pictures of feet on your own and directly dealing with the client, consider requesting payment in advance to protect yourself. After all, not everyone is trustworthy on the internet. While most platforms protect creators by ensuring they get their payment on time, others can unfortunately attract scammers. Do your research and ensure you only sell on legit platforms.
Advertise/promote your service
How will you sell if people don't discover you? Advertise your products on social media, google adverts, and other possible places. Talk to people, get in touch with potential clients, and be a member of online groups.
Take care of your feet so they look good
If you wish to make money off selling pictures of feet, pretty feet are essential. Feet that have calluses, cracked heels, or that are generally unkempt will not be attractive to potential buyers. You need to clean, moisturize and take care of your feet if you wish to make money by taking pictures of them.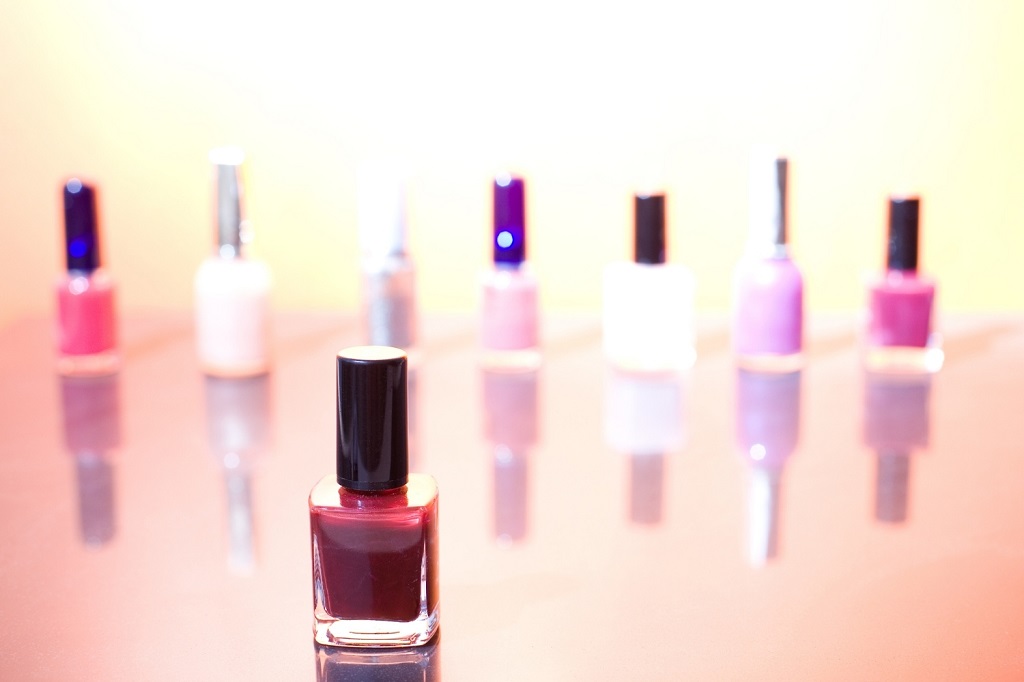 Investing in a good pedicure and beautiful nail polish can make all the difference. Invest in a regular foot care routine and quality nail polish from brands such as OPI, Essie, YSL, or even gel shellac.
Is it legal to sell feet pics?
Yes, it is legal to sell feet pics in most countries. As long as you are not selling pictures of someone who has not consented to selling their feet pictures, you are good to go. It's fine to sell pictures of feet in countries like the US, UK, Canada, Australia and New Zealand without any issues.
However, you should only sell pictures of feet that have been taken from consenting adults. You should also consider that some countries with strict religious beliefs may put restrictions on selling pictures of feet.
Who should sell feet pics?
Not everyone is suited to this side hustle. Here's a roundup of the skills you should hold before you attempt to sell feet pics:
Be social media savvy
To sell anything online these days, it pays to be social media savvy. People who have no knowledge of how social media or selling items on e-commerce works, might find it hard to make money online. After all, there is work involves in not only taking pictures but finding potential buyers online, processing purchases, posting pictures, and sending picture files.
Be creative
This goes without saying. You may sell one or two standard feet pictures, but you must be creative if you want to make a decent amount of passive income from this hobby.
Be able to promote the feet pics successfully.
To find potential buyers, you'll need to draw them in with successful promotions. You simply can't upload your pictures in some dark corner of the internet and expect them to sell. Research promotional opportunities carefully, and ensure you showcase your pictures to the widest audience possible.
What camera should I use to create my feet pics?
In simple terms, a high-quality camera is essential to take pictures that you plan to sell. Standard SLR cameras do a great job of taking HD images or even 4K images for you. Smartphones that offer higher resolution cameras with greater than 4 MP picture quality, and good light sensors are ideal for taking pictures.
How to collect payment when I sell feet pics?
There are various ways to collect payment when you are selling pictures of feet online, but it pays to be aware of scams. You need to be very careful while sharing your transaction details, so proceed with caution. Make sure not to click on unknown links sent by unknown people, do not share OTP, and do not download unknown apps. If someone asks for your name, date of birth, or social security number to send you money, do not share this information. Below are the safest options to receive money when you are selling online:
Wise
If you are living in the US, Australia, UK, New Zealand, and many other countries, getting paid through Wise is fast and easy.
PayPal
PayPal works internationally. Create a PayPal account and make transitions online, whether within the same country or further afield. Note that you may need to pay a processing fee.
Bank account
Bank accounts may be an acceptable payment method for corporate buyers. Do not give bank account details to untrustworthy people. Instead, link a bank account to trustworthy online platforms such as Patreon, Shutterstock, iStock, or other such websites that pay you directly.
How to avoid getting scammed?
Unfortunately, like many things on the internet, when selling pictures of feet, it is possible to get scammed. A scam may happen in the form of not getting paid, someone accessing your bank information, or even identity fraud. Here are a few ways to avoid getting scammed.
Collect payment first
Before you send out pictures, collect the payment from the buyer. This prevents you from not getting paid for your work.
Use trustworthy payment methods
Unless you are certain you can trust your buyer, do not give out personal bank information as part of a sale. If you are asked to download unknown apps, pay via bitcoin, or other digital currency that you have no knowledge of, stay away from these. Always use payment methods where both buyers and sellers are protected.
Set transparent pricing
Negotiate the price before sending the picture. Keep your expectations clear and be transparent about the pricing you want to achieve. If you are offering different pricing based on purchase quantities, different poses or props, make sure to communicate that with the buyer.
Am I liable to pay tax on foot photo profits?
Usually yes. Whether it's the USA or another country, every jurisdiction has its own tax rules. Typically speaking, you will need to pay taxes for anything you sell online. Most photography selling platforms. You should research tax liabilities in your jurisdiction before you get started.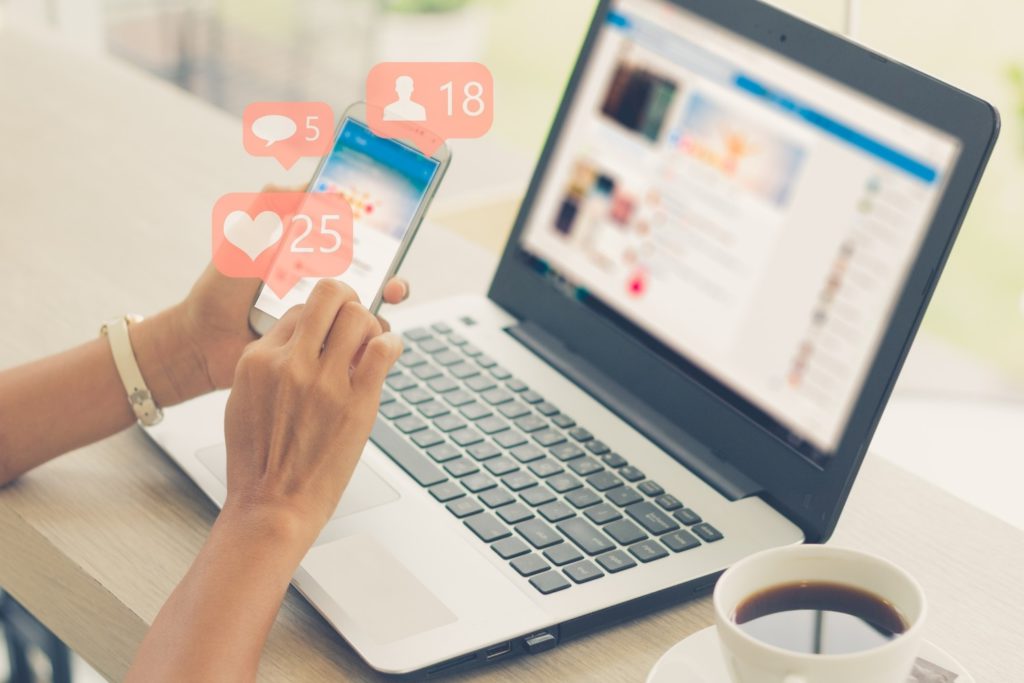 How can I protect my privacy and stay safe?
The internet can be a dangerous place if you don't know how to protect your identity. When dealing online, there are few ways you will have to understand to keep you safe.
Keep your profile anonymous
Do not keep out personal information online. Full name, contact information, social security number, home address, office address, or other personal information should be kept confidential.
Keep your background anonymous
This goes with the above point. Do not disclose your address, state, city or even country if you can. This will minimize the chance of getting scammed.
Set boundaries
There is always a limit to how much you entertain a potential buyer. If you sense something fishy, run as fast as you can. Do not overindulge or encourage conversation with someone who either makes you feel uncomfortable or who is making promises that sound too generous. If someone is being too good to be true, they probably are not reliable.
Block and ignore
When you put yourself out there, unfortunately, not everyone has good intentions. Do not entertain creeps, block, and ignore people who make you uncomfortable.
Report any questionable behavior
This one goes without saying. There is no need to be scared. Report people who are showing unacceptable behavior, and you will be helping to keep the community safe.
Selling feet pics conclusion: Is it worth it?
Selling pictures of feet has become a huge market in the past few years. It's a way to earn money online without having to work from 9 to 5. Anyone who wants to earn passive income and work from home could invest their time on this.
Sure, you might not find a lot of clients right away, but once you set foot (pun intended) in the market, it is possible to make money. Selling pictures of your feet will not make you extremely rich, but it could provide you with some extra cash from a side hustle.