When it comes to making money online, there are many sites jostling for your time. However, with so many available options, deciding which website to join can be hard.
Swagbucks is one of the most popular online rewards sites in the US, and for good reason. By participating in many different activities, you can earn online rewards for gift cards or even cash.
And while the name might at first sound scammy, this site is reassuringly legit. Boasting members all around the world, Swagbucks claims to have paid out hundreds of millions of dollars in cash and gift cards since the site's launch in 2005.
Sounds too good to be true? In this Swagbucks review, we determine if it's worth your time.
What Is Swagbucks?
If you're looking to convert your daily activities into financial rewards, then Swagbucks might be the site for you.
Swagbucks is one of the largest players in the GPT space, rewarding users for carrying out day-to-day activities, such as shopping, watching videos, or browsing the web.
Over 20 million members are active on swagbucks.com. It's backed by Prodege, LLC. which also owns My Points, InboxDollars and ShopAtHome.
Rewards are earned in the form of "SB points". Swagbucks credits users with points and cashback when they complete activities such as:
Shopping online or instore at specific stores
Searching and browsing the web
Taking part in online surveys
Discovering deals
Using coupons
Playing games
Watching videos
SB points are redeemable in two ways. First and foremost, they can be transferred to a PayPal account for real cash. Alternatively, users can choose to cash them out as gift cards. Swagbucks offers gift cards redemptions for many trusted brands, including Walmart, Amazon, and Target.
And the best thing? Swagbucks is completely free to join and use. All you need to do is sign up and start browsing.
Is Swagbucks Legit or a Scam?
This is a perfectly reasonable question, considering how many rewards programs can be shady. And let's face it, the name "Swagbucks" is unlikely to instill confidence.
But as a member for over two years, I can reassure you that Swagbucks is entirely legit. But don't just take my word for it – the company has legitimately paid out tens of millions of dollars to its members.
Since 2008, Swagbucks has grown a reputation founded on professionalism and transparency. The parent company's CEO, Chuck Davis, was the former CEO of Shopzilla and Fandango. He also held a position at Disney Online.
Prodege LLC, Swagbucks' parent company, is A+ rated with the Better Business Bureau. Trustpilot gives Swagbucks a 4.3 (out of 5) rating. It's also reassuring to note that Swagbucks takes privacy and data handling seriously. It complies with CCPA, GDPR, COPPA, and other governing bodies that regulate privacy and data laws.
Search Google and you'll find thousands of solid testimonials and Swagbucks reviews about how members make extra cash with Swagbucks. Overwhelmingly, most Swagbucks reviews suggest users find their dealings with the site to be legit and trustworthy.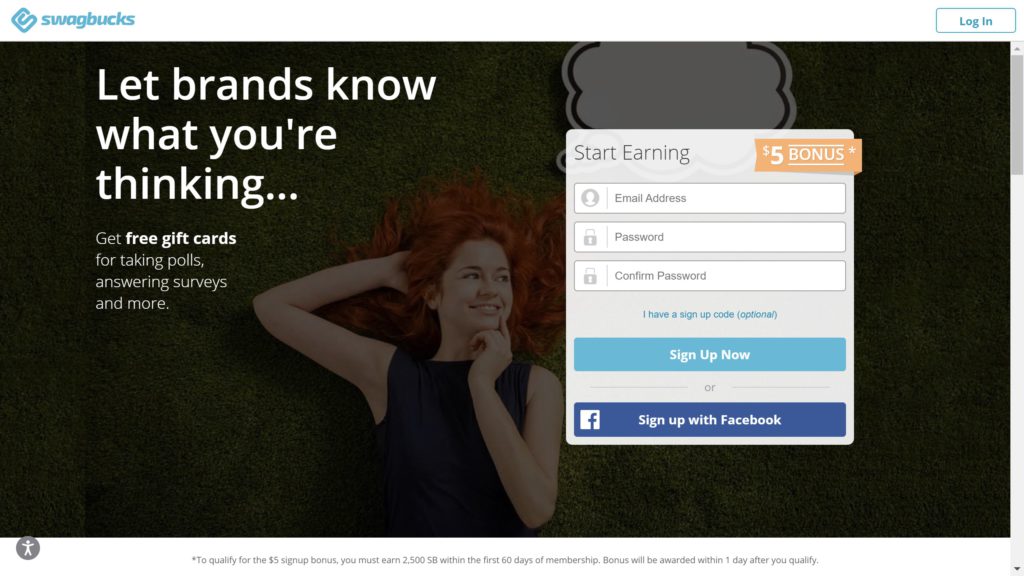 Why Should I Join Swagbucks?
There are plenty of reasons to join Swagbucks. And with so many different activities on offer, it will suit many different people.
Swagbucks is in every way an optimization tool. You can watch a video or shop through another site and earn nothing. Or you can watch the video and shop via Swagbucks and earn a few pennies that can go in your pocket. Why not make money multi-tasking?
Like with anything, the more time you put into Swagbucks, the greater your reward. If you're looking for a way to generate some very modest passive income, you should consider giving it a try.
All you need to do is download the Swagbucks browser extension toolbar or grab the Swagbucks app. Then, you're ready to start earning with your first click.
How to Sign up for Swagbucks
Signing up for Swagbucks is quick, easy, and free.
To sign up and start getting rewards, go to swagbucks.com. You'll automatically receive a $5 bonus just for joining.
You'll need to provide some personal information, including your email address. A Facebook connection is optional, but by connecting your social media accounts, you can earn additional points.
How Does Swagbucks Actually Work?
Like other GPT sites, the primary purpose of Swagbucks is to offer market research insights. It works with a wide range of advertisers, including premium brands. Swagbucks offers their commercial partners the opportunity to promote their brands to a wide demographic of users. These partners pay Swagbucks for the privilege. Swagbucks, in turn, shares these payments in the form of online rewards for consumers. Points can be redeemed for PayPal cash or gift cards.
Swagbucks tracks activity and delivers online rewards in the form of SB points.
Some of you may be asking, how much is one Swagbuck point worth?
Every SB point is the equivalent of 1 cent. That means, 100 SB can be redeemed for $1 USD. If you use the site frequently, it should be fairly easy to accumulate 2,500 SB and exchange them for $25 in cash to your PayPal account or as a gift card. For the first $25 gift card you earn each month, you'll get a 12% discount. So, a $25 Target gift card will round out to about 2,200 SB.
There are many ways to earn SB points. We're not saying it's going to be easy, but it's possible to convert your time into a very modest side hustle.
Users have a chance to increase earnings with ad hoc Swagbucks offers. That means even more ways to get rewarded.

How To Make Money With Swagbucks
When it comes to making money with Swagbucks, it's important to have realistic expectations. Swagbucks can be an enjoyable way to monetize your spare time. However, it is not going to provide a steady or sizeable income stream.
If you use the site frequently, it's not unrealistic to pick up at least $25 a month. And as a regular user, you have the potential to earn more.
In fact, extremely dedicated members have earned over $10,000 shopping online, watching videos, game playing, taking surveys, eating out, and referring friends.
These high-level shoppers earn a place in the company's Swagbucks Member Recognition Program. On average, high-earning members earn up to $100 in PayPal cash or gift cards a month.
Here's how you can start earning, too.
Take online surveys
Why not get rewarded for having your say? As a leading online survey site, Swagbucks pays its members to take part in surveys and polls.
How it works
Swagbucks offers a variety of online surveys and rewards participants with SB points for their efforts. Compensation varies. Surveys can pay anywhere from 5 SB points to a few hundred SB points. Timewise, surveys can take as little as five minutes, up to 30 minutes.
Swagbucks also runs a daily poll, which is a one-question poll you can answer every day. You earn 1 SB for answering the daily poll, so this isn't a huge earner.
While Swagbucks offers many online survey opportunities, it is worth noting that there is a relatively high screen out rate. This is something we typically see with many other online survey sites. Like a focus group, each survey has been created with specific demographic quotas in mind. The advertisers may want to reach out to families or football fans. Letting anyone take any survey throws off intended demographics.
Third-party sites
You should also note that Swagbucks often diverts users to third-party surveys, and this can throw up issues. It's possible to get caught in a loop that makes earning points difficult. For example, you could waste your time going through their qualification review only to get rejected and kicked back to Swagbucks with no earnings.
Also, to Swagbucks' detriment, we found their dashboard's lack of user-friendliness and issues with third-party surveyors to be a tad confusing.
You should also be aware that Swagbucks isn't monitoring spammy websites. In the event you click through to third-party links from swagbucks.com.au it might be practical to have anti-malware software installed.
Compensation for screenouts
It's worth mentioning that Swagbucks does offer a single SB point for screenouts. But before embarking on Swagbucks surveys, bear in mind that the disqualification rate can be high.
Unfortunately, this is generally how the online survey process works. Some surveys can disqualify you with a single click. Others may take you through an entire process before the survey even begins and decide you're not the demographic they're looking for.
If you do decide to complete Swagbucks online surveys, create an email address to capture online survey alerts. This way, you'll minimize alerts clogging up your inbox.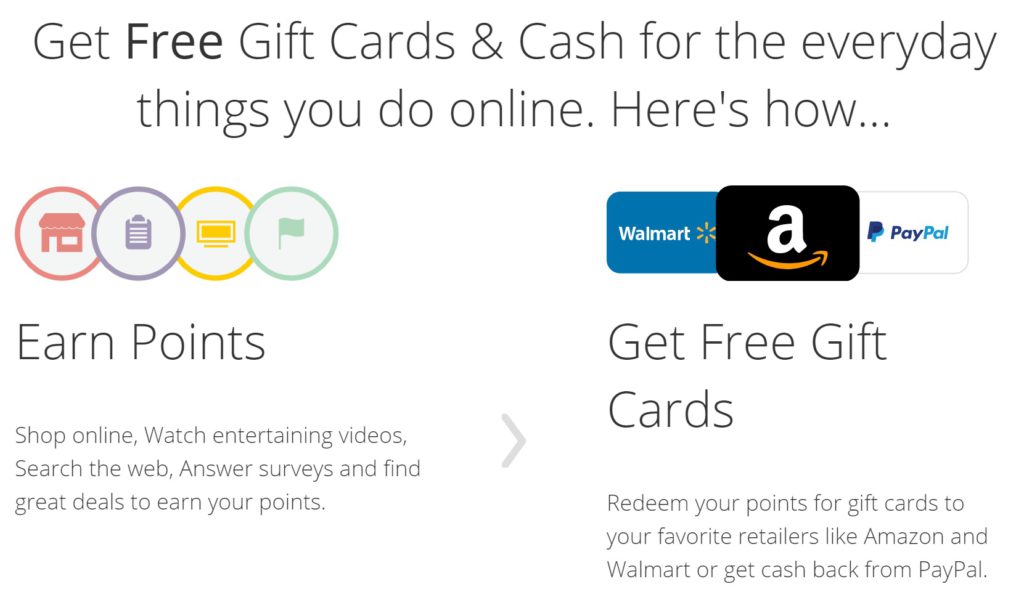 Shop Online
Would you like to earn points or cashback, simply by shopping online with one of your favorite retailers?
Like Rakuten, Swagbucks operates a cashback portal. The concept is simple. Swagbucks tracks the purchases a purchaser has made and informs retailers of any qualifying transactions. In return for this service, the retailer pays Swagbucks and in turn shares this money with the customer as cashback on their purchase.
The Swagbucks shopping program boasts over 1,500 retailers. This includes big guns like Target, Amazon, and even Starbucks. By using Swagbucks, besides access to exclusive coupons and deals, you earn SB on every dollar you spend. The amount you can earn varies, but it's not uncommon to earn up to 10% cashback, or 10 Swagbucks points per dollar spent.
While the Swagbucks offers change from time to time, they have in the past partnered with Target, Amazon, Yahoo, Best Buy, Starbucks, Home Depot, Macy's, and Bed Bath & Beyond. Believe it or not, from time to time, you can even click through to Uber Eats, use it as you always do, and earn SB points.
Members should also check the "Featured Cash Back Stores" section, as this showcases top retailer offers.
Use the SwagButton
To take full advantage of savings and rewards when you shop, install the SwagButton browser extension. Similar to browser extensions offered by the likes of Honey and Capital One Shopping, the SwagButton works for Google Chrome. It will prompt you whenever you navigate to an SB point earning site, alerting you to cashback and coupon offers. The extension is free, and Swagbucks will give you 25 points just for installing it.
Shop Offline or Dine Out
Dining out is an enjoyable activity, but it can add up to significant expenses. Dine at a Swagbucks partnered restaurant or store, and you can earn SB points. All you need to do is upload the receipt to the Swagbucks site. You can easily earn hundreds or thousands of SB points just going about your business.
With Swagbucks Local, you can also link a debit or credit card to your account and get cashback for dining at your area's participating establishments.
Watch Videos
Many of us watch videos, so it's good to know that Swagbucks rewards users for this activity. Simply watch videos and rate them to earn money doing it. Watching a short video clip earns an SB point. You can earn even more for watching a full playlist. The Swagbucks video categories cross a smorgasbord of topics — think travel, entertainment, medical care, personal finance, and fitness. So, it won't be impossible to find a topic you're interested to learn more about.
Use the dashboard or the app for iOS or Android but do take advantage of one of Swagbucks' most convenient point earners! Members who put in the effort in this way have earned up to $90 a month.
Play Games
If you're an online gaming buff, you might like to look at this passive earning option. That said, a warning that this activity requires a monetary outlay. In order to earn SB for playing games, you must deposit money into your GSN account. Users will earn a certain amount of SB per Dollar, depending on the offer at the time you deposit your money. Play the games on any of your devices and earn rewards.
And these aren't unknown games that you're beta testing. We're talking about new releases. Games available with Swagbucks have previously included Angry Birds Champions, Wheel of Fortune, Solitaire Rush, Bejeweled 2, and Scrabble Cubes.
Unfortunately, right now, Swagbucks members don't earn points for playing games that do not require a money deposit.
Collect Swagbucks Coupons
A smart shopper is always on the prowl for savings. And it's fair to say that Swagbucks is on the same page. They offer a variety of money-saving offers, and if you clip and print, you earn Swagbucks points.
On the dashboard, go to "Shop" and click "Grocery Coupons." Beyond this category, you'll find Swagbucks offers for healthcare, pet goods, travel, entertainment, and more. Browse the page, find and click "Clip Coupon." It's that simple.
You can also redeem coupons with personal finance brands like Lifepay and World Remit.
Swagbucks coupons do not have to be individually printed. Once you locate the coupons you want, click "Print Coupons." You can print up to 50 coupons per day, and you'll get one Swagbucks point for each. On top of that, you earn points for all the coupons you use. That can translate to maybe another 25 cents in cashback. It's not millions, but every little bit counts.

Use the Swagbucks Search Engine
When it comes to passive income, it doesn't get much easier than searching the web. Simply using the Swagbucks search engine regularly to earn SB points.
Use the Yahoo-built search engine to search for anything: a recipe, LOL cats, even the latest on America's Got Talent. When you're done with a search, you'll get a shortcode and one point. You can set Swagbucks browser extension as your default. This ensures every time you do a search, you earn.
Find Swag Codes
Across the internet, Swagbucks has tucked away a series of short number and word combinations known as Swag Codes. These Swag codes expire anywhere between a few hours or days. If you find the codes, you get between one and five points.
Here are some tips on how to successfully find a Swag code:
Codes are hiding around the Swagbucks website.
You can find codes on the company's social media channels, including Facebook and Twitter.
If you have the SwagButton, the app will notify you anytime a new Swag Code gets created.
After locating a Swag Code, hit the "Promotions" button on the toolbar and click "Swag Code." A pop-up will show, and you can paste the code in.
Swagbucks Referrals
The best rewards programs offer referral kickbacks, and Swagbucks is no different in this regard.
In fact, getting friends, family, co-workers, and others to sign up with Swagbucks with a referral code can be a lucrative way to earn points.
How much can you earn? If your referral earns 300 SB points in their first 30 days of membership, you and the referral both get an extra 300 points. From that point forward, any rewards the referral gets earn you an additional 10 percent of their rewards for the duration of their membership. Plus, if your referral installs the SwagButton and references your referral URL, you'll receive 100 points.
Member Recognition Program
The Swagbucks Member Recognition Program recognizes and celebrates its membership's loyalty. Based on lifetime SB points earned, the company uses point achievement to celebrate its most devoted members.
Currently, the rewards program is only available in the United States, England, Canada, and Australia. However, swagbucks.com is constantly working on adding other regions.
The program features 10 levels of recognition, starting with Pearl and working up to Diamond. Each level has unique, rewarding benefits that members get while working up the levels.
Members who have collected at least 250 SB Points will receive the benefits related to their level. You can still enroll if you haven't reached that 250, but once you have, you'll auto-receive the rewards program benefits.
To discover more about the Member Recognition Program, go here.
How Do I Join the Member Recognition Program?
Navigate to the Member Recognition Program tab, under My Account in your Swagbucks account. Then, sign up to join.
The Discover section contains a variety of offers that update constantly. Many of the offerings come with points for signing up for subscriptions. With a few of the trials, you could get to 10,000 SB Points. A warning: Be careful to cancel your subscription before your trial period ends, otherwise you may end up getting billed.
How Many Swagbucks Do I Need to Make a Dollar?
Each point is worth about one penny, so 100 Swagbucks is equal to $1.
Regardless of your currency, this equation applies. In other words, along with 1 USD, AUD 1, EURO 1, or GBP 1 are all the equivalent of one dollar's worth of SB points. Depending on where you live, this can make the currency more or less valuable.
How to cashout Swagbucks Rewards
When it's time to redeem your points, simply navigate to the "Redeem SB" page on the Swagbucks website. There will be many options to scroll through. It's here where you find the prizes you're eligible for.
Aside from requesting cold, hard cash into your PayPal account, there are many other ways to redeem.
A favorite among members is the Amazon gift card. It is the largest global marketplace, and you'll likely find anything you need or want in its inventory. You can also get free gift cards for many other brands. Gift cards on offer are subject to change at any time. However, brands on offer typically include Google Play, Walmart, Apple, Target, Home Depot, and more.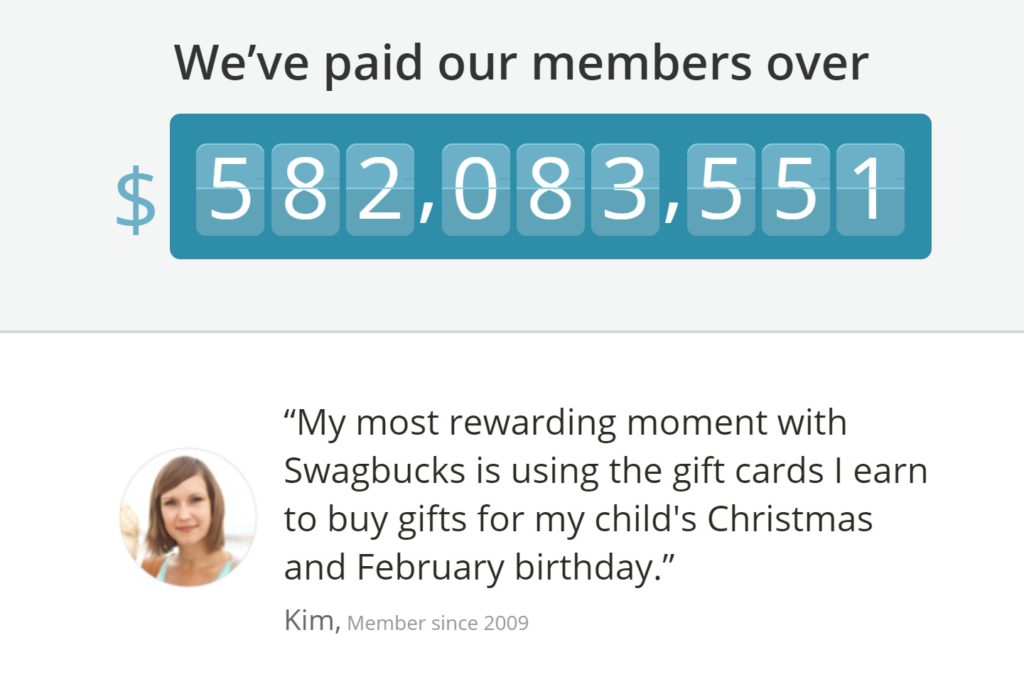 Can I Get Money Instantly with Swagbucks?
Swagbucks is not and, unlike competitors, does not profess to be a "get rich quick" platform. This site doesn't build millionaires but can be a steady stream of passive income. And all that's required of you is to keep shopping online or in-store as you always have.
If you do have larger returns in mind, turn to the site's Discover section. Discover is where members are offered substantive payouts for completing various tasks. You can also play games like Swagbucks LIVE, a trivia competition where you can grab $1,000 every weeknight.
Is there a Swagbucks App?
Yes, while many people use swagbucks.com, Swagbucks has a bunch of mobile apps, available for both iOS and Android. The Swagbucks app is handy for taking advantage of offers on the go. The mobile app sends notifications about Swag Codes and grants access to most of the website features.
Additionally, Swagbucks LIVE enables you to play a live trivia game and earn cash prizes. Plus, Swagbucks Answer is a guide to navigating the site's paid surveys. lastly, Swagbucks Watch is specifically for earning online rewards by reading the latest pop culture news and watching video clips.
What Is Swagbucks Local?
Swagbucks Local is a way to get rewarded with cashback when you eat at a brick-and-mortar restaurant. Swagbucks Local is actually an app of its own (and not part of the company's standard mobile app).
You download the Local app and connect a credit or debit card to your account. Once done, you can earn whenever you buy coffee, visit your favorite dive bar, or have a meal at a diner or restaurant.
The app comes with a map that lets you find participating establishments. Swagbucks Local also tracks your card swiping whenever you use one of their partners and rewards you with SB points.
Either locate local partners on your own, if that's too much trouble, let the app do the work whenever you're in the right establishment.
Swagbucks Local is available in over 2,000 regions. For now, though, the app is only fully operational in a variety of cities, part of what the company calls Swagbucks Nation.
Here's how to get Swagbucks Local:
You can get the app from Google Play for Android or from the iTunes store.
If you already have an account, you only have to sign in. Otherwise, you need to create an account.
Link a debit card, credit card, or both to your account. Unfortunately, the only cards accepted at this time are American Express or Visa.
Check out the map and see how many Locals are in your area.
As stated, that last step is optional. Swagbucks will track your purchases at any of their affiliates and automatically reward you.
Your SB points per dollar earned will depend on where you go. But if you buy coffee every morning or eat out on the regular, it won't be hard to earn points that quickly add up to $25.
Swagbucks Pros and Cons
Swagbucks is not a platform for everyone. Here's a quick review of the company's pros and cons.
Pros
As a leading Get-Paid-To site, Swagbucks can be a worthwhile way to get rewarded in your spare time.
Cons
You are not going to get rich using Swagbucks – users can earn a modest stream of passive income without drastic changes to their current lifestyle. Continue browsing and online shopping as you always have.
Swagbucks is limited to the U.S. and its territories, Canada, the U.K. (Britain, New Zealand, Ireland, Australia), Germany, Spain, Portugal, France, and India.
Who Should Join Swagbucks?
Swagbucks allows anyone 13 or older to become a member, though parental supervision for younger members is required.
Swagbucks makes sense for anyone looking for great deals, savings, and online rewards. Most of us are spending vast amounts of time on the internet anyway. Why not turn your surfing time into profit?
The only shift you'll have to make is using Swagbucks as a portal for a lot of the stuff you do now. But if you add SwagButton to Google, the extension will do all the heavy lifting.

Swagbucks Reviews from Others
Here are some Swagbucks reviews from customers who use the site:
RE: Got my first high paying offer today: "Hi, I just had the 6500SB Norton offer credit. I know most of you don't care, but I thought I'd share because I'm happy I got my money back, a bonus £25, and a Norton 1 year subscription!"

u/JamesCog001 Swagbucks review on Reddit
RE: The best GPT website: "I am a recent user of Swagbucks started a month ago, and have earned $35 worth of points, without access to a phone too. The surveys are either hit or miss, though the ones from Remesh have an amazing payout. The discover offers have lots of money makers and ones for free trials and apps. The offer walls are pretty high paying on Swagbucks, especially Revenue Universe. I will definitely continue using it."

Triple S. Swagbucks review on sitejabber.com
RE: Believe in it, and it will happen: "Swagbucks is so rewarding in more ways than just the monetary rewards. I love being able to give my feedback and input to help build companies and their products."

Joanne Swagbucks review on Trustpilot
RE: It's an attractive site: "There are many impressive offers. I always follow them on Facebook; as for the support service, they are quick to respond to the request. I hope it stays like this."

Emily A. Swagbucks review on verified-reviews
RE: Swagbucks is legit when it comes to cashing out and redeeming gift cards: "When you start out on Swagbucks, take it slow and easy and make your personal goal something achievable for a little amount of time, say 30 SB. Over time your daily goals will increase the more you get the hang of it, by then, you'll have no problems reaching it."

ChippyTick Swagbucks review on Reddit
Other sites like Swagbucks
Like Swagbucks? Discover other similar sites that reward you in your free time.
Featured Online 'Get Paid To' Site Reviews
Online cash-back site, MyPoints, was originally founded in 1996 as a partnership between United Airlines and hosts the largest selection of popular store gift cards.
When you take surveys, watch videos, or perform other actions on your phone, laptop, or tablet computer, you can earn points that are then redeemable for PayPal cash back rewards, airline miles, and gift cards.
InboxDollars is a survey-based rewards club that lets you earn money for taking surveys, playing games, watching videos, or searching the web. Anyone can sign up and doing these activities on your desktop, laptop or smartphone can allow you to make extra cash.
If you're into online surveys, a site like Survey Junkie could offer you a better way to earn. You can install the Pulse browser extension or download the mobile app, letting you share your activity. But Survey Junkie is solely a survey site, and surveys require a significant amount of time to engage. As such, there are no other options to make extra cash as you might with Swagbucks.
Mistplay
Like Swagbucks, Mistplay gives online rewards for testing games. Cashback factors will include the type of game and what you're asked to do. The longer you play, the more points you receive. A downside is Mistplay is only Android compatible. Another is you're testing games. Swagbucks gives you access to popular games everyone's already excited about.
Ibotta
Ibotta is close to Swagbucks in structure. You shop online or scan grocery receipts to get rewards. Only Ibotta plays a bigger, perhaps unwanted, role in the user experience. Ibotta wants your shopping list before you buy. Before scanning, you'll select any offers you hope to redeem first. Swagbucks doesn't ask for any of this before you go to the store.
PrizeRebel is primarily an online survey site. But you're also eligible for points by signing up for product trials, watching videos, and inviting others to become a member. You can redeem rewards with as little as $5 worth of points in your account. Still, unlike Swagbucks, Trustpilot only gave PrizeRebel 3.3 out of 5 stars.
Conclusion: Is Swagbucks Worth It?
Swagbucks is a legit online rewards site with a range of worthwhile earning options. The site offers many ways to earn, making it worth your time if you want discounts, coupons, rewards, and gifts. As membership is free and it requires no alteration in your habits, there really is no risk to being a member.
There are many benefits to accessing Swagbucks. It will only require the time you want to put into it while allowing you to earn rewards toward cash back and gift cards. While you won't get rich, Swagbucks is a great way to enhance activities you'd usually carry out in your spare time. Make extra cash or rewards when you play games, watch videos, and shop online or in-store at many of the stores of your choice.
You won't get rich, but if you're looking to earn an additional $25 to $100 a month, Swagbucks can help. It's a fun way to add rewarding moments to your daily shopping, browsing, spare time, and eating activities. Considering all the benefits attached to membership, we feel Swagbucks is worth a look.
---
Swagbucks Frequently Asked Questions (FAQ)
How much can you make from Swagbucks a month?
It really all depends on how much time and effort you put in. $25 to $100 a month is realistic if you undertake a range on activities via Swagbucks.
How many Swagbucks is $1
Every SB point is the equivalent of 1 cent. That means, 100 SB can be redeemed for $1 USD.
Is there a daily limit on Swagbucks?
No, but you need to remember that surveys and other activities can only be undertaken or viewed once. So if you really want to earn Swagbucks, you'll need to do a lot of different activities.
Is Swagbucks legit?
Yes, it is. Prodege LLC, Swagbucks' parent company, is A+ rated with the Better Business Bureau. Trustpilot gives Swagbucks a 4.3 (out of 5) rating.