Completing online surveys can be a worthwhile way to make some extra cash, but it can be hard to know which survey sites are worth your time.
Enter Branded Surveys, a legitimate market research site that can help you pick up a few extra dollars here and there if you are looking to make some money online.
Skip this review and get 100 bonus points for signing up to Branded Surveys now.
As with any online survey site, however, it may not be the best choice for everyone. Whether or not Branded Surveys will be an effective money-maker for you can depend on several different factors.
To help you decide whether Branded Surveys is the paid survey site you've been looking for, we have laid out all of the basics and answered a few frequently asked questions.
Read our Branded Surveys review to discover if this site might be right for you.
What Is Branded Surveys and How Does It Work?
With Branded Surveys, you can easily earn money online from the comfort of your home, on your work break, or even on the go. All you need is internet access and a little bit of spare time.
Here's how Branded Surveys works: Simply create a Branded Surveys account (get 100 bonus points on sign up!), answer your profiling information and start completing surveys on the Go Branded website.
For every survey you complete, you will earn points to exchange for gift cards or cash. Each point is worth one US cent. With a low minimum payout threshold, it won't be long until you have enough points to cash out.
Is Branded Surveys Legitimate?
Unfortunately not all survey sites are legitimate, so let's take a look at how trustworthy Branded Surveys is.
Overall, it's reasonable to conclude that Branded Surveys is a legit website that fulfills all of the claims that it makes, and is not a scam. Why do we say this?
As a survey company, Branded Surveys (also known as Branded Research) has been around for years. Previously known as MintVine, it re-branded in 2017 and now boasts one of the largest online survey panels in the USA, Canada, and UK.

Branded Surveys has an average of 4.3 stars on TrustPilot and has received over 36,000 reviews. If it was consistently scamming people, it would likely have a much lower rating. Therefore, it is safe to assume that this website is not a scam and has helped many people earn money.
It's true to say that some people have been disappointed with the low amounts of money they make from Branded Surveys. However, no paid survey site will provide a primary source of income, so it's important to have realistic expectations. Any survey website that claims you will make hundreds of dollars is likely sketchy, but Branded Surveys does not advertise itself in this manner.
Does Branded Surveys keep data safe?
Because of the nature of online research, Branded Surveys will ask for and store some of your personal information.
This does not mean they will scam you or hack your bank account. Rather, companies who are looking for data insights need demographic and behavioral information about their respondents. You might be asked to provide information such as your location, gender, marital status, ethnicity, and so on. Whether or not you want them to have this information is entirely optional.
When it comes to data collection and privacy, Branded Surveys adheres to a range of safeguards. Therefore, it's reasonable to assume it is a relatively safe website.
Why do market research companies pay me to fill out surveys?
The idea of providing your opinion as a way to make money online sounds a little too good to be true, so it's no wonder people tend to be skeptical of paid survey sites. However, market research companies have an entirely genuine, money-motivated reason for doing this.
By hearing input from customers, brands can learn how to improve their services better, what products to put out in the future, and how to modify their advertisements to draw in more potential customers. As a result, they can bring in more money over time, so it is in their best interest to put some of their money towards paid online surveys.
How to Make Money with Branded Surveys
There are a few different ways you can go about earning points and accruing rewards with Branded Surveys.
Paid online surveys
As a leading market research company, Branded Surveys offers frequent opportunities for users to complete questionnaires via the Go Branded website.
This is the primary way to make money with Branded Surveys. Your dashboard will feature a selection of online survey invites that are relevant to you.
Before you choose to forge ahead with a survey, you can see the number of points a given survey will reward and the estimated amount of time it will take to complete it. Once you have chosen a survey that appeals to you, simply fill out the answers to the best of your ability. Once you submit your answers, you're done, and you are ready to move on to the next one.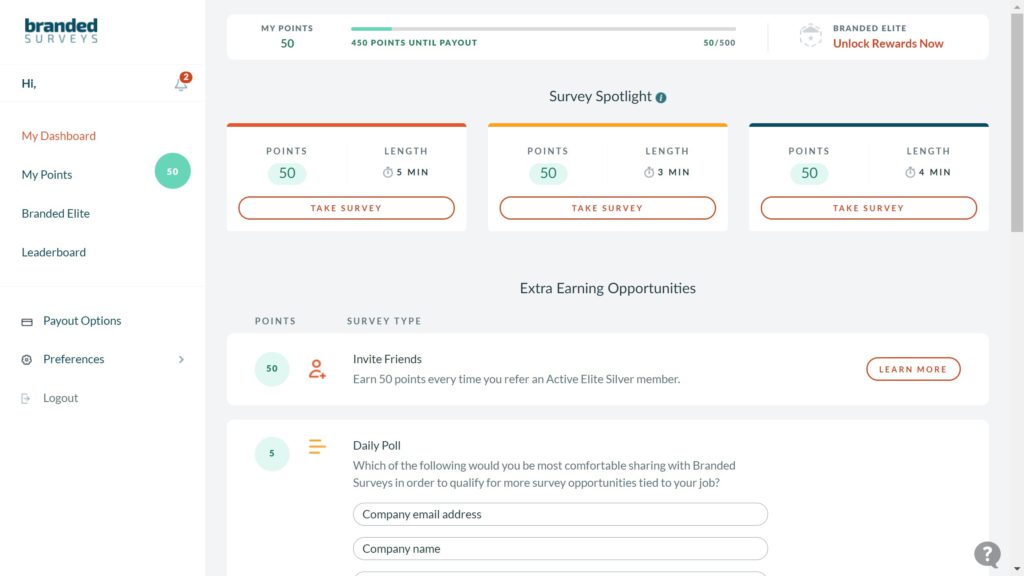 The types of questions online surveys ask can vary. Most questionnaires will require you to provide demographic information. This will typically include questions about your household, your income, or the products you use daily. They might also ask about your health, family, tastes, various aspects of your identity (such as race or gender), and so on.
Most survey questions are multiple-choice, but you might also receive an open-ended question every so often. These questions will most often seek a genuine, long-form answer from you, and you might be quota failed if you provide gibberish.
Some of the surveys may ask questions that can be rather personal. If you are not comfortable answering them, there is usually a "prefer not to answer" option. Alternatively, you can opt-out of the survey altogether and choose another.
Referrals
Like many online survey sites, Branded Surveys offers a referral program that can help you to make even more money.
When you refer a friend to Branded Surveys, you will earn 50 points per person as they move up in tiers. The best part is, there's no limit to how many friends you can refer.
As the referral reward is linked to activity, it's important to only send referral links to friends who are likely to remain active on the site. The referral alone will not get you any points, unfortunately.

Daily Polls
Branded Surveys offers Daily Polls for their users to answer every day. Unlike paid surveys, you can guarantee a new poll every day, and they will not fill up or expire. For each poll you fill out, you will earn 5 points!
Partner Surveys
In addition to taking standard online surveys, you can also earn some extra points through some of Branded Surveys' business partners. This might include downloading mobile apps, product testing opportunities, free trials and samples, charity donations, and more. Simply click over to the "Partner Surveys" link on your dashboard to see their current offers. Be aware that some offers might require you to outlay cash before being rewarded.
How Often Will I Receive Online Survey Opportunities?
As with any paid survey website, there is no guaranteed number of surveys that you will receive in a given period from Branded Surveys. The selection of surveys featured on your dashboard depends entirely on the number of market research projects in the field and the demographic information you have included on your profile.
Because of this, you cannot expect a set amount of income from Branded Surveys per week, but that is standard for any paid survey site.
To qualify for more potential surveys, make sure you fill out all your profile surveys and keep them up to date. You can also set up email and phone notifications to ensure that you will always know when a new survey is available. Keep in mind that online surveys can fill up or expire quickly, so you should respond as soon as possible when you receive a notification.
How Much Money Can I Earn Per Survey?
The amount of points you can earn per survey opportunity with gobranded.com usually ranges from 20 points to 100 points (in real terms, that 20 cents to 1 USD), but some reward more or less. Payment is tied to time investment – longer surveys will tend to reward users with more points than shorter ones.
Are the Surveys Difficult or Confusing?
Most of the surveys offered on the Branded Surveys website should be easy to complete. The nature of surveys means that they are asking for your own opinions, preferences, or information, so as long as you are not intentionally putting incorrect information, there is no such thing as a wrong answer.
Who Can Join Branded Surveys?
To join Branded Surveys, you must be a resident of the USA, Canada, or the UK.
Because Branded Surveys relies on sharing of personal information, you will need to be at least 18 years of age to join up. If you are aged between 13-17 years old, you may be able to join up with parental consent.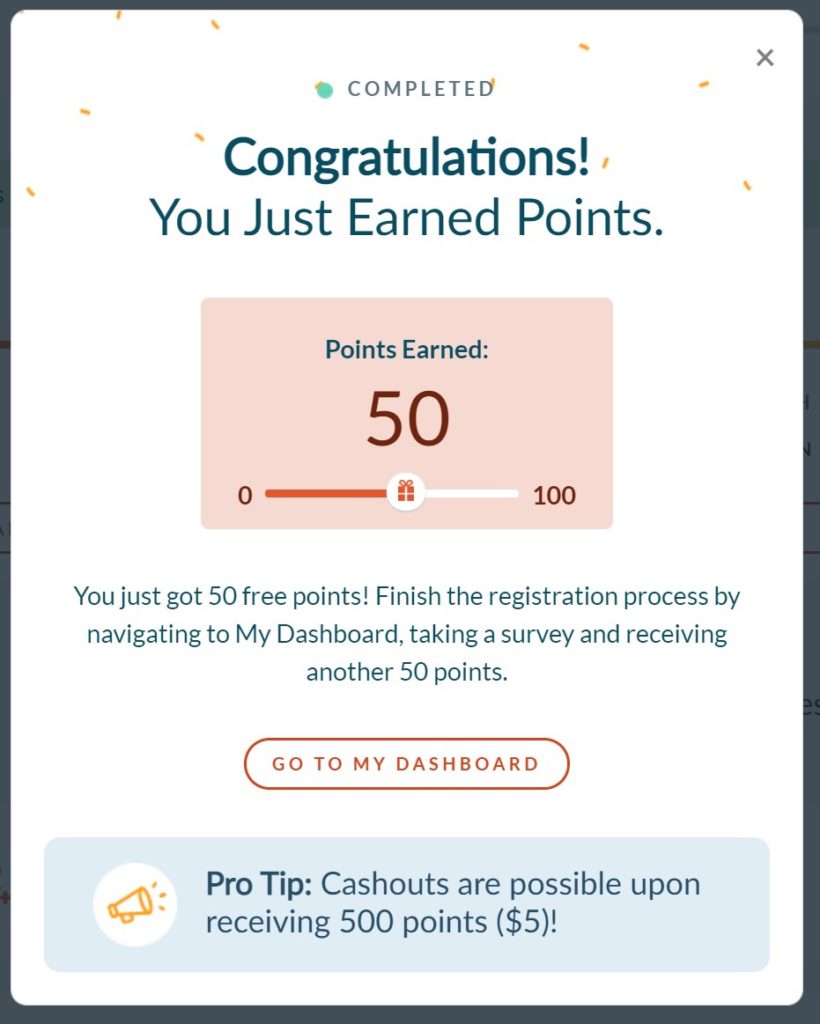 As long as you fit these criteria, there are no other requirements for signing up.
How to Join Branded Surveys
Joining Branded Surveys is entirely free. To get started, all you need to do is click the "sign up" button on the Branded Surveys website or app. You can choose to either create an account from scratch or sign up with social media, using Facebook.
From there, you will be asked to provide your full name, date of birth, and zip code. Before you can start earning points, you will need to verify your email address. You can also add your phone number for extra security, but that part is optional.
Once you have finished filling out your profile, you are all set to start taking advantage of survey opportunities at gobranded.com. In addition, you will get 100 points just for signing up!
From then on, you can fill out a selection of profile surveys, all of which will earn you more points. Branded Surveys can help direct you to more relevant surveys to your lifestyle and interests by expanding your profile.
How Does The Branded Surveys Loyalty Program Work?
You may be wondering if the profits of your online survey-taking will increase over time and whether sticking with Branded Surveys will have any long-term benefits. In other words, does Branded Surveys have a loyalty program? The answer to that is yes!
Branded Elite
Branded Elite is Branded Survey's unique loyalty program. It is a critical factor in keeping their user base motivated and focused. There are three tiers in total: Bronze, Silver, and Gold.
All users will begin at the Bronze tier. As you earn more points over time, you can work your way up to Silver level; this will happen once you reach 600 points. When you achieve your Silver badge, 10% bonus points will be earned for every 12 surveys you complete per week.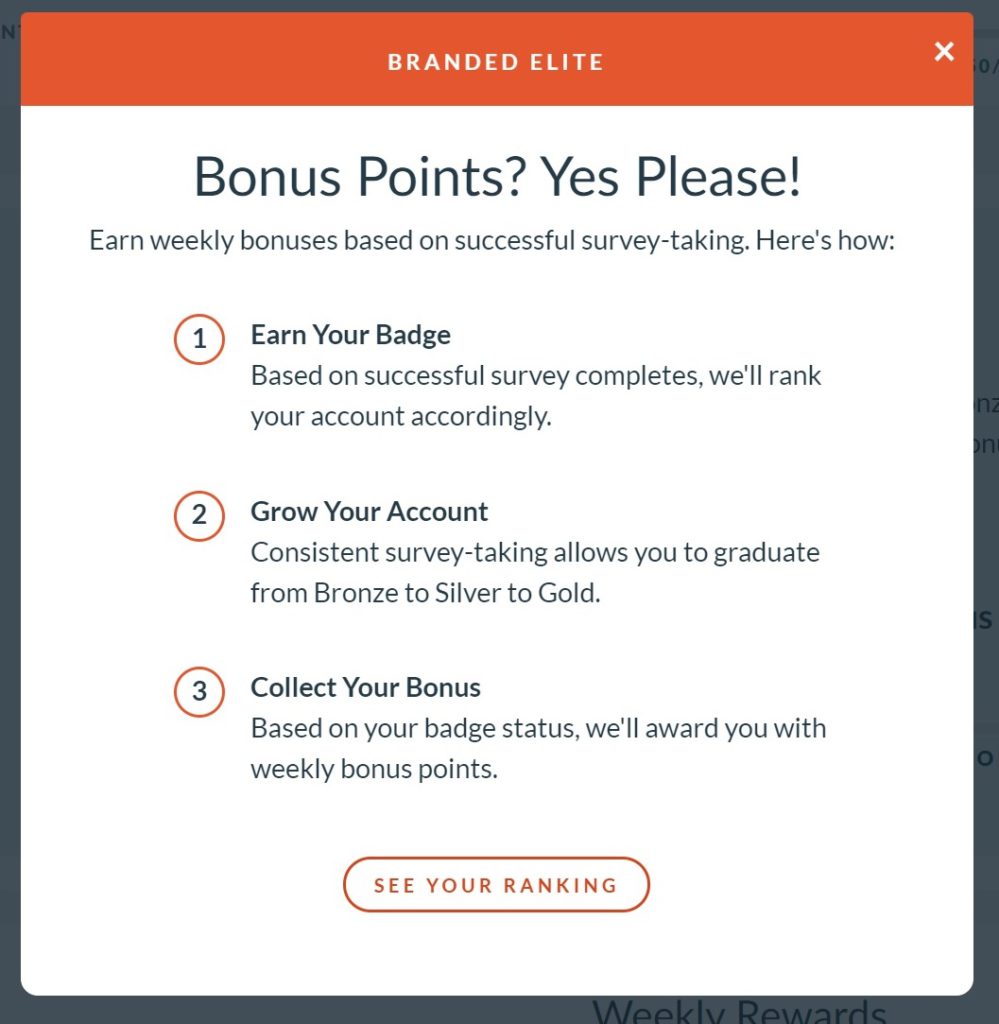 To get to the Gold tier, the highest possible tier, and the one with the most significant additional benefits, you will need to reach 2,100 points. Since Gold members receive a 15% point bonus for every 12 online surveys you complete per week, there are more ways to get making money fast.
Keep in mind that you will need to stay active on the Branded Surveys website and keep earning that minimum number of points if you are to keep your Gold tier status. If you forget about your Branded Surveys account for a while or fail to reach that quota, you will be sent back to the Bronze tier again.
How to Cash Out Branded Surveys Rewards
Branded Surveys uses a points-based system for payouts. Once you've earned at least 500 points, you have three options for how you can exchange them: gift cards, cash (Branded Pay), or charity.
Cashing out with Branded Pay
Cash into your bank account is the most flexible option for reward payouts, so it's no surprise that this is a popular choice for many Branded Surveys users. Cash payouts are administered via Branded Pay. This provides users the chance to get cash directly to a PayPal account, or in some instances, Dwolla.
Most paid survey services only offer gift cards, so the option to choose cash directly to your bank account (as opposed to PayPal) is a perk of using Branded Surveys.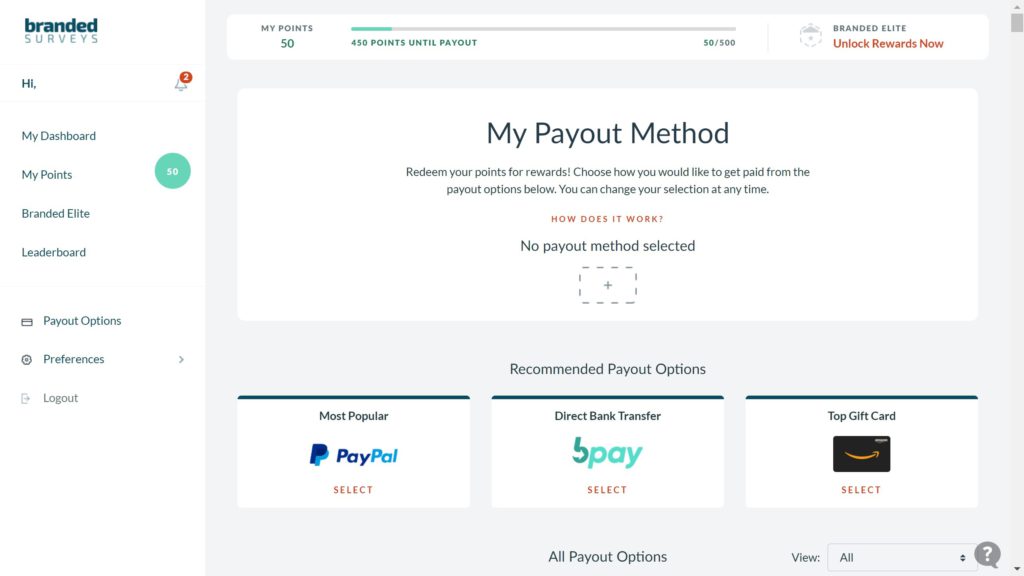 Cashing out for gift cards
If you know what exactly you would like to spend your money on, you can choose to receive a gift card for online stores such as Amazon, iTunes, Walmart, and even Visa gift cards. Branded Surveys aims for quick processing of gift card redemptions, stating that it processes rewards within two business days or 38 hours.
Cashing out for charity donations
Finally, if you would like to direct your earnings towards a good cause, you can also have Branded Surveys send your payout directly to a charity of your choice. Bear in mind that this option is only available for charities in the United States.
Branded Surveys Advantages and Disadvantages
As with every paid survey site, there are things we love and things that we think Branded Surveys could do better. Whether or not these outweigh the benefits, however, is up to you to decide.
Pros
Cash payouts: Unlike many other paid survey websites, Branded Surveys gives you the option to receive cash payment rather than only offering gift cards
Low minimum payout: At a cash-out minimum of 500 points, the minimum payout threshold is low, making it achievable for most users
New User Bonus: Not only is signing up completely free, but you also get 100 points when you sign up for an account here
User-friendly rewards program: Points are equivalent to one cent, so it is easy to keep track of how much you are earning.
Branded Surveys app: The handy mobile app allows you to take advantage of new survey opportunities wherever you go.
Promo codes: In addition to cash payouts and gift cards, Branded Surveys will sometimes offer promo codes to help with making money.
Screen out compensation: When a survey disqualifies you, Branded Surveys will reward you a couple of points as compensation. Few paid survey sites offer this.
Cons
Quotas fill fast: Through the Go Branded website, many surveys are usually quick to expire or fill up; you may have trouble qualifying when they are available.
Slow survey approvals: Waiting periods for your survey approvals can sometimes take a while.
Limited geographical coverage: Membership is only available to users in the United States, Canada, and the United Kingdom.
Low compensation rates: Let's face it. You won't get rich with Branded Surveys. While the payouts aren't the worst we've seen, some other survey sites pay more.
How Does Branded Surveys Compare to Other Online Survey Sites?
When it comes to paid survey sites, Branded Surveys has quite a few benefits over competitors.
At just 500 points or five dollars, Branded Surveys has a much lower minimum payout rate than both Survey Junkie and Inbox Dollars. In comparison, InboxDollars has a thirty-dollar minimum, and Survey Junkie has a ten-dollar minimum.
Unlike InboxDollars and Survey Junkie, Branded Surveys offers a loyalty program. With this bonus program, you can earn more money over time than you would with the other two survey sites.
Branded Surveys also provide handy email notifications. In addition, you can modify your settings for these notifications so that you can receive them at a specific time of day and decide how many you would like to receive. This can help prevent irrelevant emails from flooding your inbox. In addition, it can help ensure that you receive offers when you are online and that you aren't waking up to a bunch of missed opportunities.
Branded Surveys Reviews On The Web
Overall, Branded Surveys enjoys relatively high ratings from reviews around the web. It has received a B+ on Better Business Bureau. It is generally seen as a safe and secure service, and many Branded Survey reviews say they enjoy filling out their surveys and earning money with this side hustle.

The main complaint most people have about Branded Surveys is the regular rate of survey disqualification. Many users have trouble finding online surveys that they are eligible to take, and as a result, they spend more time searching than actually earning money online. Some people have even reported disqualification after they had already completed the survey.
However, this is not a problem unique to the Branded Surveys website, and the high rate of positive Branded Surveys reviews indicates that this scenario is also not overwhelmingly common.
In Conclusion: Is Branded Surveys Worth It?
After reading about Branded Surveys and how its service works, you may be wondering if it will be worth your time. The only way to know that for sure is to simply give it a try, but bear a few aspects in mind.
You won't get rich. As we've outlined, the compensation that Branded Surveys offers is quite low for the amount of time it takes to fill out surveys. For instance, a survey that is 18 minutes long may only provide a reward of around 100 points or one dollar once converted. At that rate, taking surveys would earn you roughly three dollars per hour. Some people may find this to be a waste of time as it's quite frankly a poorly paid side hustle.
However, if you find survey-taking to be fun and simply see the extra money as a bonus, taking advantage of survey opportunities may end up being worth your time.
Overall, you don't have very much to lose but a few hours of your time, and you might get a few dollars in return nonetheless. After all, signing up is completely free, so there is no harm in giving it a try.
---
Branded Surveys Review Frequently Asked Questions (FAQ)
Is Branded Surveys legit?
Branded Surveys has an average of 4.3 stars on TrustPilot and has received over 36,000 reviews. It is safe to assume that this website is not a scam and has helped many people earn money.
How much do you earn on Branded Surveys?
This varies drastically depending on how much time and how many surveys you complete. It is possible to meet the payment thresholds in several days with a bit of effort.
Do Branded Surveys keep my data safe?
When it comes to data collection and privacy, Branded Surveys adheres to a range of safeguards. Therefore, it's reasonable to assume it is a relatively safe website.
How can I cash out with Branded Surveys?
You can use Branded Pay, Paypal, gift cards or choose to make charity donations.