In today's world, opinions matter, and companies are willing to pay you for them. But with so many opportunities to take surveys online, deciding which site is worth your time can be difficult.
Opinion Outpost is a platform that can help you maximize this potential. As a popular survey company, it offers cash and rewards in return for your opinion.
Keep reading our Opinion Outpost review to find out whether it's legit, how much users can earn, and whether it's worth signing up for.
Is Opinion Outpost Legit Or A Scam?
First things first, you might be wondering whether Opinion Outpost is a site that can be trusted with your data. After all, some online survey companies are a scam.
Fortunately, Opinion Outpost is most definitely legit. The platform is operated by Dynata LLC (formerly Survey Sampling International), a global market research company that operates out of Texas, US. Dynata backs a number of other sites in the online survey space, including Vindale Research and QuickThoughts.
While Dynata has a solid A+ rating on the Better Business Bureau, some user reviews are mixed. However, most members agree that the site offers decent payout options and low cashout thresholds.
Based on our own testing, Opinion Outpost's paid surveys are legit. The platform may not provide life-changing money, but it's worth the time you invest, primarily because of the low level of effort required. In addition, the platform is easy to use, and you can earn some extra cash quickly, simply by providing your opinion.
What is Opinion Outpost and How Does it Work?
The basic idea behind the side hustle potential that Opinion Outpost offers is that companies need your opinions, in the form of market research. Companies use the data collected for different purposes. This can range from creating new products to improving existing products. As an online review platform, Opinion Outpost serves as the middleman between users and the company. They gather feedback from thousands of users and pay them for it.
You may wonder if the money they pay should influence your honest feedback. The answer is 'no.' Opinion Outpost pays you to give unbridled, truthful answers to paid surveys.
When you give your opinion to a survey, you get rewarded in the form of points. These points accumulate, and you can exchange them later for cash and gift cards. You can even donate your points to the American Red Cross.
The industries in which you can give opinions are limitless. From beauty to fashion, tech, personal finance, and even sports, you can make money with Opinion Outpost by taking surveys in different niches. Once you indicate knowledge in a particular niche, your opinions are welcome.
Opinion Outpost has an intuitive, user-friendly design that makes it easy to connect with surveys relevant to you. While earning money on relevant surveys, you'll also get the feeling you're a part of something larger than yourself.
How Much Money Can I Earn With Opinion Outpost?
Opinion Outpost isn't the platform to turn you into an overnight success. It won't replace your income or make you a large amount of money. However, it can provide you with some extra cash while you have your say.
How much money you earn on Opinion Outpost depends on how many surveys you take. For every survey, you can make between $0.50 and $5. Every 'Opinion Point' equals $0.10. Since each survey pays out a minimum of 5 points, which means you'll earn at least 50 cents. That's not a lot, but it's more than you'll earn on some survey sites.
The number of points you get per survey depends on its length. The longer, the better. The average duration to complete a survey is 10 minutes. But some may take you up to 30 minutes to complete. If you can work on five surveys in an hour, you'll make about $2.50.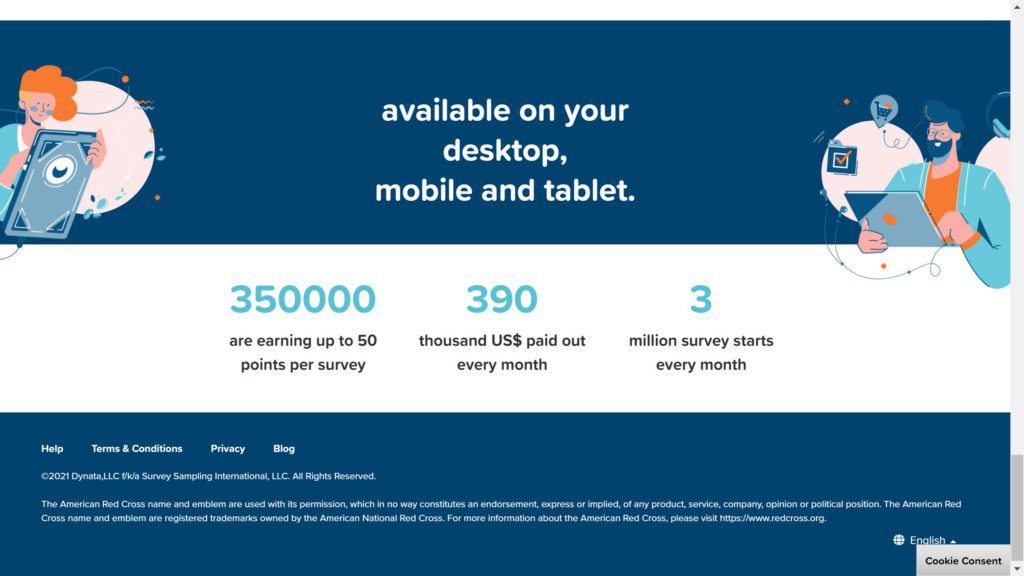 Before you continue, though, you should know something. Like with many survey sites, you won't qualify to complete every online survey you find. Before you can take any survey on Opinion Outpost, you will need to complete a set of initial qualifying questions. Your answers to the screeners will determine if you meet the eligible demographics to take the survey.
Filling out the screening questionnaire takes a bit of your time, and it's common to screenout. While Opinion Outpost doesn't pay you for completing qualifying questions, you will receive an entry into their monthly sweepstakes (more on that below).
In order to minimize screenouts, complete your profiling questions accurately and always keep them up to date. This will ensure you have a higher chance of eligibility for a survey before answering the questionnaire.
Once you've completed your profiling questions, here are the best ways to maximize your earnings:
Taking Surveys on Opinion Outpost
Taking surveys on opinion outpost is easy, and it can be a worthwhile activity to carry out in your spare time. Firstly, you can visit your dashboard to find available surveys of interest. Secondly, you can wait on personalized surveys that land in your email alerts.
While researching this Opinion Outpost review, we discovered that the primary determinant of the type of surveys you get is the level of detail you provide in the profiling questions that form part of your initial registration. This helps Opinion Outpost to determine your demographics and behaviors.
After you complete your registration, you'll find surveys. Begin to fill them, and you'll earn points after completion. The points vary per survey but are usually in the range of 5-30 points. On average, you'll spend about ten minutes completing a survey.
Upon sign-up, you'll get daily emails that come with an array of paid survey offerings. You can't take more than nine surveys per day. Nevertheless, if you're consistent, you'll accumulate many points in no time.
Referring friends to Opinion Outpost
Opinion Outpost offers a referral program for its users, and this can be a handy way to earn some extra cash. The program rewards members with $1 for each sign-up from a unique link. The reward will credit into a user's account when the referred user completes at least one survey. You can earn up to $5 per referral.
Making Money through Sweepstakes
Monthly sweepstakes are another way to make real money on Opinion Outpost, but this one is down to luck. The draw is held quarterly, and the prize for the winner is $10,000.
It goes without saying that it's not easy to win the Sweepstakes. There are tens of thousands of people in contention with only one winner. It's usually best to convert your points to cash or gift cards if you want to avoid disappointment.
How to Maximize Earnings With Opinion Outpost
As with every other form of side hustle, you need a strategy to excel. The best hack you can employ on Opinion Outpost is to complete the highest point surveys in the shortest possible time, whilst making sure you answer honestly and accurately.
The way to use this strategy is to do check what surveys are available. Look at the available points rewards, and the estimated time needed to complete an online survey.
Surveys that come in your email show the number of points you'll accumulate and the average amount of time you need for completion. However, this information isn't displayed on the dashboard.
Hence, always check your email, and choose available surveys to complete online with the highest number of points. Then, work towards completing the surveys in even lesser time than the email suggested (making sure to answer accurately). You don't have to exhaust your nine slots per day to make the most points. Going for the highest points per survey is the best strategy.
The frequency of email surveys you get depends on your profile. The research goals of the client also come into play. Hence, if you notice you aren't getting as many surveys as you'll like via mail, you should search for surveys yourself on your dashboard. The whole process may seem stressful at first. However, the more surveys you take at opinionoutpost.com, the more straightforward the process becomes.
Who Can Join Opinion Outpost?
Opinion outpost is a general market research panel. The online surveys platform isn't niche or demographic-specific. Anyone aged 17 or over can sign up, provided they are a resident of the USA. The demographic information you provide during the signup influences the type of surveys that reach you.
After signing up, you'll receive general messages on how to get started on the platform. Then, you'll start to receive online survey invitations and panel promotions. Opinion Outpost makes it all easy. You'll only have to work on paid surveys that truly grab your interest.
Opinion Outpost Sign Up Process
Signing up to Opinion Outpost is easy, quick, and free. Once you've joined up at opinionoutpost.com, you can start making money online almost immediately. In 15 minutes, you are on your way to earning points. The intuitive, user-friendly dashboard makes this online survey site easy to use.
Below is a step-by-step to signing up on Opinion Outpost:
Visit The Opinion Outpost Website
When you visit Opinion Outpost's official website, you can begin your signup in three ways: Via Facebook social media, LinkedIn, or via email. It's best to use a new, dedicated email for online survey websites. That way, you won't miss new offerings in the myriad of personal junk emails.
Activate Your Account
When you complete the signup process, activating your Opinion Outpost account is next. Again, you'll do this via your mailbox. Follow the verification link in the mail and complete your profile setup.
Build Your Profile
After completing the signup process, the next step is to answer questions so that the site can better understand your demographic and behaviors. Here, it's important to provide accurate information. Your profile is directly responsible for shaping the earning opportunities offerings and online survey invites that come your way on Opinion Outpost.
You can easily track your progress through the profiling questions with a percentage bar at the top of the screen. All of these should take a maximum of 10 minutes to complete.
Complete Paid Surveys
Once you've signed up, you're ready to start completing online surveys. Clicking on "Take a Survey" takes you to a new page where you can begin earning points.
How to Redeem Rewards with Opinion Outpost
Earning extra money with Opinion Outpost is a gradual process. Users accumulate points by answering multiple surveys per day.
When it's time to cash out, Opinion Outpost is ahead of many other survey companies. They offer an array of choices, including cash to your PayPal account, Amazon Gift cards, and even Airline miles. Choose the one that works best for your circumstances.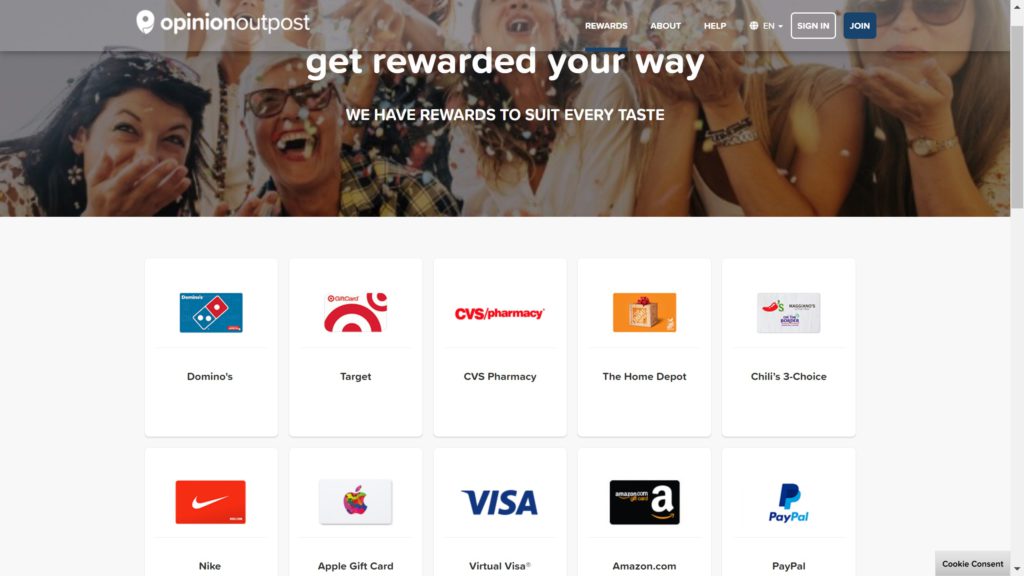 Start by visiting the reward section of the dashboard. You can only withdraw cash through PayPal. Hence, you need a verified PayPal account and at least 100 points. Once you meet both conditions, click on "Make Claim." You'll find this button under your rewards section. To make withdrawals via gift cards, make the selection by clicking on "Redeem Now."
Below is a breakdown of what you require for each cash out:
PayPal: You need a minimum of 100 points, which converts to $10
United Mileage Plus Points: You need a minimum of 105 points.
Alawar Games: You need a minimum of 30 points per download.
Amazon Gift Card: You need a minimum of 50 points which translate to $5
iTunes Gift Card: You need a minimum of 100 points, which converts to $10
American Red Cross Donation: Every 5 points you donate is equivalent to $0.50
When it's time to cash out, Opinion Outpost has built-in functionality to keep your account safe. To redeem rewards, you will need to verify your identity with the Opinion Outpost platform by using a six-digit code that they send to your mobile device.
Opinion Outpost Pros and Cons
Like any online survey site, there are some upsides and downsides to Opinion Outpost.
Advantages of Opinion Outpost
Some of the advantages to the use of Opinion Outpost, as against other platforms, include:
You don't have to make any initial financial commitment to sign up. Opinion Outpost is completely free to use.
You can easily access your Opinion Outpost dashboard from anywhere, irrespective of your primary interests and work-related activities.
You can redeem the points you accumulate in actual cash. This is not always the case with other paid survey platforms.
The platform stores your complete online survey history. With your detailed history, you can adequately track what you're doing and how much you make per hour of work.
Payments are processed fast. You can select to be paid in cash immediately. However, if you want your payment in gift cards, that may take between 3 to 5 business days.
Disadvantages of Opinion Outpost
While performing research for this Opinion Outpost review, we came across some downsides to using the platform. These cons shouldn't discourage the average user from taking advantage of Opinion Outpost. However, they need to be said.
It's not easy to qualify to take part in a survey. The questionnaire to qualify for any survey is tough. Therefore, there is a high chance of not making the cut even after spending precious time.
There's no Opinion Outpost mobile app, which makes it hard to complete paid surveys on the go. All users have to make do with a browser.
You can't do more than nine surveys in a single day. Accumulating points requires time and patience.
How Does Opinion Outpost Compare to Other Online Survey Sites?
Sure, there are many online survey sites out there that offer a chance to earn extra cash and rewards. However, there are a few ways in which Opinion Outpost shines. One of its major selling points is its low threshold for payouts. You don't have to earn all the points in the world before you can make a withdrawal.
Opinion Outpost also offers a speedy cash payout compared to other survey companies. Once you complete five surveys, you can make a withdrawal. You can get payouts quickly in cash or gift cards. The flexibility in payout options is excellent. If you don't want cash, gift cards to your favorite online store or even Airmiles are an accessible payment option.
Another advantage to using Opinion Outpost is the easy-to-use interface. It's straightforward and devoid of clutter. So, with your mobile phone or desktop, you can start to make money online with Opinion Outpost.
What Other People are Saying about Opinion Outpost?
Opinion Outpost has mixed user reviews, although most members report success with payouts and appreciate the flexible payout options. The survey site has a 3.3 rating on Trust Pilot.
"It's a real pleasure to undertake the surveys, and the rewards are just great."

Neil Morgan, a verified user on Trust Pilot
"Online surveys aren't a great way to make a lot of money because of the amount of time they take. But if you decide to do it, Opinion Outpost is one of the better options among the dozen we tested."

Laura Mullen, a columnist on NerdWallet
Sites Like Opinion Outpost
Like the sound of Opinion Outpost? Discover other online survey sites that could be worth your time:
If you're looking for a worthwhile online survey site, Survey Junkie is a good site to test. You can install the Pulse browser extension or download the mobile app and participate in surveys at your leisure. But it's important to note that the payout options aren't as flexible as Opinion Outpost.
Since its founding as part of a United Airlines partnership in 1996, rewards site MyPoints has offered cashback rewards for completing a range of activities. Users earn gift cards and other rewards like PayPal cashback by completing online surveys and tasks for various companies. Like Opinion Outpost, it's also possible to redeem airline miles.
PrizeRebel primarily runs online surveys but also offers points for signing up to take product trials and watch videos. Members can redeem their rewards with as few as $5 dollars' worth of points in their account, which is a higher redemption threshold than Opinion Outpost.
InboxDollars is a survey-based rewards club that lets you earn money for taking surveys, playing games, watching videos, or searching the web. Anyone can sign up and doing these activities on your desktop, laptop or smartphone can allow you to make extra cash.
In Conclusion: Is Opinion Outpost Worth it?
There are many online survey sites like Opinion Outpost that can help you make extra money online. So, what makes Opinion Outpost stand out? While you won't get rich, this site offers flexible payout options and a low withdrawal limit that you won't find anywhere else.
The best online survey sites offer a chance to earn some extra money in an enjoyable way. Opinion Outpost offers all this and more, which might make signing up worth the opportunity cost.
With such a low level of effort required, why not try out the platform and see for yourself?
---
Opinion Outpost Frequently Asked Questions (FAQ)
How long does it take Opinion Outpost to pay?
Payouts typically take 3 days but can take up to 5 days depending on weekends and holidays.
How much money can you earn on Opinion Outpost?
Depending on the survey length, you can make between $0.50 and $5. Every 'Opinion Point' equals $0.10. Since each survey pays out a minimum of 5 points, which means you'll earn at least 50 cents.
How often do you get surveys on Opinion Outpost?
This will depend on your profile. The more detail provided, the more likely you'll be matched to surveys, without being screened out.
How does Opinion Outpost pay for my opinion?
You can be paid cash to Paypal, choose to receive gift cards, make donations or receive Airmiles. Opinion Outpost has a low payment threshold.