In the current climate, many people find themselves seeking some form of alternate income. So, wouldn't it be nice to earn cash back and rewards, for tasks you'd normally carry out for free? Enter MyPoints, a website that offers cashback and rewards for completing online surveys and other activities.
Skip this MyPoints review and sign up and complete five surveys for a $5 bonus!
We've put together this MyPoints review guide to answer all the questions you may have. Read on to discover whether this site could work for you.
What Is MyPoints And How Does It Work?
For more than 20 years, MyPoints has helped all shoppers save money through coupon codes and earn money through tasks. How? Every person who signs up for MyPoints has the opportunity to take surveys, watch videos, and complete a range of other activities for points.
In a nutshell, MyPoints is a fun and easy way to earn extra cash with minimal effort. It's suited to those 'on the go' – you can use this rewards program through your mobile phone or your computer.
How does MyPoints work? Your MyPoints account can be used to earn rewards for various activities.
The key way to earn is by completing paid online surveys. There are regular survey-taking opportunities, and each assignment varies in length.
Love to shop up a storm? You can also earn rewards passively, simply by shopping through your MyPoints account. MyPoints members can get up to 40% of purchases at 2,000 top retailers when shopping online via mypoints.com.
Rewards are earned in the form of the MyPoints points currency. Once you meet the minimum cash-out threshold, you will be able to request a payout.
MyPoints offers a range of flexible redemption options, including real money via PayPal, as United MileagePlus airline miles, or as free gift cards for popular brands.
How Is MyPoints Different To Other Sites?
MyPoints sounds great, doesn't it? You can take fun surveys, shop around, and earn rewards. However, there are tons of competing cash rewards and paid survey sites out there. So, what makes this one different? Firstly, MyPoints actually works! You can easily acquire points in just a month, unlike other websites that lead you from one survey to the next without giving you any points.
The website is straightforward to understand, which makes it a platform that stands apart from the rest. Unlike Rakuten that only offers coupons and cashback for the shopping you are already doing, MyPoints offers the ability to earn rewards without shopping. You don't have to spend money to make money with this website. All you need to do is take surveys and refer people to earn money!
Is MyPoints Legit?
When considering whether MyPoints is worth your time, it's natural to wonder whether it's trustworthy. After all, unfortunately, some online survey sites are scams.
The good news is that MyPoints is absolutely legit and not a scam. MyPoints has been operating for over 20 years, and it has recently been acquired by 'Get-Paid-To' (GPT) market leader Swagbucks, owned by Prodege LLC.
This company has been around since 1996 and has millions of users today. Many people have earned a few extra dollars to a few hundred because of how fun it is to shop online and take paid surveys. Most MyPoints users find the site provides worthwhile earning opportunities for rewards with minimum effort.
Like any trustworthy survey site, MyPoints offers members reassurances around how personal data is collected and stored. Head to the MyPoints website to read the disclaimer and privacy policy.
Who Can Sign Up For MyPoints?
Anyone with a mailing address within the U.S. or Canada over the age of 18 can join MyPoints. If you're aged between 13 and under 18, you may be able to register for a MyPoints account with parental permission.
Signing up for MyPoints is free, easy, and best of all – you will receive a $5 bonus just for doing so after you've completed five surveys!
To join MyPoints you will need to enter your name, phone number, email address, and create a secure password. It takes under three minutes to sign up.

Best Ways to Earn Money With MyPoints
When you join Mypoints.com, you will be prompted to a screen that will get you started and help you earn money instantly after signing up. However, what sets MyPoints apart is that there are multiple ways to earn points, use coupon codes and redeem, versus standard cashback websites. Here are all the different ways you can start getting rewarded.
Take Paid Online Surveys
The key way to earn money from the MyPoints website is by completing paid surveys. How do online surveys via MyPoints work? MyPoints partners with leading companies and brands to offer market research on topics like financial products, health, beauty, and more. MyPoints members can share opinions and interests in order to earn points.
The time commitment required will vary, and payment rates are linked to the length of the survey. Some surveys may only take between 3 and 5 minutes, while others are more involved. Once you've completed the entire online survey, points will automatically appear in your MyPoints account. Many different surveys are offered every day, and you can take as many as you are invited to complete. Keep in mind that the longer the survey takes the more points you earn. Paid surveys are usually linked to specific demographics, so bear in mind that some screenouts are possible.
Shop Instore or Online
One of the easiest ways to earn points and cashback is by shopping at a range of leading brands.
MyPoints members get up to 40% of purchases at 2,000 top retailers when shopping with mypoints.com. Participating retailers include Walmart, Best Buy, and Amazon.
If you plan on ordering from a specific store for birthday or Christmas presents, be sure to go via the MyPoints portal beforehand. This will help you earn rewards. Shopping can be one of the best ways to earn free gift cards which you could potentially use as other gifts for family members.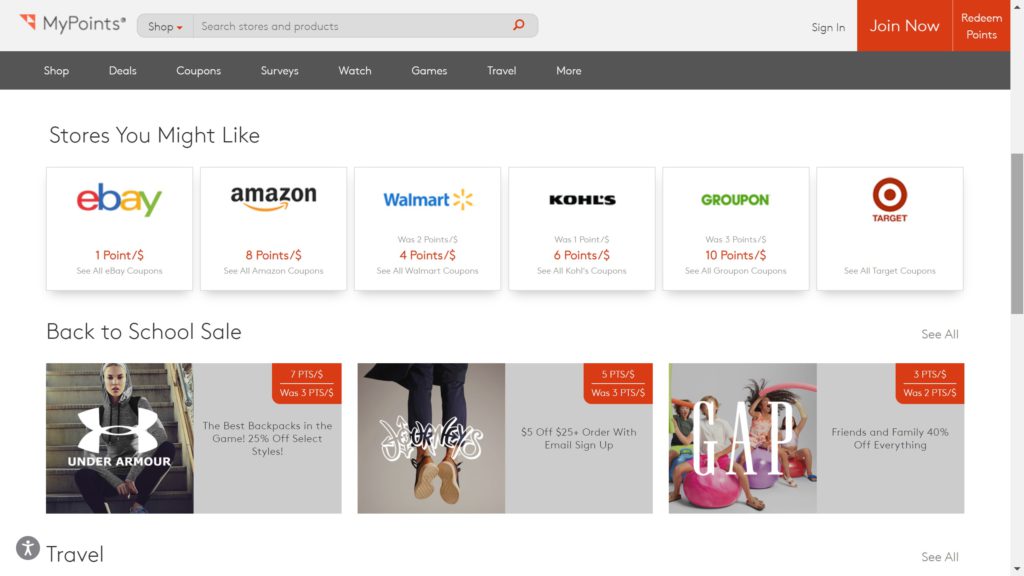 Watch Videos
Wouldn't it be nice to get rewarded, simply for completing an activity you'd usually do for free? With MyPoints, simply watching a few videos or slides can easily earn you rewards. While the earnings aren't significant (you'll earn 1-2 points per video), there's the potential to multi-task here. This can be a great way to earn points while letting things play in the background. Most of the videos you will watch are a few minutes long but to go through them and the pages you will need to enable pop-ups on your computer.
Play Games
If you love games, MyPoints offers an exciting way to earn points. You can download games like Angry Birds Champions and Bejeweled Blitz champions to earn points. You can get four points per game that you download. Be aware of some games that might require you to outlay money in order to earn points.
Travel
Covid restrictions aside, this is probably one of the most compelling ways to earn points! If you are planning a trip and want to find a way to earn something back, log onto MyPoints, and look through hotels. For every dollar you spend you'll earn a few points that you can eventually redeem for free gift cards in the future! This is a feature that makes this website unique compared to other online reward sites.
Refer Friends
Many GPT sites have worthwhile refer a friend program, and MyPoints is no exception.
If you have friends looking to save money or earn money, all you need to do is invite them! You will receive unlimited referral invitations to give out to your friends. When a friend accepts your invitation, you'll receive 25 points; if they spend more than $20, you will receive 750 points; if your friend starts earning points, you can get 10% of those bonus points.
Surf Online
Like other cash rewards sites, MyPoints has built an online search engine which you can use to earn points. The rewards on offer aren't significant, but every little bit adds up here. The more you use the MyPoints search engine, the more points you can earn.
Read Emails With BonusMail
MyPoints sends out regular offers via email broadcast in the form of 'BonusMails'. The number of emails you'll receive depends on many factors. This includes your demographics, interests, and preferences. Opening and clicking on a BonusMails link could earn you up to 5 points or more.

Signing Up For MyPoints
The MyPoints signup process is straightforward; The website will never ask for private information. You will need to enter your email and password.
Once you do that, it will take you to a second screen to fill out more information. It will not take you more than a few minutes.
After you have signed up, it will prompt you to a screen where you can take your first survey for points.
Later you can go to your account and add in more details if desired.
How To Redeem MyPoints
If you're a regular user of online rewards sites, you'll know that the process to cash out earnings can be frustratingly complex. Fortunately, redeeming with MyPoints is not difficult. Once you've reached the cash-out threshold of $25, you can redeem your points from within your MyPoints account. The dashboard will show you how much you've earned. Then, simply click the button labeled "redeem points."
Once you click on this button, you will see a list of options and ways to cash out your points. There are many options, providing flexibility. Think PayPal money, free gift cards, airline miles into a United MileagePlus account, and more.
For every gift card, you will be able to choose a value between $3 and $500. You'll see options for Amazon, Walmart, Target, and even restaurants like Applebee's or Domino's.
MyPoints: Advantages And Disadvantages
There are pros and cons to every app or website and MyPoints is no exception.
Pros of MyPoints
Here are some of the best things that MyPoints offers:
$5 sign up bonus
Since MyPoints will give you $5 just for signing up and taking five surveys, it's essentially easy money. That's real cash in your PayPal account, simply for signing up via the MyPoints website. Once you sign up, you will see the points in the top right corner almost instantly.
MyPoints App
While you can access the site via desktop the MyPoints Android / iPhone app provides extra convenience! The mobile app can be handy for using MyPoints on the go. If you are bored at work, you can easily take a survey on your phone and have the points count instantly. The MyPoints app is an easy way to earn extra money and at no hassle for you.
Multiple Options For Earning
One of the best features of MyPoints is that it offers many different ways to earn. Whether you prefer actively participating in surveys, shopping, or racking up points whilst multi-tasking, there's something here for everyone.
You can earn through games, videos, surveys, and more. Log in once a day, and soon you will find that you have enough points for a date night out on the house!
It's Legit
Unlike some other GPT websites, MyPoints is a totally legitimate website. Backed by Swagbucks and with over 20 years in operation, MyPoints can be trusted with your time and information.
Secure Website
This company won't leak any of your information, and the website is secure. You don't need to plug in things like social security or any banking information. You can rest assured knowing you are using a safe app and safe website every day.
Cons of MyPoints
Of course, every site has its drawbacks, and MyPoints has some disadvantages to know about. Here are some cons we found when using MyPoints.
Points Can Take A While To Credit
If you are shopping and go through the MyPoints app, sometimes it can take a few days for points to show up in your account. This is because stores have to report your purchase, then it needs to be verified, and then it is accepted. Some stores may take up to 30 days to do this. Other stores may only take 1-3 business days.
Either way, it requires patience. Other cashback sites like Rakuten and Capital One shopping are similar in this aspect. It is only a minor drawback.
Some Offers May Require Money Outlay
While most earning opportunities won't require you to spend anything, there are exceptions to this. Shopping offers, coupon codes and some games may require users to outlay money in order to earn points. Always be aware of this, and only spend cash if it's something you'd buy anyway.
Only People In The U.S. And Canada Can Register
Even if you are a citizen but living outside of the U.S. or Canada, you may not be able to use this website. If you still have a mailing address within the U.S. or Canada, or you are a citizen, you may be able to use this site.

Which People Will MyPoints Suit?
If you've read this far into our MyPoints review, you might have a good idea about the kind of person that the site attracts – and those who might not want to bother.
In a nutshell the MyPoints website is good for anyone with a bit of spare time, but it's equally important to be aware that MyPoints won't make you rich.
People looking for a fun way to earn a few extra dollars for date night should consider joining this program. Just be aware that you won't make enough money to make this your regular side hustle.
Here are the characteristics of people who are likely to find joining MyPoints worthwhile:
Fresh Out Of School
If you are fresh out of high school and just enrolled in college, MyPoints could be a valuable way to earn a little extra money. You can take surveys on the mobile app between classes, watch videos, and even travel once in a while. Then, cash in your points for a gift card for a restaurant and enjoy something other than dorm food! MyPoints could suit you if you don't have time for an extra job but need some sort of independence from your parents.
Established Consumers
MyPoints is not only for young adults; the website and app can also make sense for middle-aged people or newly retired people. Maybe you don't want to go back to work or get a part-time job. This is another way to make and earn money while at home.
People Looking To Fill Time
If you're bored at home, why not use your time taking paid online surveys? You could be at home from surgery, a newborn baby, or maybe a stay-at-home parent; whatever it is, you have enough time to sit and swipe through some questions.
Stay-At-Home Parents
If you are a mom or dad at home and need something to do, this is it! This is the perfect opportunity to earn gift cards.
People Who Love Online Surveys
Do you love answering questions? This is the perfect opportunity to earn money for your answers. And if you have time, watch videos and get free entertainment too!
Avid Travelers
If you love hotels and travel, why not go through MyPoints and earn points for every dollar you spend. This can be a great way to earn hundreds of points and gift cards. It is one of the most unconventional ways to get money back and earn rewards, but it has the potential to be quite lucrative.
Who is the MyPoints Website Not Suitable For?
If you don't spend much time online, or you don't like giving your opinion, MyPoints may feel like a chore to you.
The MyPoints website is primarily for anyone who is already shopping online or booking vacations. So, if you are a frugal person who does not shop online you may not reap as many benefits from this website.
MyPoints is also limited to people who live in the US or Canada. Anyone who is not an adult or under 18 should not use this website. To use this website, you will need to have a good grasp of English and be able to answer questions accurately.
If you are under 18 and believe this is an excellent website to earn extra money, you can seek parental permission before enrolling on this website.
MyPoints suits people who either love taking paid surveys and activities for points, or those who already spend a significant portion of their disposable income online.

MyPoints Reviews
You may be curious about what other MyPoints members are saying about this website. Here is a selection of online MyPoints reviews to take note of before you decide to sign up for this website.
MyPoints Review NerdWallet
"The website's dashboard generally is user-friendly, sporting an uncluttered and easy-to-use interface. It clearly spells out how many points you'll earn for a given survey and provides an accurate estimate of how long it will take to complete. If a survey is marked with a star, that usually means it will be closing soon, according to Angela Valley, senior vice president of marketing for MyPoints."
MyPoints Review Clubthrifty
"MyPoints is a legitimate online rewards platform where you can earn points for shopping online, discovering deals, answering surveys, watching videos, gaming, and more.
People who spend a lot of time online and do most of their shopping that way will get the most from it.
Make no mistake, though: MyPoints isn't a side hustle, and it won't make you hundreds of dollars a month. If that's your goal, you're better off spending your time building a lucrative side business or working a part-time job."
MyPoints Review TrustPilot
"It is easy to earn points to redeem for gift cards. When I cashed in my points for a gift card it was emailed to me immediately! Loved that! I have been using them for years."
MyPoints Review Reddit
"I used to be big into SBs but now only hit my daily goal, mobile apps Ncraves when they actually run, grocery coupons and use the shopping points. I got into doing the MyPoints a couple of months ago — not seriously enough to waste much time with it.
Will gladly give out pointers on either here or in PM. For referral links I can do that too."
Sites That Are Similar To MyPoints
Featured Online 'Get Paid To' Site Reviews
InboxDollars
InboxDollars is a cash rewards program with a website and app. Similar to MyPoints you can earn money by completing simple tasks as well as online surveys. On InboxDollars, there are many ways to earn money from different areas of the site.
LifePoints
LifePoints is a survey-based app that provides users with gift cards or cash rewards in exchange for completing paid online surveys and shorter behavior tracking tasks. Like MyPoints, LifePoints offers an instant bonus for joining (click here to earn $5 after five survey completions, when you sign up!)
InboxPays
InboxPays is an online rewards site that will give you money for different tasks, including reading and responding to emails, clipping coupons, and watching videos. While MyPoints is known for reliable redemptions, some users report issues with InboxPays cash outs. For this reason, it may be safer to choose another site on our list.
PrizeRebel
PrizeRebel is a popular survey and 'Get Paid To' site with active rewards that has been in operation since 2007. PrizeRebel offers many different ways to earn rewards. When it comes time to cash out, there are many flexible redemption options.
Survey Junkie
Survey Junkie is a leading online survey website with millions of active members around the world. It's free to join and you mainly earn points for completing surveys. Like MyPoints, Survey Junkie offers a range of pay-out options, including the ability to get real money via PayPal.
Is MyPoints Worth It?
If you're looking for a fun way to earn extra money, the MyPoints website could be worth considering. Recently acquired by Swagbucks, MyPoints is a legitimate and trustworthy company with reliable redemption opportunities. Plus, they will give you $5 after five survey completions, towards a free gift card of your choice, just for joining!
What's more, you can watch videos, answer questions, and refer friends to earn points – all while having fun doing it. And, if you're thinking about a trip, consider going through MyPoints to earn rewards for booking.
On the flip side, if you're looking for a serious side hustle or a source of secondary income, then MyPoints will probably disappoint. While the site offers reasonable rewards, however, it's not going to make you wealthy.
But for those looking for a bit of extra pocket change, consider joining up. Overall, MyPoints is a user-friendly website that has the potential to reward users well for a range of activities.
---
MyPoints Frequently Asked Questions (FAQ)
How does MyPoints work?
MyPoints is a 'Get-Paid-To' (GPT) website that offers cashback and rewards for completing online surveys and other activities. Rewards are redeemable for money via PayPal, as United MileagePlus airline miles, or as free gift cards.
Is MyPoints legit?
MyPoints is absolutely legit and not a scam. MyPoints has been operating for over 20 years, and it has recently been acquired by 'Get-Paid-To' (GPT) market leader Swagbucks, owned by Prodege LLC.
How much money can you make using MyPoints?
Many people have earned a few extra dollars to a few hundred because of how fun it is to shop online and take paid surveys. Most MyPoints users find the site provides worthwhile earning opportunities for rewards with minimum effort.
How do I cash out MyPoints?
Rewards are redeemable for money via PayPal, as United MileagePlus airline miles, or as free gift cards.