Is there something you'd like to get but need just a little extra cash? Then InboxPays might be worth taking a look at. As a leading GPT site, they claim to have given out $40 million to people for simply taking online surveys, reading emails, playing online games, and more.
What Is InboxPays
InboxPays is a GPT or "Get Paid To" site that pays you to do certain things. The main task is reading emails, hence the "Inbox" in their name, but you can get paid to do more than that.
InboxPays is part of A&A Marketing, a marketing company that mainly telemarketers and has its fingers in the GPT business with both InboxPays and InboxDollars. The BBB hasn't accredited them, but A&A Marketing has an A+ rating. InboxPays itself has a B+ rating with the BBB.
How Does It Work?
InboxPays works like many other survey sites out there. First, companies come to InboxPays and pay them to gather marketing data on specific topics. Then, InboxPays gives everyone who takes the survey a cut of the money that the other company paid.
This process allows companies to see what trends are popular and adjust their marketing strategies accordingly. And you don't have to worry about your personal information being sold to third parties as InboxPays does not release your info without prior consent.
There is no app for InboxPays, and you do not get paid when you read emails from your mobile device, so set aside some time to be at your computer when completing your InboxPays tasks for the day.
Is InboxPays legitimate?
If you've read this far into our InboxPays review, you might be wondering, can you honestly make extra cash from this site?
InboxPays was created in 2009 and has been around for over a decade. While many reviews speak about successfully cashing out rewards, others are not so positive.
While there's nothing here that points to InboxPays being a total scam, InboxPays has been the subject of consumer disputes.
According to the BBB, it has been alleged that Inbox Pays is not providing payments to consumers for completing trial offers, reading e-mails and playing online games. Users have alleged they are not able to reach the company by phone or email to request their payments. At the time of writing, the company has failed to respond to disputes that have been sent by the BBB.
It's fair to say that the InboxPays redemption program is complex. People must meet specific requirements to receive their cash, and many may not have explored that before they started complaining about not getting their money. We'll go over that further down the article.
Who Should Join InboxPays?
Anyone who is both a US citizen and 18 years of age or older can join InboxPays. However, a rumor has been circulating that you have to be 25 to access the entire site in full, so be aware of that.
If you're looking for this to replace your full-time job, it's best to find something else. InboxPays is a nice opportunity to earn a bit of money on the side, not completely replace your income.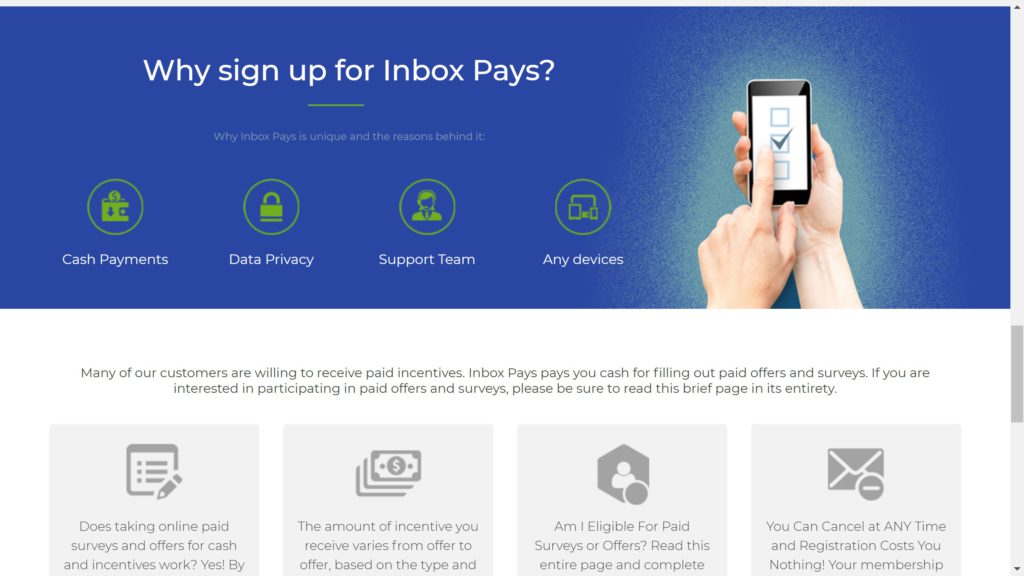 How to Join for a $5 Bonus
Joining is simple, and InboxPays appreciates the time you put into a fully completed profile by rewarding you with a $5 sign-on bonus.
You'll have to fill out a basic profile questionnaire just like you do with any other site. You will input your name, zip code, email address, gender, and date of birth. This data helps certain markets that want to reach specific demographics with their surveys. If you wish, you can connect your InboxPays account with social media.
However, be warned that if you falsify information and InboxPays finds out, they can immediately terminate your account and cancel your winnings.
Different Ways to Make Money With InboxPays
Like with many other GPT sites, there are plenty of different ways to make money with InboxPays. Here are the main ones to help you get started.
InboxPays Online Surveys
Of course, a GPT site isn't complete without the ability to complete online surveys. InboxPays online surveys are reasonably simple and typically pay anywhere from $0.50 to $1. Occasionally you may see a $5 survey available, but most are on the lower end.
There will always be a short questionnaire before the survey to make sure you fit the demographic or behavioral profile for the market research. The survey itself can take anywhere from a couple of minutes (for the shorter ones) up to half an hour (for the longer ones). Once you have finished, you'll see your InboxPays account credited with your earnings.
Other Ways to Make Money Online
If you find yourself growing bored of taking surveys, there are plenty of other ways to make money on InboxPays. This includes reading emails, spinning the wheel, clipping coupons, and referring friends.
Reading Emails
You can get $0.25 just by reading the paid emails InboxPays sends you. There are typically three a day, and after you read them, you'll click on a link to take you to an advertiser's website to get credited.
Since you'll get much more than that from InboxPays and their partners, it's best to set up a separate email just for InboxPays, so you aren't bogged down by spam.
Also, you must open these emails on a computer and not a mobile device, so make sure you don't accidentally open one while on your phone.
Paid Offers
Another earning opportunity InboxPays provides is paid trial offers. These come with a caveat – you can lose money if you aren't careful. Paid offers involve signing up for a free trial or paying for something and getting a bit of cashback in return.
As such, you need to make sure you either want the product and plan to pay for it anyway or to set a reminder to cancel your free trial offer, so you don't get charged. You can typically earn one to two dollars per offer, but some can provide up to $75.
These cash offers are not paid by InboxPays but rather from the company that's offered them, meaning there may be a six to eight-week delay in your earnings.
Spinning the Wheel
Spinning the wheel is a fun and free way to earn a bit of extra cash with InboxPays. It is something you'll want to do whenever you get the chance.
You get two spins for signing up, plus a free spin after every survey you complete. Most of the spots on the wheel have $0.50 and $1 on them, but even that can add up. Plus, you might just get the jackpot prize.
Clipping Coupons
InboxPays will give you digital coupons you can clip and use for groceries, household items, and other miscellaneous things. When you use them, you get cashback directly into your account.
Inviting Friends
You can invite family members and friends to join you in making a bit of cash on the side. For every person who joins via your exclusive link or credits you as the one who recommended them, you'll get 10% of their earnings once they have completed their first cashout.
However, there is one drawback to this option. InboxPays only allows a single account per household.
How to Redeem Your Money
InboxPays credits your redemption earnings on the 1st and 15th of each month, but there are a few caveats and requirements that you have to meet before you can cash your money. For example, if you have to verify by phone for some reason, there is a 30-day waiting period before you receive your cashout.
Redemption Options
Currently, InboxPays offers two payment methods. You can ask for your money electronically through your PayPal account, or you can ask to get a paper check mailed to you.
If you choose to withdraw money via PayPal, you'll need to have an account set up to receive your earnings. Thankfully a standard transfer will have your money in your bank account in 1-3 business days with no fees.
If you have problems with PayPal or just don't want to use it, you can request a paper check by mail. Of course, this method means waiting for the postal service and possibly losing your check in the mail. It also might take longer than a PayPal account transfer. Still, if you're willing to wait and prefer a physical check, then go for it.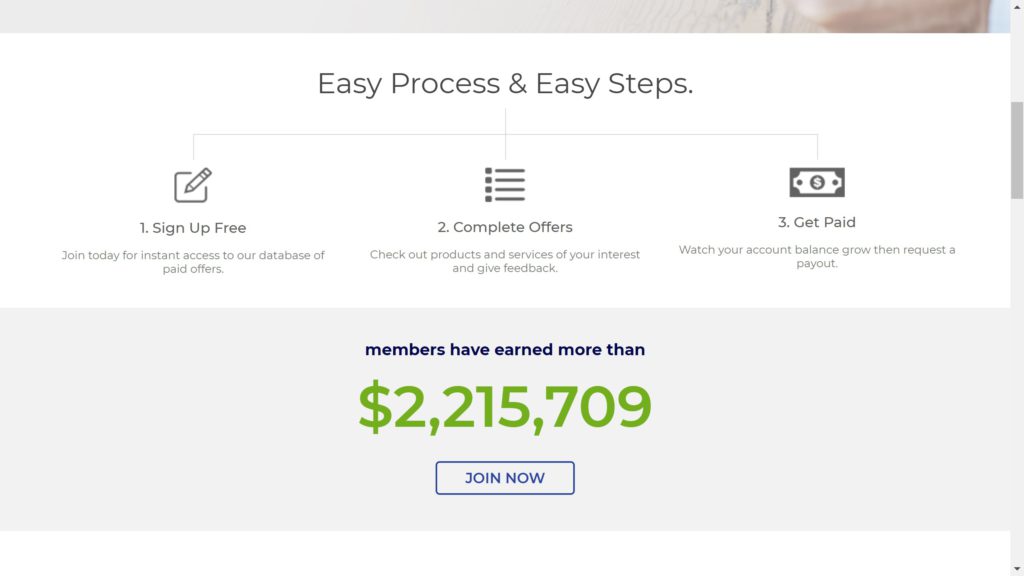 Process for Redeeming
Unfortunately, the requirements for cashing out at InboxPays can have people scratching their heads. And, as we covered earlier in this article, there does appear to be a segment of users who have had problems cashing out from their account.
That aside, here's how cashing out InboxPays redemptions works:
First, InboxPays only pays in increments of $50. So, if you have $65 and the 15th rolls around, you'll only be getting $50 and will have to wait until your balance reaches $50 again before you can get the rest of it. Depending on how active you are on the platform, this can take some time.
There's also a pay limit on what money comes from where. For example, you cannot redeem more than $25 from paid emails, and the company requires a minimum of $25 from paid offers and spinning the wheel before receiving your cash.
So, if you have $30 from emails and only $20 from paid offers and spinning the wheel, then you won't be able to cash your money until you get $5 from paid offers and spinning the wheel. It's a frustrating situation that has led some members, and the BBB, to post unhappy InboxPays reviews.
How Much Money Can You Actually Make With InboxPays?
As stated before, joining InboxPays will not replace a full-time income or a lucrative side hustle. Instead, it's a neat way for you to take your spare time and turn it into a bit of extra cash. You should also bear in mind that the complexity of the rewards program means that some users have struggled to cashout their earnings.
Regarding how much money you make online, it depends on how much time you put into the site. Each survey has a minimum of $0.50 with the chance to spin the wheel for extra money afterward.
Your cash rewards will slowly grow over time as long as you continue to spend a little time every day on InboxPays. It might not be that much, but it's better than nothing. Plus, it's something you can do with your laptop while watching Netflix or Hulu.
Another thing to keep in mind is that you must log in every once in a while, even if you get busy. InboxPays shuts down accounts that are inactive for three months, and you will lose all your earnings.
InboxPays: Advantages and Disadvantages
InboxPays is not perfect by any means. However, there are some positive features to know about. Here are some of the advantages:
Earn real cash: This site actually lets you earn real money, which is rare to see in GPT sites. There's no changing a massive number of points for measly gift cards or a rewards system that never lets you get what you want.
Multiple payout methods: You can request either a payout to PayPal or a paper check sent in the mail. Either option gets you actual money you can spend on whatever you want.
Many ways to earn: Unlike straight paid survey sites, InboxPays offers a variety of ways to earn some extra money. Many of these earning opportunities can be incorporated into your daily routine.
On the flipside, InboxPays can offer a challenging user experience, particularly for members who don't understand the earning and cashout rules. Here are some of the disadvantages to know about:
Known issues with cashing out: Due to the complexity of the rewards system, some people complain about not getting their money. These problems may result from not understanding how the system works or not having the correct earnings breakdown to get the desired cashout. The easy way to ensure you get your money is to check that all your payment information is balanced.
Annoying emails: InboxPays doesn't require a subscription fee, so they will try to reel you in with email offers that aren't a part of the paid email program. So, yes, InboxPays can get a bit spammy with the emails. A simple solution is to create a separate email account specifically for InboxPays to skirt around emails cluttering your main account.
One account per household: InboxPays doesn't allow multiple accounts per household, mainly to prevent the same person from creating several different accounts linked to the same address. However, it's a bit frustrating that any referrals you get must come from outside your place of residence.
Despite these drawbacks, InboxPays still offers plenty of ways to earn money. Plus, the $5 sign-up bonus is a nice touch, so you'll be even closer to that first payout.
InboxPays Reviews on the Web
There are plenty of InboxPays reviews out there that aren't very positive. Many individuals seem to have trouble with getting paid and end up frustrated about the required payout cap.
Others have also stated that they've cashed out but haven't gotten paid, with this messaging backed up by the BBB. One possible cause for this wait is that PayPal is holding the money to ensure that it comes from a legitimate source. Here, patience is vital.
Some users have also said that the InboxPays support team does not offer adequate help. Hopefully, InboxPays improves upon its customer support system to keep its participants happy and its system accountable.
Despite many negative reviews, numerous people have reported that they got paid real cash. They explained that the process took longer than expected, but they eventually received their money. However, there's been nothing about the paper checks so far, so this might be a new development to help those getting caught up in PayPal limbo.
How Does InboxPays Compare to Other Survey Sites?
With so many GPT sites and online survey portals out there, it can be hard to decide which one to use. While you could join many sites, you might not want to stretch yourself too thin. So, here are just a few options and how they compare with InboxPays.
Feel free to pick one – or several – of these options to combine with InboxPays. Or you can choose these options over InboxPays, depending on what works best for you.
Featured Online 'Get Paid To' Site Reviews
Swagbucks is another great way to earn extra money online. Unlike InboxPays, they have a point system that you can redeem for gift cards. The cap is whatever you can afford in prizes, but they also have plenty of ways of earning points, including browsing the web, reading emails, and taking surveys.
InboxDollars and InboxPays are very similar. They both can earn actual cash, though InboxDollars allows you to get gift cards as well. The limit for payout is $30 for InboxDollars rather than the $50 in InboxPays. InboxDollars is arguably more user-friendly, as it doesn't require users to follow restrictive earning and payout rules.
AppLike is very different from InboxPays. It is a mobile app that gives you rewards and cash prizes for downloading games and playing them on your phone. The more you play, the more you earn.
Unlike InboxPays, AppLike uses a points system, meaning you'll have to cash quite a few points in to get anything of actual value. In fact, a single point, or mCoins, is worth $0.0001.
If you don't like InboxPays' $50 cap before payout, then GPT site and paid survey portal PrizeRebel may be more your thing. Their cap is just $2. Like many sites, PrizeRebel uses a points system that you redeem for a PayPal transfer or gift card.
Just like some of the other options, online survey site Survey Junkie has a points system. Each one of their points equals $0.01, so if you want $10, you need to reach 1,000 points. Bear in mind that Survey Junkie only involves taking online surveys. There's no other way for you to earn money with them.
Is InboxPays Worth Joining in 2021?
If you're looking to earn serious money or replace your full-time income, then InboxPays isn't likely to be suitable.
Bear in mind that some users have reported problems receiving payments and that InboxPays has a high threshold to reach for cashing out. You'll also need to spend some time managing your emails and spinning that wheel.
However, if you've got a bit of spare time and want to earn a bit of money from your couch, then InboxPays could be worth a look. If you've time to spare and are looking for new earning opportunities, why not give it a try?
---
InboxPays Frequently Asked Questions (FAQ)
How do I withdraw money from InboxPays?
Currently, InboxPays offers two payment methods, via your PayPal account, or you can get a paper check mailed out to you.
Who Should Join InboxPays?
US citizens that are 18 years or older can join InboxPays. However, you may need to be 25 to access the entire site in full.
How much money can you make from InboxPays?
You can start by signing up for your $5 bonus. After that, you can undertake surveys paying between $0.50 to $1, with a few that pay more.
Is InboxPays legit?
Yes, created in 2009, InboxPays is part of A&A Marketing, a marketing company that mainly telemarketers and has its fingers in the GPT business with both InboxPays and InboxDollars.