Author's Note: From November 1, 2021, Vindale has ceased operations. Members will no longer be able to earn or redeem rewards. Registration has also closed.
Are you the kind of person who recommends a product you love to everyone you know? Maybe you view the world with an observant and critical eye and want to share your observations.
If so, you should definitely consider becoming a Vindale Research member. Did you know your opinions are not only valuable to survey companies but could also make you a decent amount of cash as a side hustle. It's a win-win.
Your Opinion is Worth Cash
Companies and institutions around the world rely heavily on market research to develop their products and services. Because of the internet and social media, it's a lot easier for companies to communicate with consumers. More access to customers means that businesses learn what they are doing right and what needs improvement.
Vindale Research connects businesses to people who buy their products. If a skincare company wants to know how their new concealer line can be improved, Vindale Research invites panelists who use this kind of product to participate in a survey or product evaluation.
If you have ideas about products that you have bought and want to make your voice heard, a Vindale Research membership can help you do that. You will also be compensated in cash for your time and effort.
What is Vindale Research and How Does It Work?
Vindale Research is an online market research panel that pays its members to take surveys online. Your feedback goes to consumer brands, who use that data to improve their products and services. It is free to become a member and gain access to hundreds of the highest-paying and best surveys in market research.
In addition to surveys, panelists can also participate in product evaluations, paid email promotion campaigns, and receive commissions for bringing more panelists to Vindale Research. There are a lot of ways you can make your voice heard and earn extra cash in the process.
Keep in mind that although these surveys don't pay much, it's a good way to make some extra money online. Participating in market research panels is not a replacement for your day job.
Is Vindale Research Legit?
Vindale Research is a legit paid survey site and adds hundreds of surveys to their site every business day. Their surveys are among the highest-paying within the market research industry. Surveys are matched to panelists qualified to participate, whether by experience in the field or by interest in the product being reviewed.
To give panelists the best experience, the company pays through Paypal with a quick payment turnaround. You won't be left waiting for your money, and you won't be surprised by payment processing fees.
Other market research sites pay their survey-takers in Amazon gift cards, coupons, or through a point system that only pays out once you reach a certain number of points. This means you could wait a long time for payment because you haven't reached an arbitrary point milestone yet. Vindale Research will pay you in cash. No point systems, coupons, or gift cards!
You can cancel your account at any time, and there is no fee for signing up. Vindale won't ask you for payment information like a credit card. Norton Symantec verifies their encryption, and your personal information is protected.
If an online survey site requires a membership fee or requests credit card information, you are probably dealing with a scam. -Vindale Research does neither.
At the time of writing, Trustpilot gives Vindale.com a score of 3.5 with 4,527 reviews.
How Can I Earn Money with Vindale Research?
Vindale's research focuses mostly on paid surveys, but the panel has also branched out into other market research methods. You can participate in paid studies, test products, watch and review Vindale Videos, earn a commission for referring your friends to Vindale Research, and receive cash for opening paid promotion emails.
Paid Surveys
Paid surveys are beneficial not only to companies but to the customers, too. You get to improve the products you love, and taking surveys online is a great way to make money from home in the modern world.
Signing up for Vindale Research is simple, too. All you have to do is provide some basic demographic information, and Vindale Research will find surveys relevant to you. The surveys cover various topics, including automotive, entertainment, healthcare, politics, restaurants, pets, and beverages. Payment varies depending on the length of the survey.
Product Testing
With your Vindale Research membership, you can participate in product testing for some of your favorite brands. As a consumer panelist, you will be asked to test products and services and fill out a survey about your experience. You gain access to new products, earn a reward for participating, and help the business improve its product or service.
Product testing studies may require you to purchase the product, but these studies are labeled clearly. If you don't want to buy the product, you can simply opt-out of that particular study.
Watching Videos
In addition to paid surveys and product testing, you can make money with Vindale Research Videos. Simply watch videos sent to you by Vindale Research and give your feedback on them. It's like taking a survey, but you get to watch a video, too.
Referrals
If you like Vindale Research and want to share the opportunity to earn, you get $5 for every friend you refer via the supplied referral link. You can also earn cash just for opening paid promotion emails.
How Much Money Can I Earn with Vindale Research?
Vindale Research members have made over $7 million in cash from paid surveys. Depending on how many surveys you qualify for, you can make a decent amount of money if you are willing to put in the time.
Some of the surveys pay more because of the greater amount of time needed to complete. Sometimes they pay more because the company is seeking panelists from a much more specific demographic.
How much can I earn per paid survey?
Depending on the survey length and the number of people eligible to take it, you may be paid between $0.25 and $50 for each completed survey.
How many surveys can I expect to receive?
The number of surveys you receive is dependent on eligibility. Vindale Research compares the demographic information you provide upon sign-up to available surveys and matches you to the ones that apply to you. That way, you won't be bombarded with surveys that have nothing to do with your interests or experience.
Surveys are sent to members based on demographic information. Companies want to hear from people who have experience with the product or field that they are researching. If you are a woman aged 18-25, for example, you probably won't qualify to review a set of hearing aids.
Who Can Join Vindale Research?
To join Vindale Research, you must be 18 years of age or older and reside in the United States, Canada, Great Britain, or Australia. If you meet these criteria, you can become a member and start to fill out your profile. You will receive survey offers based on which companies are looking for panelists in your demographic.
Vindale Research Sign Up Process
Signing up for a Vindale Research membership is a free and simple process. Once you join, you can access surveys every day, as well as opportunities to evaluate products, review videos, and other ways to earn with Vindale Research. If you decide that Vindale isn't for you, you can cancel your account at any time.
How to Cash Out Vindale Research Rewards
Vindale Research pays its panelists in real money through Paypal. There are no point systems or gift card rewards like other survey sites. The money goes straight to your Paypal account with no payment processing fees. Payment turnaround is efficient, and you won't be left wondering when your money will get to you.
How to Redeem/ Any Minimum Thresholds
After you take a survey, your cash credits may take as many as five days to appear in your account. When your account balance reaches $50 or more, you can request a payment. This minimum payout amount is higher than other market research sites (but you'll also earn more per survey, so don't be put off by the higher threshold).
Vindale Research: Advantages and Disadvantages
Like every market research panel, Vindale Research has both its advantages and disadvantages. There are many ways to earn with Vindale Research, but you may be looking for something different in a market research panel. Here are just a few of the pros and cons to help you decide if Vindale Research is right for you.
Pros
Vindale Research pays cash. Your balance is listed as a dollar amount in your account, so there is no need to convert points into cash amounts.
You can earn money in a variety of ways, not just by filling out surveys.
Signing up is free and easy. Plus, you get a $1 sign-up bonus right off the bat.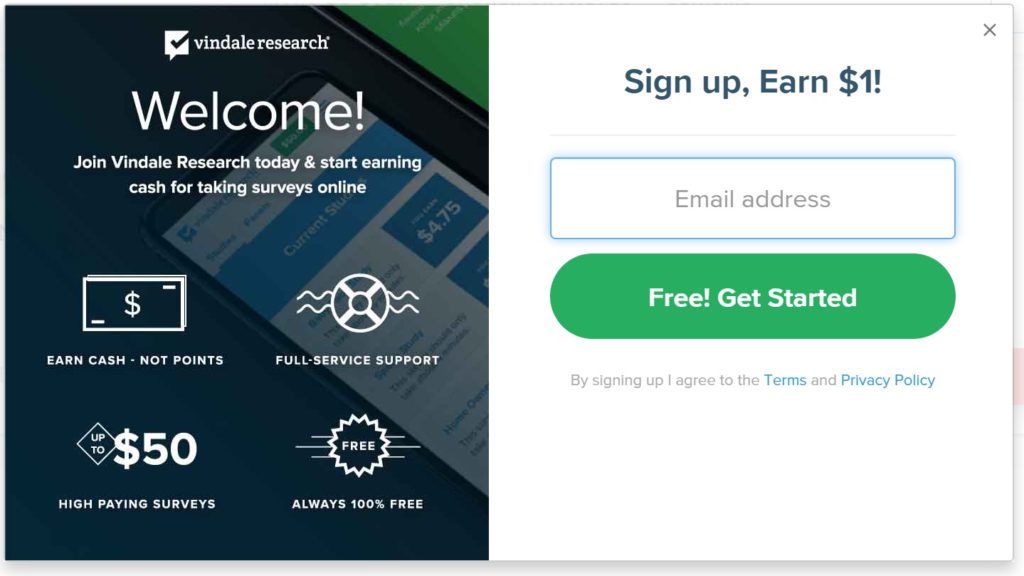 Payments go through quickly and efficiently through Paypal with no surprised payment processing fees.
Cons
To cash out your earnings, you need to have earned a minimum of $50, which is pretty high.
You may spend a long time answering pre-qualifying questions, then find out that you are not eligible for the survey or study.
Panelists receive too many emails.
What Sets Vindale Research Apart From Other Online Survey Sites?
Other survey sites use point systems or gift cards and coupon rewards, but Vindale Research pays its panelists in cash as they complete surveys. They believe it's important that panelists be compensated quickly and fairly for the data they provide to businesses and institutions.
Vindale Research is compatible with many different kinds of devices. You can take surveys on your desktop computer at home or on your mobile device on the go.
A support team is available full-time to assist you with any problems or questions. Any time, you can contact a representative – not a machine. There is also a Help Desk available online, where you can find answers to frequently asked questions.
Alternative Online Survey WebSites to Vindale Research
To get the most out of taking online surveys, it is wise to sign up for more than one market research panel. This way, even if you only qualify for one or two surveys with each, you will make a decent amount of money on the side.
Survey Junkie
Like Vindale Research, it is free to sign up for Survey Junkie. From there, you can begin to take surveys that you qualify for. For each completed survey, you earn points that can later be converted into your choice of cash or gift cards. The amount of money you receive varies depending on how in-depth the survey is.
Swagbucks
As a Swagbucks user, you have the opportunity to take surveys from brands and market research companies without having to leave your house. This site has a system in which points called Swagbucks are converted into cash once you reach a minimum of 300 Swagbucks, or $3. You can redeem your earnings as a Paypal deposit or for gift cards.
There are a couple of ways you can earn money on Swagbucks. You can get paid to try products from various brands and give feedback. You can also make money by watching video playlists and reviewing the content on the Swagbucks Watch channel. Swagbucks also has a search engine that rewards you in points when you use it for your internet searches.
Branded Surveys
Branded Surveys is an offshoot of Branded Research and focuses on the online survey portion of market research. You earn 100 points total just for registering and filling out your profile. The minimum cashout amount for Branded Surveys is $10, the equivalent of 1,000 points.
You can also earn points using the referral program to bring on friends to Branded Surveys.
InboxDollars
Like Vindale Research, InboxDollars rewards its survey-takers in cash. You won't have to convert points to dollars to find out how much you'll earn. InboxDollars doesn't pay very much per survey, but that money can accumulate over time the more surveys you take.
When you sign up for InboxDollars, you receive a $5 reward right away. After that, you'll fill out a profile with some demographic information to help the site match you to surveys. You can also earn money from InboxDollars by watching ads, playing games, and getting cash back for shopping online.
What other people are saying about Vindale Research
A review on NetbooksReview had mostly positive things to say about Vindale Research. The author of the article points out drawbacks to Vindale as well but says that it is one of the best market research panels out there, thanks to its quick and easy payment method and a variety of ways to earn.
One point in Vindale Research's favor is that it allows you to earn cash instead of having to contend with converting point values into a dollar amount. This is one of the things that sets Vindale apart from other survey sites. Getting the cash directly is simpler and feels less like you're being scammed.
Reviewers also commented on the variety of ways panelists can earn money through Vindale Research. This is definitely one of the advantages since you can also review videos, evaluate products, and receive commissions for reading paid promotion emails in addition to taking surveys.
In Conclusion: Is Vindale Research Worth It?
Being a market research panel member is a fun way to make some extra money on the side, but it is not a substitute for your 9 to 5 job. If you're looking to make a lot of money, we wouldn't suggest taking surveys full-time. It takes a long time to make a substantial amount of money on a survey site. It's the kind of thing you do here and there in your spare time.
With that said, if you are looking to join a market research panel, Vindale Research is one of the best. Not only is it free to sign up, but it also pays in cash.
Even though Vindale Research has a higher-than-average cashout minimum of $50, the site has a good reputation for providing higher-paying surveys to their panelists than other similar sites. This means that you get to participate in various market research avenues, find plenty of surveys that match your interests and consistently earn cash for your work.
If you are looking for a way to make extra money on the side and influence your favorite businesses, Vindale Research is worth putting some of your spare time into.
---
Vindale Research Frequently Asked Questions (FAQ)
Is Vindale Research a legitimate company?
Vindale Research is a legit paid survey site and adds hundreds of surveys to their site every business day. Their surveys are among the highest-paying within the market research industry.
How do I get paid by Vindale Research?
Taking surveys is the most popular way of getting paid for your efforts. Most take up to 15 minutes and can earn you several dollars. This is paid to Paypal after you reach the $50 redemption threshold.
How much money can you make on Vindale?
Most users report being able to make up to $6 per hour, with a wide range of surveys being available to engage in. Earnings will be dependent on the profile that you initially create with Vindale Research.
What other survey sites are like Vindale Research?