When it comes to making money online, there are many sites jostling for your attention. From paid online surveys to cashback and shopping deals, many websites offer money in exchange for your time. But it can be hard to know which sites are worth the opportunity cost.
Skip this FusionCash review and earn a $5 bonus when you sign up right now!
Enter FusionCash, a leading 'get paid to' site that pays users real money for completing a range of easy activities.
Is it worth your time? How can you actually earn cash from the platform? Read this FusionCash review to learn more.
What Is FusionCash?
FusionCash is one of the oldest Get Paid To sites in existence. Established back in 2005, it has been in operation for over 15 years.
As an online rewards program, FusionCash operates in a similar way to sites like Swagbucks, InboxDollars, and InboxPays. The premise is simple. Register and earn money to complete certain offers and tasks.
When managed right, FusionCash can offer a great opportunity to make easy money completing activities you'd normally carry out for free.
How Does It Work?
Like with any site, learning how the site works is crucial for success. There are a number of ways to earn, with each activity providing a certain number of points.
The primary way to earn is with the "paid to click" page on the website. Here you are paid a few cents to click on a site and stay there for a set amount of time.
Other activities that can be completed to earn points include:
Completing online surveys
Watching videos
Paid to call opportunities
Forum posts
Internet searches
Testing software and products
FusionCash also offers various cashback offers. With these, you receive a few cents or dollars to take a free trial offer, download a browser extension, or search for quotes.
Be aware that selected offers require credit card information to purchase something. Usually, these aren't worth the hassle just to get cashback; however, you may find a relevant paid offer that is worth your time.
Is FusionCash Legit and Safe?
Yes. FusionCash is a legitimate and safe site where you can earn real money. However, some users have reported mixed experiences with the site.
The site has been in operation for over 15 years. While it does not have a ranking at present with the Better Business Bureau (BBB), there are a number of historical complaints regarding payment and account management. Like with any site, you should complete your own research and read through FusionCash reviews online before deciding to register and open an account.
FusionCash claims to have paid out more than three million dollars to users.
Who Can Join FusionCash?
US residents can join from 13 years of age, with parental permission. People from Canada over the age of 18 can join this site.
How to Sign Up for Fusion Cash?
Joining is quick, easy, and entirely free. Best of all, you can earn a $5 bonus for joining right now.
If you want to sign up, the entire process will take just a few minutes. The first step is to register, then start earning money, and cash out what you earn.
FusionCash Registration Process
Like every survey or GPT site, you'll need to meet the eligibility requirements. FusionCash is similar to a number of other survey websites where you can only create a single account under your IP address, too, even if there is more than one person in your household.
To register, you'll need to provide basic personal information, such as your zip code and email address. There is also the requirement to verify your email.
The next part of the registration process is where you provide more information for your profile. This section is also where you will designate your preferred payout method. A benefit of FusionCash is that you can opt to receive your funds in one of three ways:
Check by mail
Direct deposit
PayPal
Also, since the site is free to use, you don't have to enter your credit card information to sign up.
The last step of the registration process is to fill out your first survey. When you complete and confirm your email, you get a $5 signup bonus. At this point, you are an official FusionCash member.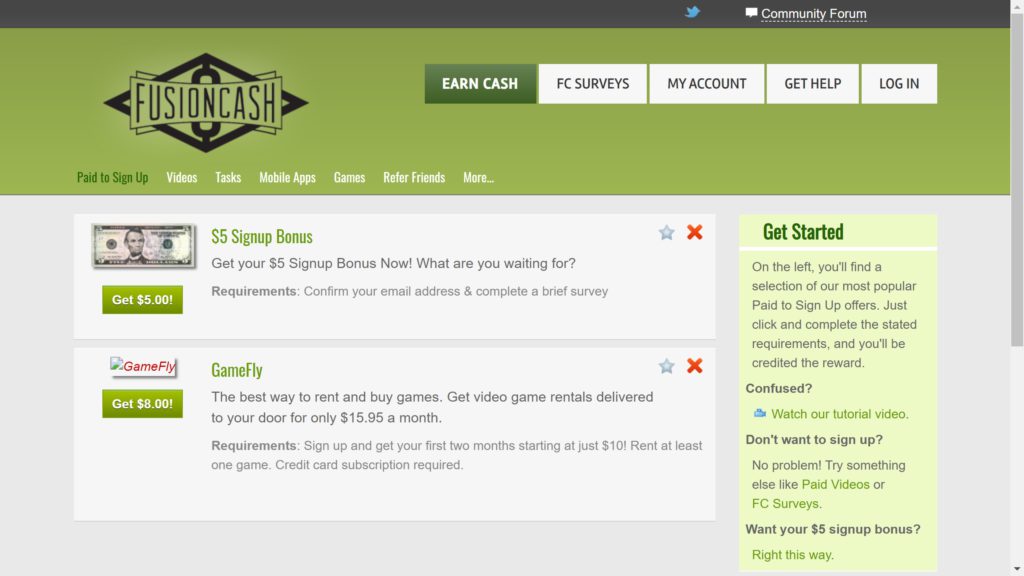 Ways to Earn Money with FusionCash
There are multiple ways you can earn money on FusionCash. These include:
Fill Out online Surveys
One of the most popular ways to earn money on FusionCash is by completing paid online surveys. You'll earn money for each survey you qualify for. Opinions are needed, and FusionCash takes steps to protect the identity of its users.
However, there are situations where you may not qualify for a survey after you answer some questions. If you don't qualify to take the survey, you'll be rewarded with a nominal payment of $0.01 for your time.
Listen to the Radio
FusionCash will pay you to listen to music, offering a chance to make money on an activity you'd usually complete for free. For example, if you usually listen to music while you are at work, you can be paid to do so. While this takes time, you can do other things and still earn a passive income. With RadioLoyalty, you receive $.03 for every 30 minutes you listen.
Streaming Videos
Watching videos online can help you earn income with FusionCash. It isn't as quick as signing up and completing surveys, but the earnings can add up over time. You'll need to watch videos right to the end to qualify for the payment.
Video streaming through FusionCash can work well. Other sites only pay you for watching bulk videos. This means you usually must watch 10 videos before receiving payment. However, with FusionCash, you receive payment for every video you watch.
Bear in mind that this task can chew into your spare time. Also, video streaming opportunities aren't always available. Users earn between 1 and 2 cents per video, but it is possible to multi-task – you don't have to focus on what is going on the entire time.
Make Calls
This money-making option requires you to answer FusionCash questions by phone. You call the number given and spend time on the phone call. Once complete, you receive payment. Most of these offers require you to remain on the phone for a set amount of time to receive the payment.
Sign Up for Different Offers and Websites
With FusionCash, you can sign up for different offers. This can be worthwhile if you are interested in trying new services or products. However, bear in mind that you may need to provide your credit card details or make a purchase first. Always research any offer that requires payment before deciding to take it up, to ensure it is right for you.
In most cases, the signup part focuses on the requirement of the offer, and this will vary based on the task. You can try out new products, sign up for a trial offer, and experience shopping. Every action will pay you to access online stores via your FusionCash account.
FusionCash Referral Program
Many GPT sites offer generous referral programs, and FusionCash is no different in this regard.
In fact, the FusionCash referral program offers one of the biggest cash-earning opportunities for the site. Users can earn between $5 and $8 for each person invited. Here is a breakdown of these earnings:
Every invitation and confirmation through the invites email – $1
Every referral completing a paid offer – $2
Every time a referral cashes out their earnings – $5
How to Redeem Rewards with FusionCash
Since cash is king, it's good to know that FusionCash pays out real money. This site doesn't make you take your funds in the form of a gift card. There are three payout options to choose from.
The payment methods include PayPal, direct deposit, or check. PayPal payments are usually fast, and all you need is a verified PayPal account. Cashing out rewards is in U.S. dollars. Positively, unlike other sites, there is no processing fee to receive your funds.
How You Get Paid and Minimum Thresholds
Like many GPT sites, users need to meet a minimum account balance threshold before requesting payment. To receive payments, you must have earned a minimum of $25. As an added complication, $15 of your earnings must be from your personal activity, not from referrals.
How does FusionCash payout?
The site uses a monthly payment system. Every 20th of the month, you receive a payment if you have requested it. After your payment request is approved, there is a waiting period of one to five days for processing. Most FusionCash users receive payment by the 23rd of the month.
FusionCash: Advantages and Disadvantages
Like any site, there are upsides and downsides to FusionCash. Understanding the pros and cons of may help you decide if this site is worth your time.
Advantages of FusionCash
Referral program – The biggest benefit of using FusionCash is the generous referral scheme. You can also continue earning money from the people you refer to the site. Also, you receive the funds in real cash rather than gift cards or vouchers.
$5 Sign Up Bonus – You can join for free. Along with this, you earn $5 just for signing up!
Many Ways to Make Money – You can take surveys, complete offers, and make referrals to earn money. There are other tasks you can do as well, as described above. One of the best parts of this is that most of the tasks are easy, and they are things you already do during your day-to-day routine. What this means is that you don't have to change up your normal schedule too much.
Fast Payments – You can receive your payment quickly once it is requested. On other platforms, it can take weeks or months to see the money you earned. With FusionCash, the longest you will have to wait is five days. Also, once you complete a task, the payment will be seen on your dashboard almost right away.
Forum for Users – You can join an online forum with other FusionCash users. Here you can connect to chat and discuss options and opportunities on the site. Right now, there are more than one million posts, allowing you to discuss and share any questions or issues you have. This also makes it one of the most transparent sites available today.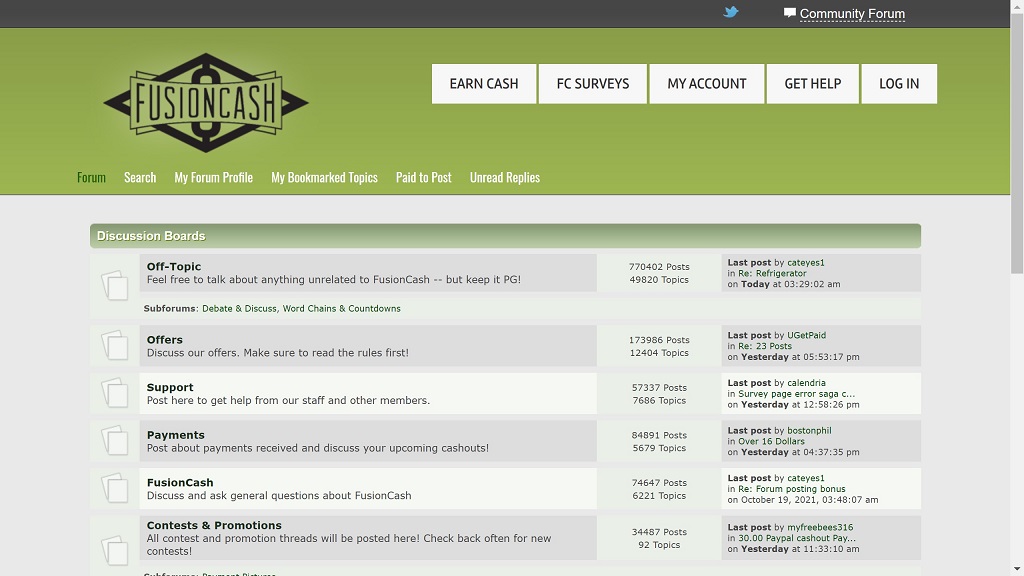 Disadvantages of FusionCash
Poor pay rates – One of the main disadvantages is that the tasks offered do not pay a significant amount of money. Earning decent money is only possible if you have many people to refer and who will actively use the site. Also, the site has harsh policies that could limit or erode your earnings. For example, you can have just one account per household/IP address, and your points will expire after 180 days if you have not used them.
Other potential disadvantages of this site include:
Excessive Ads and Emails – Like other get-paid-to-sites, after you have provided your email, you will receive a lot of ads and daily emails. This is how the process works. You can handle this by creating a new email for use with online sites.
Region Limitations – You can only access this platform if you are located in Canada or the U.S. If you live somewhere else, joining the site is not an option.
Paid Offers – FusionCash gives you the chance to test free products and receive payments. However, you must cancel the offer before the expiration date arrives. If you fail to do this, then you may be charged for the service or products you signed up for. Also, some products require you to pay several dollars at the commencement of your trial. However, for these, the payment will be higher.
You May Lose the Money You Earn – Similar to other GPT sites, you have to pay attention to your account and ensure you cash out before your points expire. Be sure you are keeping track of the offers you complete. If you don't, you may wind up losing some of the money you have earned.
FusionCash Reviews On The Web
The general consensus about FusionCash is it is a legitimate site that will pay you money for the tasks you complete. Keep in mind that you will find some negative reviews, but the terms and policies are outlined clearly, so if you get to know what the site requires and offers, you should be prepared for any issues that may arise.
Similiar Sites To FusionCash
Featured Online 'Get Paid To' Site Reviews
In Conclusion: Is FusionCash Worth It?
Beyond the generous referral program and cash redemption options, FusionCash doesn't stand out. In fact, there are other GPT sites that reward you better for your time.
However, for a chance to make some limited extra money, then FusionCash might be worth trying out.
---
FusionCash Frequently Asked Questions (FAQ)
How much can you make on FusionCash?
Aside from a sign-on bonus and the generous referral program, the actual day-to-day earnings on FusionCash are low compared to other GPT websites.
Is FusionCash legit?
Yes. FusionCash is a legitimate and safe site where you can earn real money. However, some users have reported mixed experiences with the site regarding account management and payments.
What is the minimum payout threshold of FusionCash?
The minimum payout threshold is $25 and $15 of your earnings must be from your personal activity, not from referrals.
What age can I join FusionCash at?
A US resident can join FusionCash from 13 years of age, provided parental permission is given. People from Canada over the age of 18 can join this site.