There are many money-making schemes out there. With many scams around, it can be difficult to identify genuine earning opportunities from the rest. Unfortunately, all the scams have made it difficult to tell what's a real money maker and what should be avoided.
If you're looking for an effective and proven way to make a little extra money online, survey sites such as PointClub can be worthwhile. Many paid survey sites are entirely free to join. Some even provide you with a sign-up bonus.
Skip this review and sign up with PointClub right now for a $5 sign-on bonus
Before jumping in, it's important to learn what you're getting into. So, read on for our comprehensive PointClub review.
What is PointClub?
PointClub.com is primarily an online survey site that pays registered members for taking online surveys but also has a lot more to offer. Like iPoll, PointClub is owned and operated by Innovate MR.
Created in 2012, PointClub has grown in popularity through the years as people continue to find ways to earn extra cash online.
While this platform will not help you make millions of dollars, it can help provide you with a bit of extra spending money.
How does it work?
Like other survey sites, PointClub will pay you for each survey you complete. To use this site, you'll need to register and become a member. This process is free. Once you join, fill out your profile to determine what surveys you can qualify for.
After becoming a member, it's possible to see the recommended surveys based on your profile information.
When you receive a new survey opportunity, it will summarize how long it should take you to complete. It will also provide you with information about the points you can earn once it is complete. However, something worth noting is that you'll have to qualify for a survey to take it and receive payment.
A point to note is that even if a survey matches your profile information, it does not automatically mean you will be qualified to take it and receive payment.
When you first receive PointClub surveys, you will answer a few questions to see if you are qualified to take them. If you qualify, all you do is complete the information. Points earned are applied to your account balance within a few days.
Is PointClub legit?
According to research and information from the Better Business Bureau (BBB), PointClub, based out of Encino, CA is a legit online survey site, with an A+ Rating. Innovative MR, the company that owns PointClub is a reputable market research firm with a history of conducting quality surveys that actually pay qualified survey takers. While website users may see varying levels of success with this survey site, it is legitimate.
Ways to earn money with PointClub?
Becoming a PointClub member is simple. It takes minimal work and effort. You can join through Facebook or Google, which makes the sign-up process even easier. There's also the traditional method of signing up using an email address.
On PointClub, every 1,000 points is equivalent to $1. Now we can dive into the main ways you can earn when signing up for PointClub.
Sign-on bonus
Before you even answer a survey, 5,000 points are up for grabs. You'll simply need to register, confirm your email, log in and then answer some profiling questions. These include some very basic demographic questions, then a training mission, consumer profile, and medical profile. You can earn a partial amount of the $5 USD bonus by partially completing the sign-on bonus, but this will most likely affect how many surveys PointClub assess you as suitable for.
Skip this review and sign up with PointClub right now for a $5 sign-on bonus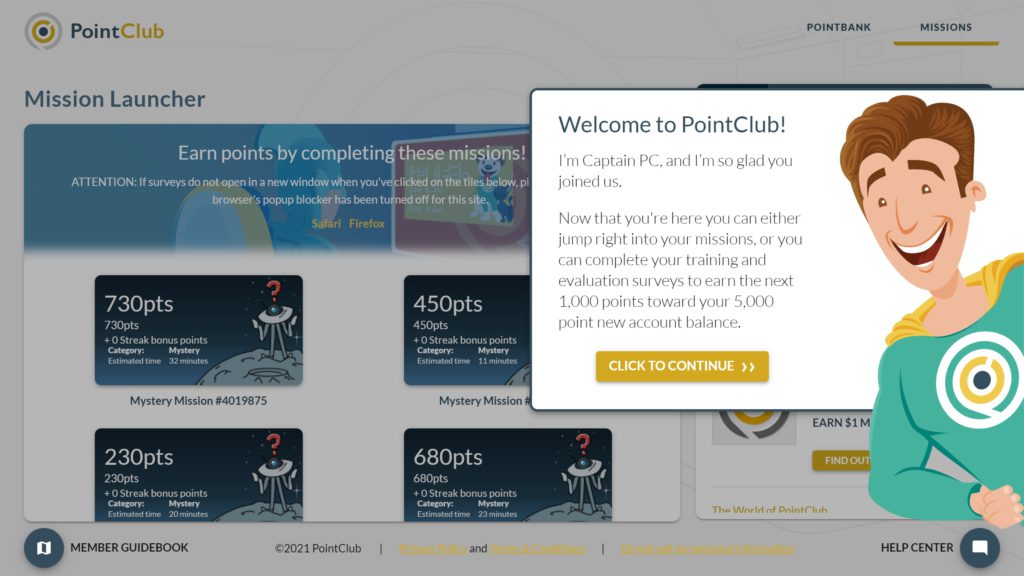 Paid surveys
Each time you take a PointClub survey, you earn points to redeem for cash or gift cards. Every 1,000 points equal $1 (as mentioned above). It is possible to earn between 200 and 2,000 points for each completed survey. However, this may be higher if you multiply it by one of the daily streak bonuses.
Usually, the surveys take between five and 30 minutes to complete. The points are awarded after the survey closes, so sometimes, you will have to wait as much as four weeks to see the points in your account.
It is important to note that you can log into your account at any time to view a list of surveys available to complete. You also receive an email notification when you qualify for newly available surveys. While this is beneficial, it is still a good idea to log into your account often to see if there are any new opportunities and to maintain your daily bonus streak.
If you are disqualified from a survey or if you are screened out for some reason, you will be given 12 points just for trying to qualify. This helps counteract the frustration that may occur when you answer questions for a survey but don't qualify.
Another way to earn more with PointClub is with the daily streak bonus. You build a streak by logging into your account on PointClub each day. The more days that you do this, the higher your streak level will go. Your streak bonus can be as much as 10%. You can also get points to boost when you reach a new level.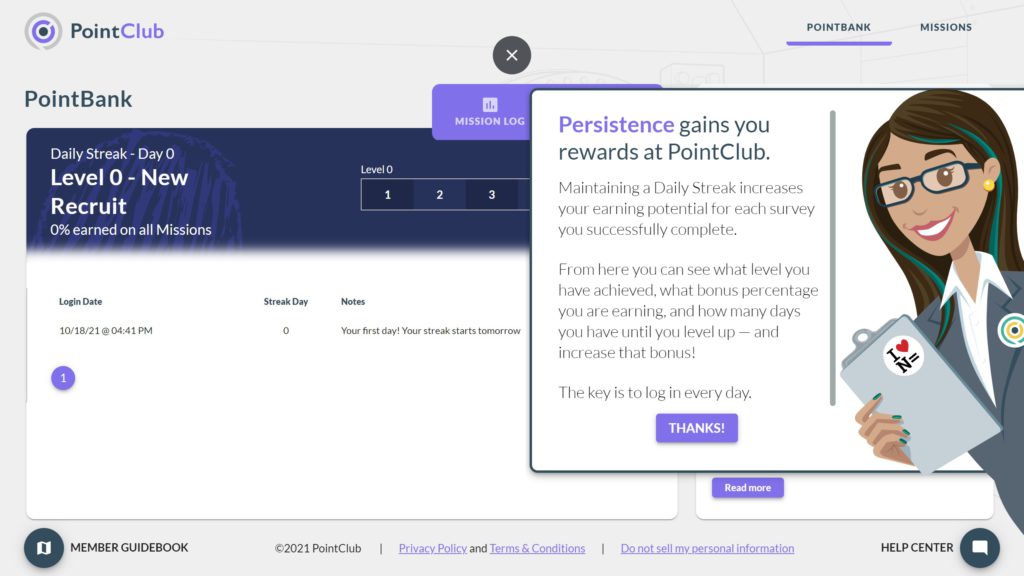 Daily Giveaways
Besides the surveys, members of PointClub can also earn up to 10,000 points per day. This is a program that can help you make about $10 per day.
Rewards
It is also possible for you to make more money through the rewards program and participate in different activities, such as contests, sweepstakes, offers, promotions, and games. While you won't earn very much money like this, most people agree that the extra it offers is worth it.
Offer Board
With the offer board, you can earn extra points by buying items or just by interacting with the site's retail partners. The site has created the board to be simple. It clarifies what needs to be done and the total number of points you can earn. Some offers just require you to sign up for a free trial of something, answer a customer survey, or download a free app.
Media Lab
With the media lab, you can earn points by watching and then reviewing content. You are shown web advertisements or videos and then asked to provide a rating. This is a fun way to earn; however, it does not pay as well as taking surveys does. You will only be able to make about 30 points or $0.03 after reviewing 13 total pieces of content.
Referring Friends
PointClub has a profitable Refer-A-Friend program, where you can use the Referral Zone on the website to earn more points by inviting your friends and family to join too. Referrals are only possible for members who live in the U.S. Once someone joins, you will earn 10% of the points they earn for taking or trying to take surveys.
If you refer 20 or more people, you will be considered a Brand Ambassador and receive 20% of the points your referred friends earn. This is one of the easiest, passive ways to make passive income through this site.
How much money can I make with PointClub?
The average survey on PointClub will earn you approximately 800 points, equivalent to $0.80. Surveys that are worth around 800 points will usually take about 15 minutes to complete. However, it is important to note that the point values for each survey will vary, and you will find options that pay more and less than this.
You will find surveys worth 3,000 points that take around 15 minutes and 450-point surveys that take about 25 points. As you can see, there is a lot of variance around the survey amounts and options. Even though this is the case, you could easily earn between $3.00 and $4.00 per day on the site if you dedicated about an hour of time to it. This works out to around $20 per week.
While this is true, there is no guarantee that you could do this consistently. There is no way to know when the site will have access to new surveys or how many you could qualify for. Because of this, the entire site is hit or miss in some situations.
You could likely earn a $25 gift card within about two weeks, which means you could also make an extra $50 each month. Because of this, many people agree that PointClub offers more than most other survey sites. Also, it seems above average because the payout is around $3 per hour, compared to the typical $1 or $2 that other survey sites payout for an hour of your time.
How frequently will I receive online surveys?
The frequency of surveys varies. Once you take the available ones, you should receive new survey opportunities every few days. Keep in mind that this will also help with your streak bonus. You will also receive an email each time a new survey is available for you to take.
While there may be a few days when you don't get survey invitations, you can feel confident new opportunities will eventuate. This site is known for providing members with quality surveys regularly.
Who can join PointClub?
It's possible to access the PointClub website from any country. There are money-making opportunities for people who live in the United States, Netherlands, United Kingdom, Germany, Mexico, France, Canada, and Brazil. While this is true, people in the U.S. have the most opportunities to make an actual side income from the site.
Signing up for PointClub
The process to sign up for a PointClub account is simple. You need to enter your name, email address and create a unique password. Once you have registered, you will be asked a few more questions.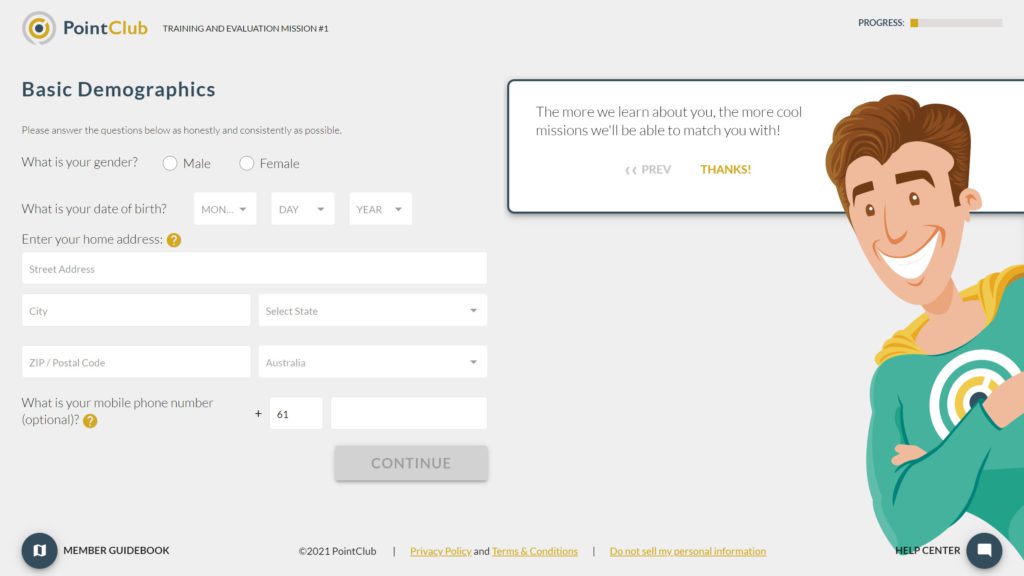 These are standard questions, including birth date, zip code, gender, and others.
After signing up, you will be given a survey. It takes about five minutes to complete this initial survey, and you earn 1,000 points ($1) for taking it. Once you complete the survey, you will gain access to the main hub, and you can begin exploring the site and seeing what money-making opportunities are available to you.
How to redeem PointClub rewards
After you have earned points, you can cash out for e-gift cards, physical gift cards, or a PayPal payment. You can request a payout once you earn 25,000 points, which is worth $25. Other options include cashing out at 50,000 points or 100,000 points ($50 or $100).
Gift card options
PointClub also gives you 80 different gift cards to choose from. Some of the options include Google Play, Amazon, Sephora, Tango, Lowe's, Walmart, Target, and Home Depot. However, there are many others, too. You can get a gift card with 25,000 points. You will have to read the details as some are available in e-gift card format while others are physical gift cards.
PayPal payout
Another option is to receive a PayPal payment for the points you have earned. You can choose this payout when you accumulate 50,000 points, which is worth $50.
Regardless of what option you choose, your rewards will be sent via email within 72 hours of cashing out.
PointClub: Advantages and Disadvantages
Advantages
Some of the top benefits of signing up and using PointClub include:
Global Opportunities
With PointClub, people around the world have access to money-making opportunities. While international users may not qualify for all the rewards, there aren't any joining restrictions based on your location.
Options for Redeeming Earned Points
After acquiring enough points, you can redeem your rewards through PayPal or a gift card. You can choose from over 80 retail stores.
More Earning Opportunities Than Just Surveys
You will find that PointClub offers more opportunities to earn than just surveys. These include things like contests, promotions, watching videos, and more. This can be helpful as you try to increase what you can earn from this site.
Free to Join
Becoming a member doesn't cost anything. You also receive 2,000 ($2) just for signing up. You can fill in all your details, and then your account will be credited with the free points, which help kick start your earnings.
You can also choose how you want to join. You can do this through your email address, Facebook account, or Google.
Earn Points When Screened Out
Even if you don't qualify for a survey, you will earn points for answering the initial screening questions.
Disadvantages
While PointClub offers several benefits, there are some disadvantages you need to know about, too. These include:
Limited Options for International Members
For people outside the U.S., not all opportunities are available. This means that your ability to earn may be limited in some areas.
Waiting Period
Once you finish a survey, you have to wait for the survey window to close before points are seen in your account. This will usually take around four weeks.
Minimum Withdrawal Amount
You have to meet the minimum points amount to redeem them. For PayPal payout, you have to have 50,000 points, and for a gift card, 25,000.
What other people are saying about PointClub
PointClub is well-reviewed by current members. People who have joined the site have an overall good opinion about earning and how simple it is to do so.
Many of the angry complaints are based on the 4-6 week survey points processing and disbursement time – people do not appear to understand this versus the instantaneous points process of GPT websites. For complex surveys, this is normal as the survey website must go through a validation and payment process with the survey owner.
Here is a sample of what people on Trustpilot have to say:
High payouts – just be patient. I take surveys at a number of sites and pointclub is far and away my favorite for one big reason – I make more money there than at any of the others. Once you get to the higher levels, the payout per survey is ecellent [sic]. Yes, it takes a while for points to get approved and yes it takes a while to receive reward after cashing in, but bottom line – this one's more lucrative than the others I visit.

David Sheridan, 26 June 2019
Good experience. I'm surprised to read so many bad reviews. They've been paying me up to $200 a month lately. It's true it takes a long time for points to clear and for the payments to be issued, but in my experience it all comes through eventually. They have an active Facebook page and will respond to queries there. (With online surveys, I've found that it is critical to take your time; otherwise, you can get banned for rushing.)

Catherine Shaw, 24 December 2019
Other sites like PointClub
Swagbucks
Swagbucks is one of the most popular websites for earning rewards for completing tasks online or on your phone. Complete surveys, watch videos and listen to music and receive SB reward points which you can change into cash, gift cards, or other prizes.
Just like PointClub, Swagbucks comes with a $5 sign-on bonus AND bonus earnings for the first $25 redemption each month. Swagbucks is one of the few GPT sites you can't afford to miss!
You can join using the link here or read our full review here.
Survey Junkie
A great online survey site to start with is Survey Junkie. Install the Pulse browser extension or download the mobile app and participate in surveys on the go. Survey JUnkie comes with intuitive interfaces and great compatibility across platforms.
Survey Junkie comes with great earnings potential if you're into surveys. Earning extra cash is possible with its referral program.
You can join using the link here or read our full review here.
Opinion Outpost
The best online survey sites offer a chance to earn extra cash in a fun way. Opinion Outpost delivers this and more, which makes signing up a no-brainer!
Opinion Outpost has great payment options and fast processing, making this site a serious candidate if you're after cash quick.
You can join using the link here for the US, CA, or UK or read our full review here.
Summary: How PointClub stacks up
It is clear that www.pointclub.com is similar to most other online survey sites that are available. While this is true, it also offers higher-paying surveys for members to qualify to take them.
PointClub could be considered an effective way to make money by taking surveys for anyone who is looking for an additional source of income.
And if you're someone who likes making money on the go, it's convenient that you can complete the surveys from any location and at any time. This is great if you are searching for a viable way to earn money from home. The site provides mostly money-earning opportunities for individuals based in the U.S. However, those in other areas can also find chances to earn income.
Hopefully, this PointClub review will provide you with the information needed to decide if this is a survey site you want to explore. It offers many new opportunities and will provide you with an effective way to make money at home.
---
PointClub Frequently Asked Questions (FAQ)
How do you make money on PointClub?
The main way to make money on PointClub is through doing surveys, but there are other opportunities including offers, giveaways, referrals, and watching videos.
Is PointClub legit?
Yes, PointClub is legit. It has an A+ rating with the Better Business Bureau (BBB) and is owned by Innovate MR.
Does PointClub have a sign-on bonus?
Yes, new members can sign on for a $5 USD bonus by registering and completing the required demographic and profile questionnaires.
What is the minimum redemption for PointClub?
Once you reach the redemption threshold of 25,000 points ($25) you can cash out a gift card, or wait until you reach 50,000 points ($50) to cash out using PayPal.